Since I've started this blog, the majority of my reading has been culinary cozy mysteries. I've been astounded at the amount of authors and books I've come to know and enjoy, including Edith Maxwell aka Maddie Day with her two series, the Local Foods Mysteries and the Country Store Mysteries. I knew Edith also wrote a third series, the Quaker Midwife Mysteries and while I hadn't read any (because of my huge blog reading pile) I was intrigued. Next to mysteries and suspense, historical fiction is my favorite. When I had the chance to meet Edith at the Malice Domestic conference in April, she was kind enough to gift me a copy of her newest release, CALLED TO JUSTICE. Once I finally had the chance to start reading it, I couldn't put it down!
The reader is transported to Amesbury, Massachusetts in 1888. Oh my, what an eye opening book this was and makes me realize how much we take every day conveniences and medical, technological, and social advances for granted! The author brings the life of a midwife to full view in an era before technology, modern medicine and hospitals. The perils that can befall the newborn and new mothers alike are treated with compassion and grace. I found myself hoping for the best in each birth the protagonist, Rose Carroll, attended and my heart stopped when things didn't go as expected. The author also gives the reader a charming peek into the Quaker's lifestyle along with an uglier look at the bigotry and prejudices against other races and against women during that time period. I think it's a good reminder, despite all the political and social upheaval our country is experiencing, that we have made great strides in becoming a better nation, a better people.
Edith expertly weaves the historical details and social mindset of the late 1800's into a good mystery that keeps a reader guessing about who would have wanted to kill the unwed, pregnant teen. Rose Carroll is a believable protagonist as she searches for justice, not only for the murdered girl but for the wrongly accused man. I enjoyed Rose's character very much — she is a good role model not only for the 1800's but for current day too! She isn't afraid to defy conventional customs governing young ladies and instead focuses on doing what she knows to be the right thing to do. All in all, CALLED TO JUSTICE is a fascinating read with a satisfying mystery!
While the book does not have recipes, Rose prepares several dishes including Sugar Cookies. Given the time period and the plainness of the Quaker faith, I have to assume that 1) there wasn't room in their tiny icebox to chill cookie dough; 2) she would not have rolled out and cut the dough with cookie cutters and decorated them; 3) they would evoke a homey simpleness yet provide comfort to those who ate them. So, I developed a quick No-Chill Sugar Cookie recipe using vanilla with plenty of butter and plain sugar. They bake up soft and are the perfect accompaniment to a cup of hot tea or coffee. Of course my granddaughters are all about color: frosting and sprinkles make the cookie! I mixed up an easy glaze using confectioners' sugar and just enough water to make the sugar spreadable, tinted part of it pink, and sprinkled the tops with colorful jimmies and nonpareils. It was the perfect way to celebrate the start of their summer!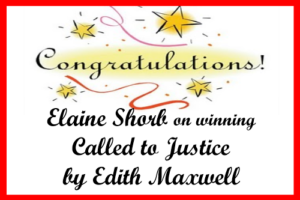 A huge thank you to Edith Maxwell for providing a copy of CALLED TO JUSTICE for one lucky winner! Contest ends Thursday, June 22, 2017 at 11:59 pm PST and due to shipping, is limited to U.S. residents. Please use the Rafflecopter box located below the recipe to enter. The winner will be announced on this page and on Cinnamon & Sugar's Facebook page, as well as notified by email (so check your spam folder!)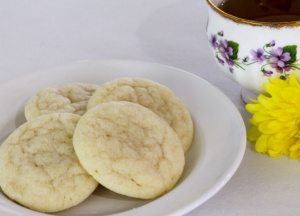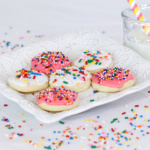 No-Chill Sugar Cookies
Ingredients
1

cup

unsalted butter, room temperature

1

cup

granulated sugar

1

egg, room temperature

1

tablespoon

vanilla extract

2-1/2

cups

(12 ounces) all-purpose flour

1/2

teaspoon

baking soda

1/2

teaspoon

baking powder

1/2

teaspoon

salt

1/4

cup

granulated sugar, for rolling
Instructions
Preheat oven to 350 degrees and line a baking sheet with parchment paper.

In a medium-sized bowl, whisk together the flour, baking soda, baking powder, and salt. Set aside.

In the bowl of a standing mixer, beat the butter and granulated sugar together until light and fluffy, about 2 minutes at medium speed. Or use a hand-held electric mixer on high.

Add in the egg and beat until well combined.

Add in the vanilla extract and mix well.

With the mixer running on the lowest speed, carefully add the flour mixture and stir just until it is incorporated, scraping down the sides of the bowl as needed.

Place the extra granulated sugar into a shallow bowl.

Using a tablespoon scoop, form dough into 1 to 1-1/2 inch balls and then roll in the granulated sugar.

Place on baking sheet, about 2" apart. Bake for 9 -11 minutes, or until cookies have started to crinkle and dough looks set.

Cool cookies on the baking sheet for 5 minutes then remove to a wire rack to cool completely.

Store cooled cookies in an airtight container at room temperature for up to 3 days.
Notes
You can make a simple glaze mixing confectioners' sugar with a bit of water, until it reaches a spreadable consistency. Add food coloring as desired and top with your favorite sprinkles.
Makes approximately 4 dozen cookies.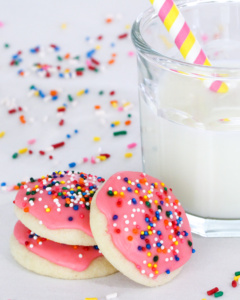 Pin to Pinterest: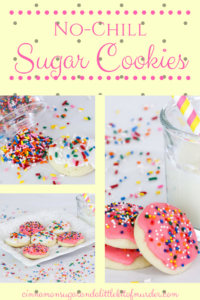 If you receive my blog post via email you will need to visit my website to view the video.
I was provided a copy of this book with the hopes I would review. All thoughts and opinions are my own.