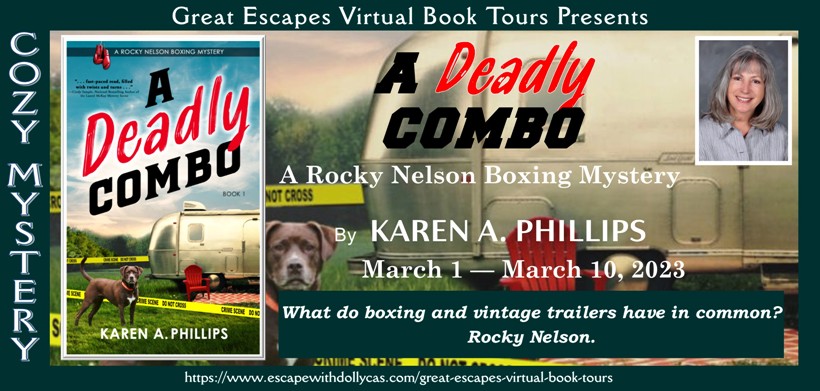 If you've followed my blog for long, you'll realize that I almost never feature books that aren't considered culinary cozy mysteries. But, I just had to make an exception for A DEADLY COMBO by Karen A. Phillips, who just so happens to be the fabulous cover designer who's created ALL my Cupcake Catering Mystery series covers! Not only is she a genius when it comes to graphic designs, but Karen is equally a master at spinning an intriguing mystery! To celebrate the new release, one of Karen's friends baked up the most adorable sugar cookie boxing gloves. Thanks to Blair Lonergan for sharing her recipe below along with a photo of the cookies she made.
Without further ado, I'm delighted to be participating in the Great Escapes Virtual Book Tour presenting A DEADLY COMBO!
My Review:
A DEADLY COMBO is the first book in the Rocky Nelson Boxing Mystery series by Karen A. Phillips. This debut mystery delivers a one-two punch with its fast-paced plot and characters that make you sit up and take notice. I adore that the protagonist, Raquel, aka Rocky, is a retired woman of a certain age. Instead of whiling away time sitting in a rocking chair, knitting away (not that there's anything wrong with that!) she's kicking butt and holding her own in the boxing ring at the Never Look Back gym. This brings a unique component to the cozy mystery/noir genre in that our heroine is physically strong and can defend herself if the need arises. Personally, I think Rocky is a reflection on modern day women's mindset of strength and resilience, compared to those of previous generations… and myself being one of those women of a certain age, I heartily approve. Joining Rocky in sleuthing is her 78-year-old father. His innocent, flirtatious manner and witty banner add some humor to the pages, and he steals each scene he inhabits.
The author's attention to detail and strong descriptive, and often humorous, voice makes the words on the pages leap to life. It adds to the enjoyment as the story unfolds. With strong characters, a great setting, and humor to round the book out, a mystery still needs well-plotted clues with compelling suspects. Have no doubt, Ms. Phillips delivers it all and more! When Rocky's sister, Bridget, is suspected of murdering the vintage trailer restorer after she's heard threatening him, Rocky immediately jumps in to prove her innocence. Rocky and Bridget have a tenuous relationship and Ms. Phillips adds in an element of emotional depth, that includes a long-buried family tragedy. Rocky must learn to overcome the tragedy and find inner strength to track down the killer and protect her family. With a hair-raising conclusion, I found myself turning the pages faster and faster, until I got to the end. The terrific start to this first book in the series has me eagerly waiting for a ringside seat to the next book!
With A DEADLY COMBO being a cross between a cozy mystery and a traditional mystery (maybe edgy cozy mystery is a good description?) there is some mild language included.
Amazon Synopsis:
What do boxing and vintage trailers have in common? Meet Raquel AKA Rocky Nelson, a retired single woman with an attitude and love for boxing.
Sisters Rocky and Bridget are enjoying each other's company at a vintage trailerfest until they stumble over a corpse. The dead guy is none other than the local trailer restorer Bridget was overheard threatening to kill. Mounting evidence leads police to focus on Bridget as a person of interest. Desperate to prove her sister innocent of murder, Rocky dons her own deerstalker cap and goes sleuthing until she runs into police detective Thompson who warns her off his case in no uncertain terms. But Rocky is tenacious if not stubborn. Combined with a 78-year-old father who becomes her sidekick, Rocky uses her courage and skills learned in boxing lessons to protect her family and keep from becoming the killer's next victim.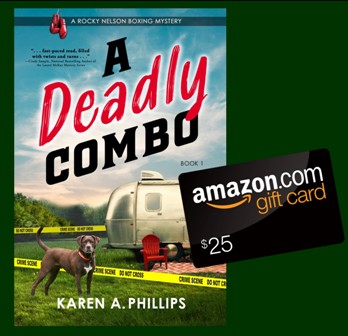 A special thanks to Karen Phillips for providing one winner with a copy of A DEADLY COMBO plus an Amazon Gift Card! Contest is limited to U.S. residents only and ends March 10, 2023 at 11:59 pm EST. Please use the Rafflecopter box located below to enter. Contest is administered by Great Escapes Virtual Book Tour and the winner will be announced on this page and notified by email (so check your spam folder!)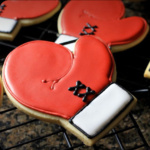 Soft Cut-Out Sugar Cookies
Recipe shared courtesy of Blair Lonergan. The only sugar cookie recipe you'll ever need! These easy bakery-style treats are soft, thick and perfect for decorating.
Ingredients
Cookies:
2-3/4

cups

all-purpose flour

1

teaspoon

baking powder

1/2

teaspoon

salt

3/4

cup

salted butter, softened at room temperature

1

cup

granulated sugar

2

large eggs at room temperature

1

teaspoon

vanilla extract

1/2

teaspoon

almond extract or reduce to 1/4 teaspoon for a more subtle flavor
Royal Icing (Recipe courtesy of Ree Drummond, The Pioneer Woman)
2

pounds

powdered sugar, sifted, plus more if needed

1/3

cup

1/3 cup whole milk

2

egg whites
Instructions
Cookies:
Whisk together flour, baking powder and salt in a large bowl. Set aside.

In a separate large bowl, use an electric mixer to cream together the butter and sugar until light and fluffy. Add eggs, one at a time, mixing to combine. Add vanilla extract and and almond extract; mix until incorporated.

Gradually add the flour mixture to the butter mixture; mix on low until a soft dough forms.

Divide the dough into 2 equal portions. Place each portion on a piece of lightly-floured parchment paper or a lightly-floured silicone mat. With a lightly-floured rolling pin, roll the dough to about 1/4-inch thickness. Use more flour if the dough seems sticky.

Lightly dust the top of the dough with flour, cover with plastic wrap, and refrigerate for at least 1-2 hours (or overnight).

Preheat oven to 375 degrees F. Line 2-3 large baking sheets with parchment paper or silicone mats.

Carefully remove one portion of the dough from the refrigerator. Use cookie cutters to cut the dough into desired shapes. Arrange the shapes about 2-3 inches apart on the prepared baking sheets.

You can re-roll the dough scraps to cut out additional cookies, but you will need to chill the cut-out dough on the baking sheets in the fridge or freezer for at least 10 minutes before baking. This will give the dough a chance to firm up again so that the cookies don't spread in the oven.

Bake for 8-10 minutes, or just until lightly browned. Allow cookies to cool on the baking sheet for 5 minutes, then transfer to a wire rack to cool completely before decorating with royal icing.
Royal Icing:
In a large bowl, beat the powdered sugar, milk and egg whites with an electric mixer until thick and glossy. Add more powdered sugar if the icing seems too thin (the size of the eggs can affect consistency). Just play with it until it's right. The icing should be stiff enough to "stand still" and not run when piped.
Notes:
Store the cookies in an airtight container at room temperature for up to 1 week.
Here are the purchase links for A Deadly Combo: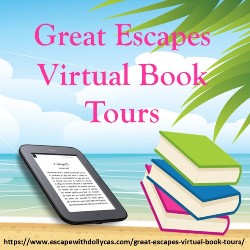 March 1 – Ascroft, eh? – AUTHOR INTERVIEW
March 1 – Brooke Blogs – CHARACTER GUEST POST
March 2 – Mythical Books – AUTHOR GUEST POST
March 2 – Socrates Book Reviews – SPOTLIGHT
March 3 – Ruff Drafts – SPOTLIGHT
March 3 – #BRVL Book Review Virginia Lee – SPOTLIGHT
March 4 – Maureen's Musings – SPOTLIGHT
March 4 – Books a Plenty Book Reviews – REVIEW, AUTHOR GUEST POST
March 5 – FUONLYKNEW – SPOTLIGHT
March 6 – Celticlady's Reviews – SPOTLIGHT
March 6 – Christy's Cozy Corners – CHARACTER GUEST POST
March 7 – Literary Gold – SPOTLIGHT
March 7 – ebook addicts – AUTHOR GUEST POST
March 8 – Hearts & Scribbles – SPOTLIGHT
March 8 – Sapphyria's Book Reviews – SPOTLIGHT
March 9 – Cozy Up WIth Kathy – AUTHOR INTERVIEW
March 9 – Escape With Dollycas Into A Good Book – SPOTLIGHT
March 10 – Cinnamon, Sugar, and a Little Bit of Murder – REVIEW
March 10 – I'm Into Books – SPOTLIGHT