Earlier this year I had the chance to connect with Carlene O'Neil when I won one of her books in the Cypress Cove Mystery series. We made sure to meet each other in person at Left Coast Crime and even though her books don't have recipes included, I was delighted when she offered to provide one for my review of ONE FOOT IN THE GRAPE. She had one word for me…SANGRIA! A fruity wine concoction, it was the perfect beverage choice for a birthday luncheon I recently hosted for a very good friend of mine. Sangria can be made with either white or red wine, but Carlene's recipe uses red. I love the vibrant colors of her Sangria, with the ruby-red wine complimenting the brilliant colors of the oranges, lemons, limes and bright green apples. Sangria is a celebration in the goblet and on your taste buds! Thank you, Carlene, for letting me share your yummy recipe!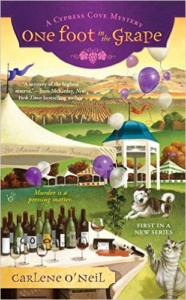 Synopsis
ONE FOOT IN THE GRAPE, the first book in the Cypress Cove Mystery series, is a celebration in book form as well! Set in Cypress Cove, Monterey County's wine country, Penny Lively inherits Joyeux Winery from her great-aunt. Recently fired from her investigative photojournalist job when she refused to doctor photos from a riot to boost circulation, Penny takes over the winery. She had been a great photojournalist because she was good at sticking her nose into other people's business, so it came as no surprise when her distant relative and owner of the neighboring winery, Antonia Martinelli asks her for help. It seems someone is sabotaging Antonia's wines and she wants to quietly find out who the culprit is since she suspects it could be one of her children.
With harvest underway and the Autumn Festival right around the corner, Penny doesn't have much time to investigate and her winery manager, Connor, tells her it's a bad idea and that it's none of her business. Yet the mystery pulls her in and she starts snooping. When Antonia's wine tasting room manager is found murdered, Penny knows it's too late to back out of her investigation and she'd better find the answers quickly since she could be the next victim.
My Review
ONE FOOT IN THE GRAPE is an entertaining, well plotted book. I loved the winery setting with the tidbits of running a winery, harvesting, and making wine woven into the story. I think Carlene must have done some awesomely fun wine tasting tours…ahem…I mean research, to write this book. The characters were well developed and Penny is a likable, sassy protagonist. She has several one-line zingers that had me laughing out loud, and one incident was so funny (at least to me), I had to go back and re-read it the next day for another chuckle.
The author's subplots are nicely woven into the main story, with several strong suspects that kept me guessing to the very end. Carlene managed to pull all the threads together and wrap up the ending for a satisfying conclusion. I enjoyed the interaction between Penny and her friends, which gave the book depth and insight into Penny's character. I'm looking forward to reading more in this series and seeing what happens next at Joyeux Winery!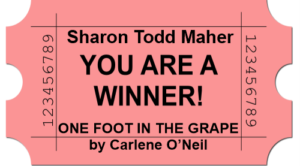 Thank you to Carlene O'Neil for providing one lucky winner a signed copy of ONE FOOT IN THE GRAPE! Please use the Rafflecopter box located below the recipe to enter. Contest ends Monday, May 9, 2016 at 11:59 pm PST. Winners will be announced on this page and on Cinnamon & Sugar's Facebook page, as well as notified by email (so check your spam folder!)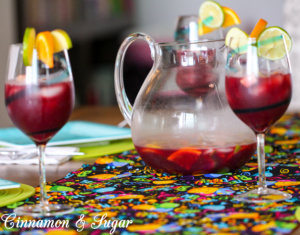 Sangria
Ingredients
1/2 green apple, cored, skin on, chopped into small pieces
1 lemon, sliced
1/2 lime, sliced. Save the other half for garnish.
1/2 orange, rind on, sliced into small pieces, large seeds removed. Save the other half for garnish.
3-4 tablespoons sugar
3/4 cup orange juice, plus more to taste
1/3 cup brandy, plus more to taste
1 750 ml bottle dry Spanish red wine
Ice to chill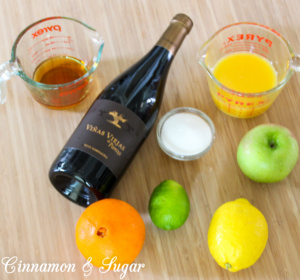 Instructions
Add apples, orange, lemon, lime, and sugar to a large pitcher and muddle with a wooden spoon for 45 seconds.
Add orange juice and brandy and muddle again to combine the flavors
Add red wine and stir to incorporate, then taste and adjust flavor as needed. Stir to combine.
Add ice and stir once more to chill. Garnish with orange segments and sliced limes (optional).
Store leftovers covered in the refrigerator for up to 48 hours, though best when fresh.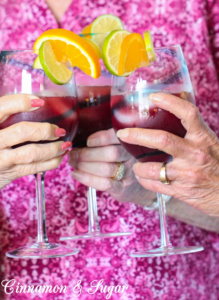 I served Catch-22 Salvadorian Shrimp over rice instead of salad for the birthday luncheon. The buttery, spiced shrimp were the perfect accompaniment to this refreshing, fruity sangria!
If you receive my blog post via email you will need to visit my website to view the video.
I received a copy of this book in exchange for an honest review. All thoughts and opinions are my own.