I was so happy for Victoria Hamilton when I found out that her Vintage Kitchen Mystery series had found a new home with Beyond the Page! And I'm equally happy to share in her celebration with her brand new release, LEAVE IT TO CLEAVER!
This newest book opens with a very tender scene featuring Jaymie Leighton, her beau Jakob Mueller, and his young daughter, Jocie. It sets the stage for the rest of the book… a well crafted mystery interspersed with sweet, heart-warming interludes. The mystery itself dates back to 1984 and Victoria effectively uses flashbacks, from different points of view, to piece together the story. She expertly weaves the current story with the long ago story so I never felt lost, and in fact, found it to be an exciting variation that grabbed my attention. The author uses strong descriptive language that captured the setting and feel of the 1980's and had me reliving that time period. It was a blast from the past for me!
Jaymie is a likable protagonist and she is often at odds with her much older sister, Becca. It was enjoyable seeing them work out their differences and the way the murder of Becca's classmates brought them together. The author provides quite a few viable suspects and the fact that the murders occurred so far in the past, made the puzzle more difficult. Just when I was sure I had figured it out, a twist and turn pulled me in another direction. I am glad that there will be future books coming in this delightful series!
Not only does the author include a vintage recipe at the back of the book, but she has allowed me to share one of her other vintage recipes from a previous book. I had never heard of Queen Elizabeth Cake but loved the list of ingredients, which are a bit reminiscent of Sticky Toffee Pudding. According to Wikipedia, the cake may have been prepared for the coronation of Elizabeth II in 1953. During this time, food rationing still existed in Great Britain, and a cake with few ingredients was in order. A recipe for Queen Elizabeth cake was published by the Coronation Cook Book in 1953. Queen Elizabeth Cake is easy to make but turns out moist and flavorful. The cake typically is baked in an 8″x8″ pan with the frosting spread on top. I chose to make it in two 6″-round pans, double the frosting, and layer the two cakes. It makes for a festive looking cake but no matter how you serve it, it will be enjoyed by all!
Amazon Synopsis
Vintage cookware and cookbook collector Jaymie Leighton has agreed to help her sister clear out the house of a deceased older neighbor, and she's thrilled at the prospect of discovering antique kitchenware and other treasures—until she opens a vintage trunk in the cellar and finds the remains of a teenage girl with a cleaver buried in her skull. When the body of a second girl is found just days later in a nearby river, the clues all indicate that the crimes are connected—and that the culprit's motives are hidden in the past.
Jaymie just wants to cut and run, but the victims were both high school classmates of her sister when they disappeared, and that makes Jaymie the perfect person to help the local police investigate the killings. As she dredges up old memories and even older rivalries and jealousies, her list of suspects grows. But Jaymie knows she'll have to whittle it down to just one, and fast, because someone has decided to cut their ties to Jaymie—in the most fatal of ways . . .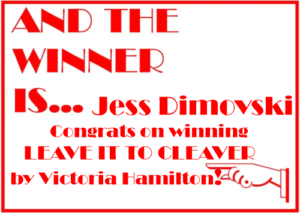 A huge thank you to Victoria Hamilton for providing an e-book copy of LEAVE IT TO CLEAVER plus a pen, bookmark, and a fridge magnet for one lucky winner! Contest ends Monday, June 26, 2017 at 11:59 pm PST. Swag is limited to U.S. and Canadian residents. Please use the Rafflecopter box located below the recipe to enter. The winner will be announced on this page and on Cinnamon & Sugar's Facebook page, as well as notified by email (so check your spam folder!)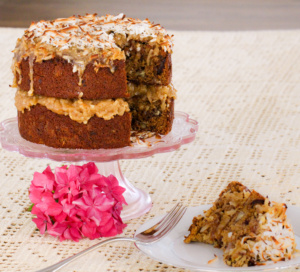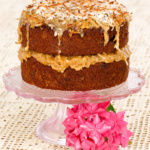 Queen Elizabeth Cake
Ingredients
Cake
1

cup

dates, chopped

1

cup

boiling water

1

teaspoon

baking soda

1/4

cup

shortening

1

cup

sugar

1

egg

1/2

teaspoon

vanilla

1/2

cup

chopped nuts, (walnuts, pecans, hazelnuts)

1-1/2

cups

flour

1

teaspoon

baking powder

1/4

teaspoon

salt
Icing/Topping
5

tablespoons

brown sugar

1/4

cup

shredded coconut

3

tablespoons

butter

2

tablespoons

cream

Additional coconut for garnish
Instructions
Preheat oven to 350 degrees (F).
Cake
Mix dates, boiling water, and baking soda together and let stand while doing the rest.

Blend together shortening, sugar, egg, and vanilla in large bowl.

Mix together in a separate bowl the flour, baking powder, and salt, then add chopped nuts.

Mix dry ingredients with wet until thoroughly combined, then fold in date mixture.

Spray an 8x8 pan with Pam, or other spray oil, pour cake batter in and bake in 350 degree oven for about 30 minutes.
Icing/Topping
Meanwhile… mix topping ingredients and boil 3 min.

Remove cake from oven, and while still warm pour this mixture over cake. Sprinkle additional coconut over and put back in the oven to brown. Keep a close watch as coconut will burn quickly.
Tips
I used two 6" round cake pans to bake the batter. The cakes baked for 30 - 34 minutes. I also made extra Icing/Topping using these measurements: 2/3 cup brown sugar; 3/4 cup coconut (for a thicker frosting that won't drip off the cake while warm); 1/3 cup butter; 1/4 cup cream.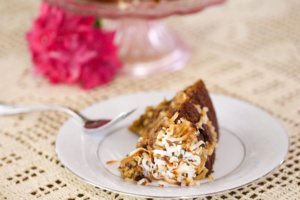 Pin to Pinterest: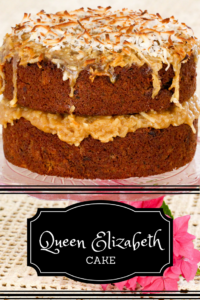 If you receive my blog post via email you will need to visit my website to view the video.
I was provided a copy of this book with the hopes I would review. All thoughts and opinions are my own.