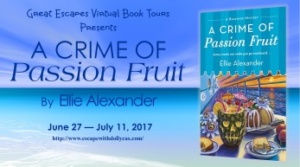 I'm delighted to be a part of the Great Escapes Virtual Book tour to help Ellie Alexander celebrate the release of her new book, A CRIME OF PASSION FRUIT! I was transported to a tropical paradise from the moment I saw the cover until the very last page. Jules, owner of Torte, a bakeshop in Ashland, Oregon, has a strong sense of community and treats her employees like family. This theme is carried throughout the series and extends to her temporary stay on board a cruise ship. When her estranged husband, Carlos (and yes, I am #teamcarlos!), asks her to return to his cruise ship for a short time to work as a pastry chef, she agrees. Jules is especially happy when she finds out that her mother and beau will get an all expense paid trip as well if she helps out. I loved the description of working in the ship's kitchen and feeding vast numbers of people 24 hours a day. It certainly takes a certain kind of person to live and work in such tight quarters and I find it amazing there aren't more real life murders taking place on cruise ships!
When Jules finds the body of an unknown young woman floating in the pool, she feels a certain responsibility to find the murderer. Her mother's beau, a detective known as Professor, quickly becomes involved and he asks Jules to assist him. Given that the murder takes place on the ship while out at sea, there is a limited number of suspects. The author does a good job of keeping the reader guessing with some twists thrown in. She also touches on the frightening issue of stalking and ties it into the story. The pace of the plot moves along nicely while interwoven with life on the ship and Jules coming to terms with her relationship with Carlos.
Of course with Jules working in the ship's pastry kitchen there are all sorts of delectable dishes mentioned in the book. I felt like I gained 5 pounds on Jule's tropical cruise just reading the descriptions! Ellie Alexander is quite a baker herself and provides several delicious recipes at the back of the book. She has graciously allowed me to share her recipe for Lemon Jelly Roll Cake. The lemony sponge cake quickly bakes up and is then filled with luscious lemon curd. Sprinkled liberally with powdered sugar and then dolloped with whipped cream, this cake, which is a favorite of the cruise ship's captain, will become a favorite with you too!
Amazon Synopsis
Torte―everybody's favorite small-town family bakeshop―is headed for the high seas, where murder is about to make a splash. . .
Jules Capshaw is trying to keep her cool as Torte gets set to make its transformation from quaint, local confectionary café to royal pastry palace. Meanwhile, Jules's estranged husband Carlos is making a desperate plea for her to come aboard his cruise ship and dazzle everyone with her signature sweets. She may be skeptical about returning to her former nautical life with Carlos but Jules can't resist an all-expense-paid trip, either. If only she knew that a dead body would find its way onto the itinerary…
Now, instead of enjoying tropical drinks on deck between whipping up batches of sea-salted chocolates and flambéing fresh pineapple slices in the kitchen, Jules is plunged into dangerous waters. Her investigation leaves her with more questions than answers: Why can't anyone on board identify the young woman? And how can she help Carlos keep passengers at ease with a killer in their midst? Jules feels like she's ready to jump ship. Can she solve this case without getting in too deep?

A very special thank you to Ellie Alexander for providing a print copy of A CRIME OF PASSION FRUIT, FUDGE AND JURY, and lots of fun treats! This giveaway is administered by Great Escapes Virtual Book Tours and you can use the Rafflecopter box located below the recipe to enter. Contest ends July 11, 2017 and is limited to U.S. residents only. Winners will be announced on this page and on Great Escapes Virtual Book Tours site, as well as notified by email (so check your spam folder!)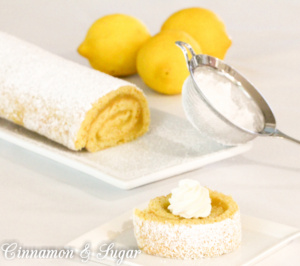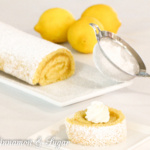 Lemon Jelly Roll Cake
Ingredients
Cake
2

eggs

3/4

cup

sugar

1/2

teaspoon

vanilla

2

tablespoons

milk

Fresh squeezed lemon juice from 1 lemon

1

cup

flour

1-1/2

teaspoons

baking powder

1/2

teaspoon

salt

Powdered sugar
Filling & Garnish
1

jar lemon curd

Whipping cream

Powdered sugar
Instructions
Cake
Preheat oven to 375 degrees (F).

Beat eggs and sugar in an electric mixer until they become thick and pale (about 5 minutes).

Stir in milk, vanilla, and fresh squeezed juice of one lemon.

Slowly sift in dry ingredients. Batter will be thin.

Grease a jelly roll pan and line with wax paper or parchment paper.

Grease and flour the paper then pour batter over.

Bake at 375 degrees (F) for 8 to 10 minutes.

While cake is baking dust a kitchen towel with powdered sugar.

When the cake is done and springy, immediately loosen from paper and turn upside down on the towel.

Roll cake and towel together, starting from the narrow end.

Allow cake to cool completely.

Once cool, unroll and slather evenly with lemon curd.

Roll again and dust the entire cake with powdered sugar and serve with a dollop of whipping cream.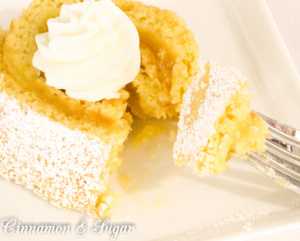 Pin to Pinterest: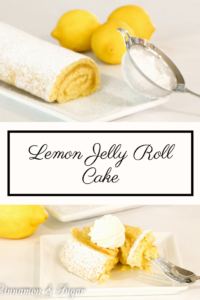 If you receive my blog post via email you will need to visit my website to view the video.
TOUR PARTICIPANTS
June 27 – A Cozy Experience
June 27 – Lisa Ks Book Reviews
June 28 – Back Porchervations
June 28 – Books, Dreams, Life
June 28 – Books Direct
June 29 – Bookworm Cafe
June 29 – Read Your Writes Book Reviews
June 30 – Cinnamon, Sugar, and a Little Bit of Murder
June 30 – That's What She's Reading
June 30 – Mystery Playground
July 1 – Babs Book Bistro
July 1 – A Cozy Girl Reads and Writes
July 1 – The Power of Words
July 2 – Laura's Interests
July 2 – Cozy Up With Kathy
July 3 – Reading Is My SuperPower
July 3 – My Reading Journeys
July 3 – Celebrating Authors
July 4 – OFF
July 5 – Sleuth Cafe
July 6 – Classy Cheapskate
July 6 – Mystery Thrillers and Romantic Suspense Reviews
July 7 – Bibliophile Reviews
July 7 – A Blue Million Books
July 8 – Melina's Book Blog
July 8 – StoreyBook Reviews
July 8 – Escape With Dollycas Into A Good Book
July 9 – A Holland Reads
July 10 – Sapphyria's Book Reviews
July 10 – Celticlady's Reviews
July 11 – Girl with Book Lungs
July 11 – Brooke Blogs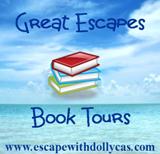 I was provided a copy of this book with the hopes I would review. All thoughts and opinions are my own.