DECK THE DONUTS is the sixth book in the Deputy Donut Mysteries by Ginger Bolton. With its inviting cover, the reader will be tempted to sit by a roaring fire while nibbling on all the delectable goodies the season has to offer. Cozy characters, chief amongst them protagonist Emily Westhill and her charming feline, Deputy Donut, have contributed to this series becoming a fan favorite. The author's easy writing style, combined with the "niceness" of Emily, her family, friends, and community, makes it almost improbable that anything bad can happen in the town of Fallingbrook, Wisconsin. But it is a murder mystery after all, and Ms. Bolton does an admirable job of weaving the crime into the holiday setting, complete with a snowstorm and a Frosty the Donut ice snowman sculpture. With a strong descriptive voice, the setting comes to life and the reader will shiver from cold and fright alike.
A stranded tour bus load of passengers brings in a new flux of potential victims and suspects alike to Emily's small town. When the tour bus driver is found murdered, buried beneath Frosty the Donut, it's difficult for Emily to not get involved to find out the truth since one of the potential suspects happens to be staying at her house. Even despite the town's detective (and her best friend and maybe wannabe love interest) asking her to stay safe and let him do his job, she can't help herself. With twists and turns galore, the path to finding the killer turns out to be as slippery as a ski slope. The reveal caught me off guard but as the strands of the story came together, it all made perfect sense. The final conclusion brings a heartwarming scene with the promise of more good things for Emily and her friends.
Co-owning the Deputy Donut shop with her retired chief of police father-in-law, Emily is always creating and serving up delicious donuts in a wide variety of flavors. Given the Christmas theme, I was pleased to see that Ms. Bolton offers recipes at the back of the book, including one for Gingerbread Donuts. With the usual spices – ginger, cinnamon, nutmeg, and cloves – providing the gingerbread flavor, it was the addition of candied ginger that made these donuts outstanding! The cakelike texture wasn't overly heavy and the moist interior had a satisfying bite. These gingerbread donuts will surely be a welcome treat after a frosty day spent playing in the snow or for a tasty breakfast to start the day.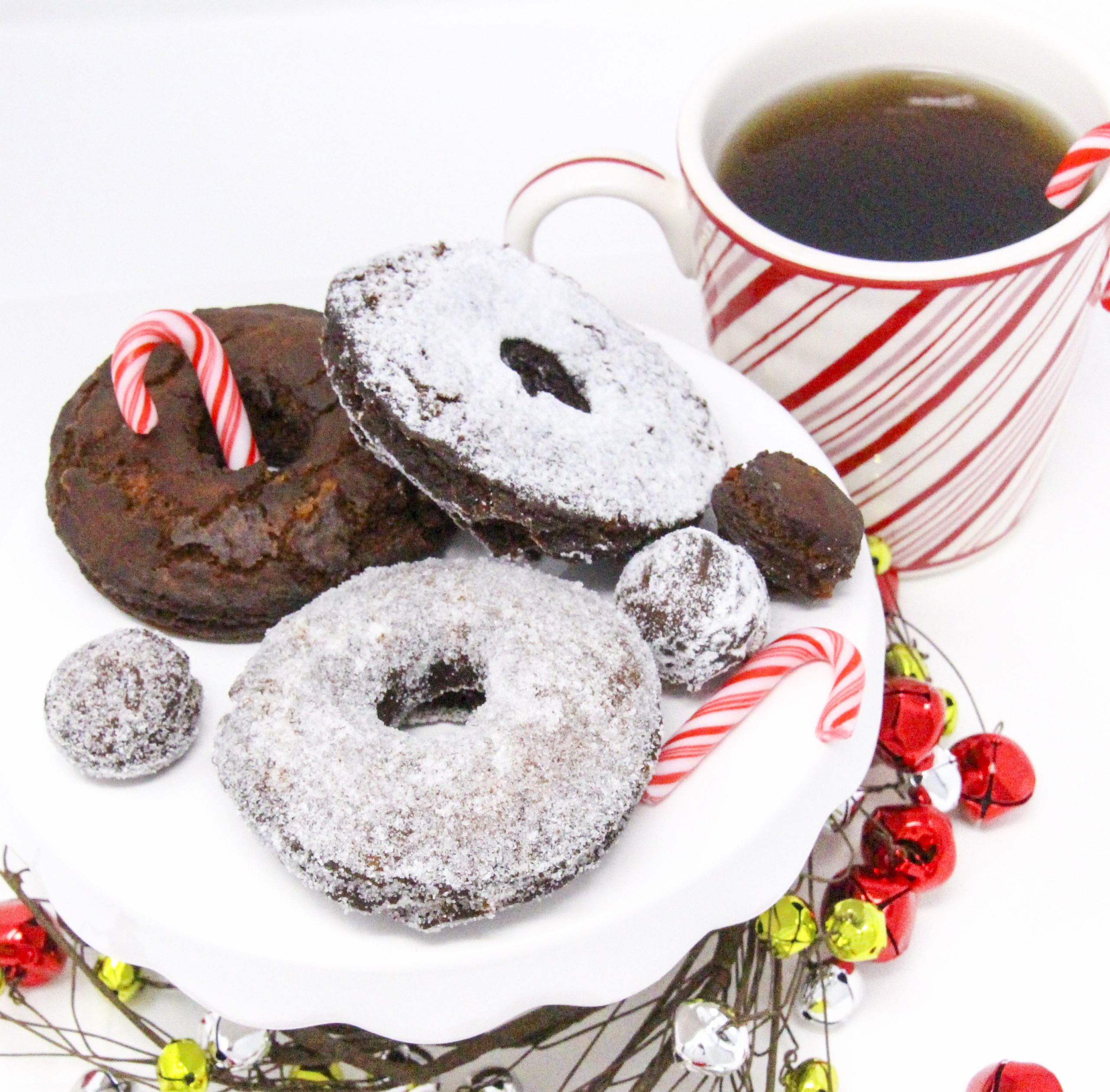 Amazon Synopsis
'Tis the season for the delectable desserts Emily Westhill and her cuddly cat serve up at Deputy Donut—but someone naughty on Santa's list has come to town . . .
 
It's Christmastime again in Fallingbrook, Wisconsin. Emily has truly decked the halls of her donut shop and decorated her donuts with festive designs from green and red frosting to snowflake sprinkles. For the annual Ice and Lights Festival, she's commissioned a sculpture with three ice-carved donut shapes to form a holey snowman, Frosty the Donut. She has one Christmas wish this year—to spend some time under the mistletoe with a certain detective.
But the holidays just aren't the same without an unexpected disaster or two. A tour bus on its way to the festival has crashed and a snowstorm has left all the shaken passengers stranded and shivering. Emily and her friends open their homes to shelter the traveling families, while the bus driver is admitted to the hospital for his injuries. But the following morning, Emily discovers his body—buried beneath Frosty the Donut.
The bus passengers show little sympathy for the man who dashed through the snow so badly, some claiming he was under the influence while behind the wheel. Emily also discovers that the driver had a history with folks in Fallingbrook. With multiple motives for murder piling up, it will take a Christmas miracle for Emily to solve this crime . . .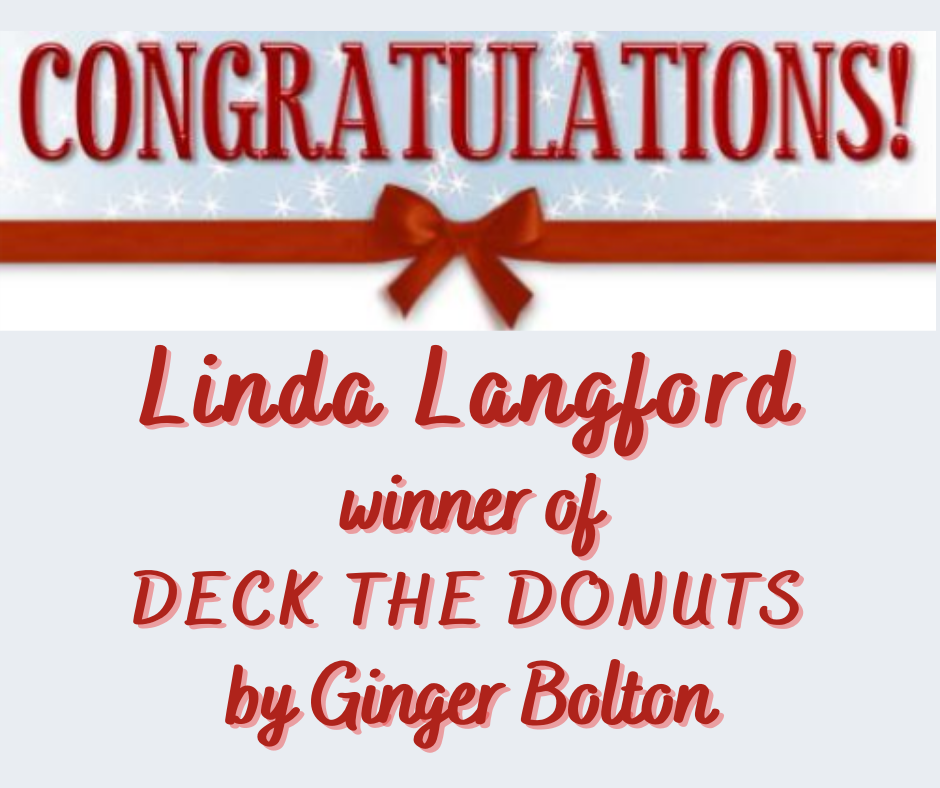 A special thanks to Ginger Bolton for providing one lucky winner with a print copy of DECK THE DONUTS. Giveaway is limited to U.S. residents. Contest ends October 27, 2021 at 11:59 pm PST. Please use the Rafflecopter box located below to enter. The winner will be announced on this page and on Cinnamon & Sugar's Facebook page, as well as notified by email (so check your spam folder!)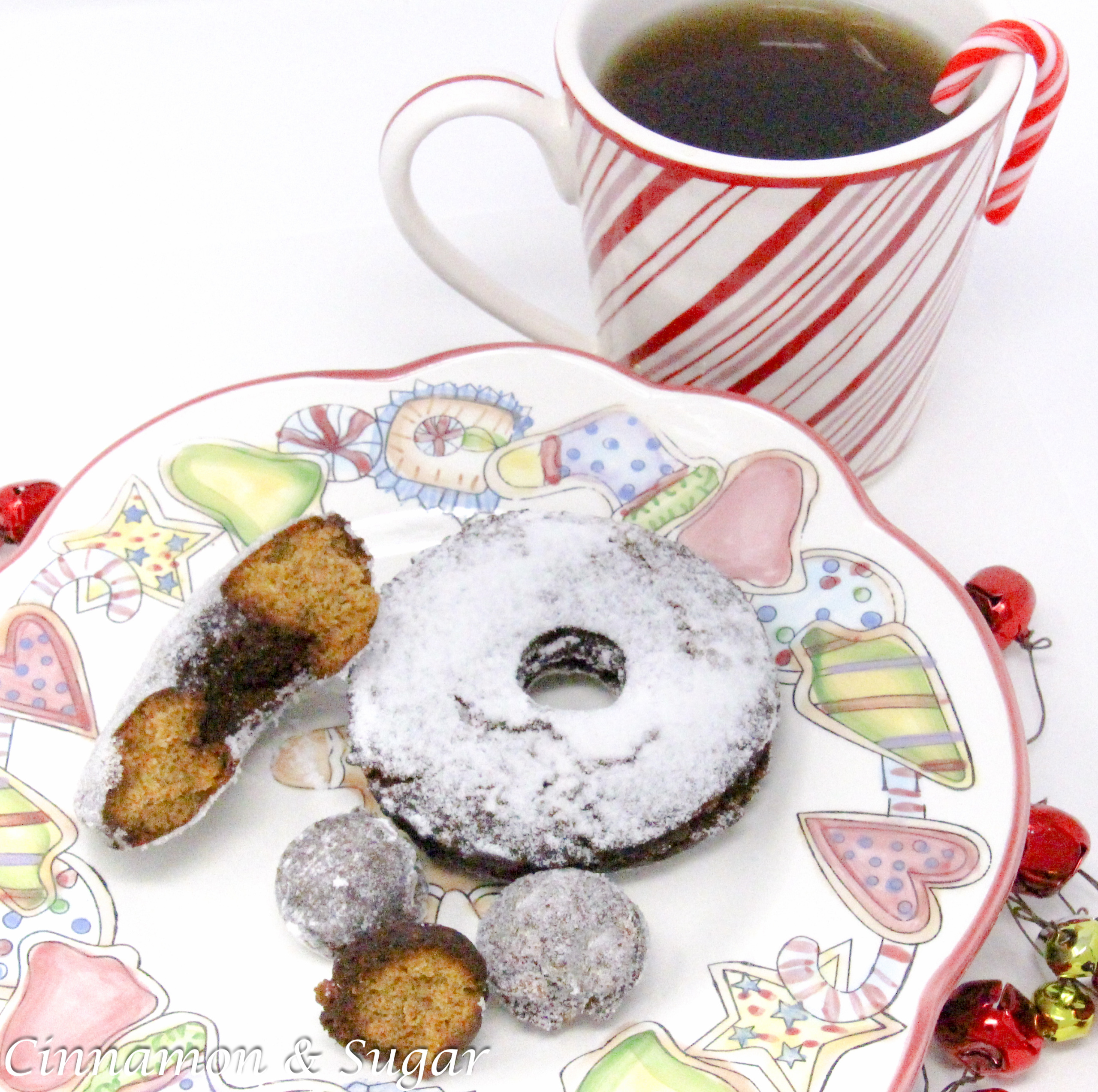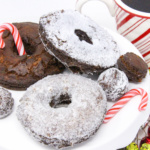 Gingerbread Donuts
Makes about a half dozen donuts and a half dozen donut holes.
Ingredients
1-3/4

cups

all-purpose flour

1

tablespoon

baking powder

2

teaspoons

powdered ginger

1

teaspoon

ground cinnamon

1/2

teaspoon

ground nutmeg

1/4

teaspoon

ground cloves

1

tablespoon

candied ginger, chopped fine (Note: Candied ginger near the outsides of the donuts will become crunchy during frying.)

2

egg yolks, beaten

1/4

cup

molasses

1/4

cup

milk

1/4

cup

brown sugar, packed

1

tablespoon

melted unsalted butter

Vegetable oil with a smoke point of 400 degrees (F) or higher (or follow your deep fryer's instruction manual)

Confectioners' sugar or granulated sugar (optional)
Instructions
Sift the flour, baking powder, ginger, cinnamon, nutmeg, and cloves into one bowl. Stir in candied ginger.

In another bowl, mix the egg, molasses, milk, brown sugar, and melted butter.

Stir wet ingredients into dry ingredients until blended. If necessary, add flour by the tablespoonfuls until dough is just barely firm enough to handle. Do not overmix. Wrap in plastic wrap and chill several hours or overnight.

Roll dough to 1/2 inch thick. Cut with donut cutter or one large round cutter with a smaller round cutter to make a hole in the center. Cover with damp cloth and allow to rest for 1/2 hour.

Heat oil to 360 degrees (F). Gently slip the donuts and donut holes, a few at a time, into hot oil. Do not overcrowd.

Cook for about 2 minutes until puffed and browning, turn, and cook for about one minute. Lift and drain on paper towels.

When cool, sprinkle with confectioners' or granulated sugar if desired.
Pin to Pinterest: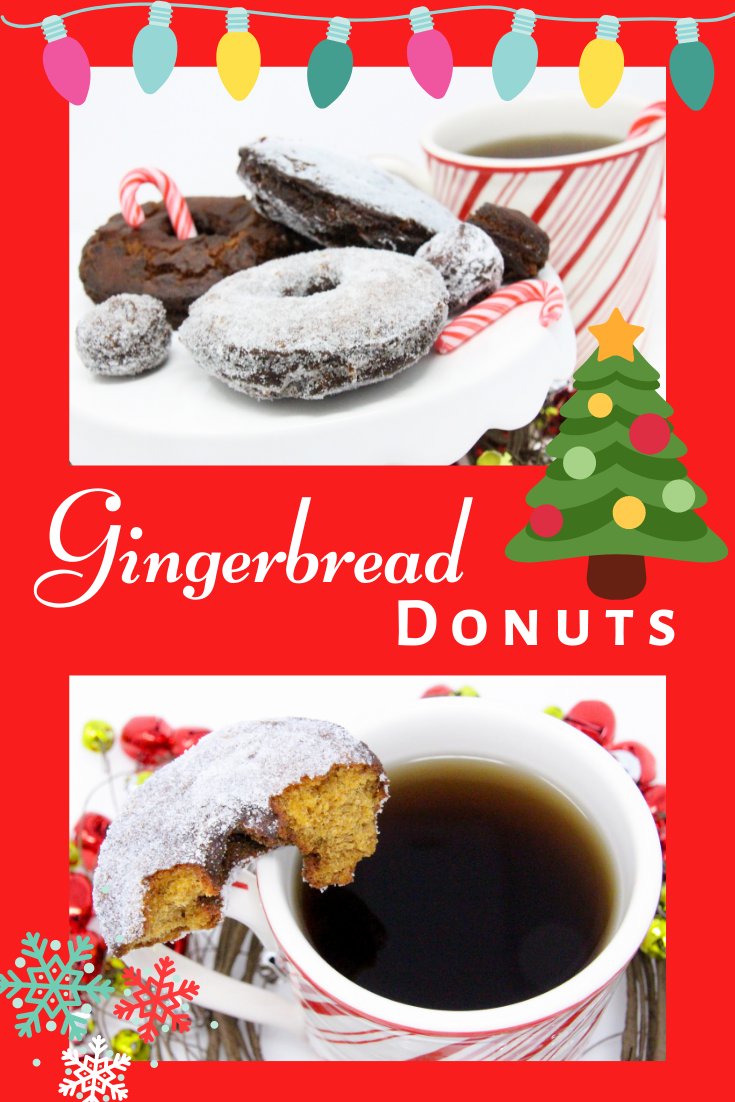 I was provided with an advance copy. All thoughts and opinions are my own.