THE PINT OF NO RETURN, the second book in the Sloan Krause Mystery series by Ellie Alexander brings the reader to Oktoberfest time in the quaint Bavarian-style village of Leavenworth, Washington. The author paints a vivid picture of the festivities, capturing the sights, sounds, smells and most importantly, the tastes of the celebration. The protagonist, Sloan Krause, is a capable young woman who is exerting her independence and strength to stand on her own after leaving her cheating husband. Sloan had been working for her husband's family at their very successful brewery but is now working for a small pub, Nitro, helping with the brewing, managing the pub and preparing food to sell.
I really like that Sloan isn't afraid to take risks and do what is right for herself and her young teenaged son. It's enabled her character to grow and be a good role model for other women. I also appreciate that Sloan has remained a beloved daughter-in-law to her husband's family, despite the breakup of her marriage, since she was raised in foster care and has no other family. The author weaves in the mystery of Sloan trying to discover who her biological mother is and my curiosity is definitely roused. The thread of this mystery has been carried from book one and appears to be continuing on with the series since it wasn't resolved with book two.
Ms. Alexander has developed some great characters and several have continued from book one such as April Ablin, Sloan's nemesis. April is annoying, as she's meant to be, yet provides a bit of comedy with her insistence on everyone in town dressing in Bavarian dirndl and/or lederhosen. The new characters introduced are part of the film crew and actors who descend on Leavenworth to film a documentary. The documentary gives the author plenty of opportunities to providing interesting insights into brewing. I especially enjoyed the bits and pieces of facts pertaining to what it takes to develop new brews and the distinctive ingredients that can be used to create unique flavors. The murder of the star of the documentary, Mitchell, pulls Sloan back into investigating. I like that her boss and the owner of Nitro, Garrett, doesn't mind her investigating and in fact, wants to help out. They make a good team and it seems, perhaps, that some romance might be brewing between the two. After seeing Mitchell interact with other characters, the reader isn't surprised he's the victim. He's a nasty piece of work and almost anyone who meets him would want to kill him. Still, the author manages to provide enough clues to keep the reader guessing and ties the threads of the mysteries together in an exciting conclusion. I found THE PINT OF NO RETURN to be an even stronger book than the first installment and look forward to what's next in store for Sloan!
While the book doesn't contain any recipes, Sloan is an able cook and prepares food to serve at the pub with their craft microbrews. Ellie has graciously developed a recipe for Fall Soup with Charred Vegetables that will complement any Oktoberfest brew and satisfy the heartiest of appetites. Along with a flavorful broth, small chunks of substantial veggies are broiled to provide char that mimics the undertones of the bitterness in beer. I really appreciated the large amount of veggies used (I'm always on the lookout for ways to increase produce in my meals) and the star-shaped pasta added a fun element to the bowl.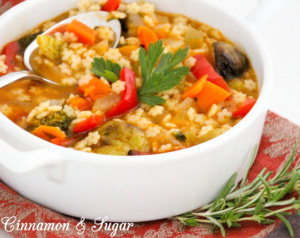 Amazon Synopsis
Amateur sleuth Sloan Krause returns in The Pint of No Return, another delightful cozy by Ellie Alexander―this time investigating a movie star who's murdered not long after arriving in Leavenworth, WA to film his latest project.
No other festival compares to Oktoberfest in Leavenworth, Washington. The whole town is buzzing with excitement over this year's activities and eagerly awaiting Nitro's latest offering Cherrywizen, made with locally sourced cherries. But local brewmaster Sloan Krause is tapped out. Between trying to manage the pub, her pending divorce with Mac, and her mounting feelings for Garrett, she's fermenting in internal turmoil.
To complicate matters, dreamy movie star Mitchell Morgan and his production crew have arrived in the village to film during the authentic Bavarian brewfest. Mitchell has his eye on Sloan and a taste for Nitro's Cherrywizen. Sloan escapes his advances for good when she finds Mitchell slumped over the bar. Is this a case of one pint too many, or has Mitchell been murdered by microbrew?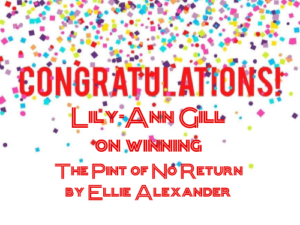 A special thanks to Ellie Alexander for providing a winner with a hardcover copy of THE PINT OF NO RETURN. Contest ends Tuesday, October 23, 2018 at 11:59 pm PST and is limited to U.S. residents only. Please use the Rafflecopter box located below to enter. The winner will be announced on this page and on Cinnamon & Sugar's Facebook page, as well as notified by email (so check your spam folder!)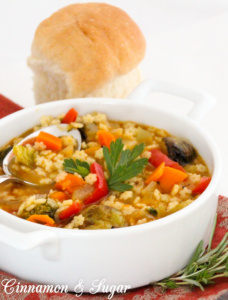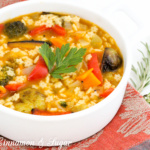 Fall Soup with Charred Vegetables
Ingredients
Olive oil

1

onion

4

cloves

garlic

3

large carrots

3

stalks celery

½

pound

brussels sprouts

1

red pepper

1

yellow pepper

Half a head of broccoli

6

cups

vegetable stock

2-3

sprigs of fresh herbs—parsley, sage, thyme, and rosemary

Salt and pepper to taste

1

cup

of stelline pasta (star pasta) (or other small-type pasta)

Tin foil
Instructions
Chop garlic, celery, onions, and carrots. Heat a large stock pot with a healthy glug of olive oil and add the veggies. Sweat on low heat.

While the mixture on the stove begins to sweat cut brussels sprouts in half, slice peppers into thin strips, and trim broccoli florets into smaller pieces. Preheat oven to broil. Line a baking sheet with tin foil and drizzle with olive oil. Toss the veggies in the oil and place the baking tray in the oven. Broil for five minutes, then remove tray from oven and flip vegetables. Return to oven and broil for five more minutes. Repeat until vegetables develop a lovely char—about twenty minutes.

Set charred vegetables aside and finely chop herbs—parsley, sage, thyme, and rosemary. Add herbs to stock pot, along with the vegetable stock, pasta, and salt and pepper. Bring to a low boil. Simmer for ten to fifteen minutes. Add charred vegetables just before serving.

Pairs perfectly with a hunk of rustic bread and a pint of Oktoberfest beer.

Pin to Pinterest: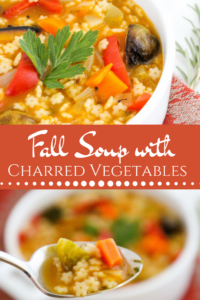 If you receive my blog post via email you will need to visit my website to view the video.
I was provided an advance copy with the hopes I would review. All thoughts and opinions are my own.