Once summer arrives there are many opportunities and situations that call for desserts. I love desserts that can easily be transported and that people can help themselves to. It's probably why I love cookies and cupcakes so much!
I wanted to make a dessert for my youngest granddaughter and her dance friends since they and their families often meet for dinner somewhere during the girls' hour break between dance and gymnastics practice. My youngest granddaughter loves caramel and her older sister loves chocolate, so I came up with these Caramel Chocolate Blondies that incorporate both. As a bonus, I used whole wheat flour so they get a bit more nutrition in their treat. Since I went home with an empty plate, I would have to assume my recipe was a hit!
And in honor of our upcoming 4th of July holiday, I've included photos of cookies I decorated for my oldest granddaughter and her classmates.
Wishing all a happy and safe 4th of July!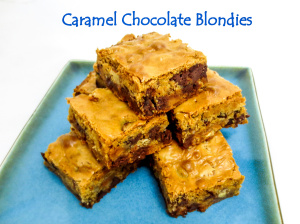 Caramel Chocolate Blondies
Ingredients
1/2 cup butter
1-1/2 cups (11.25 ounces) brown sugar
2 large eggs, room temperature
2 teaspoons vanilla extract
1 cup (4 ounces) white whole wheat flour (such as King Arthur Flour)
3/4 cup (3.75 ounces) all-purpose flour
2 teaspoons baking powder
1/2 teaspoon salt
1-1/4 cups Kraft Caramel Bits or caramel candies cut into small pieces
1-1/4 cups semi-sweet chocolate chips
1 cup walnuts, coarsely chopped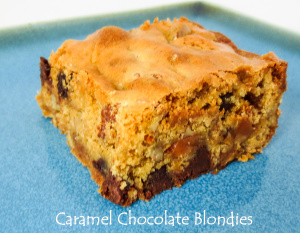 Instructions
Preheat oven to 350 degrees.
Coat a 9″x13″ baking dish with cooking spray.
Over medium heat, melt the butter and brown sugar together in a medium-sized pan, stirring until sugar is dissolved. Set aside to cool.
In a small bowl, whisk together the flours, baking powder and salt.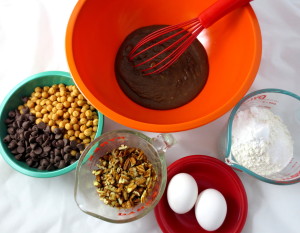 Whisk the eggs together, then slowly pour into the butter and sugar mixture, whisking the entire time to incorporate. Make sure the sugar mixture isn't hot or you'll end up with scrambled eggs.
Stir the flour mixture into the sugar mixture and once incorporated, fold in the chips and nuts.
Pour batter into the prepared pan.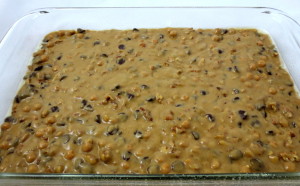 Bake the blondies for 30 – 35 minutes. They should be lightly brown on the top and around the edges.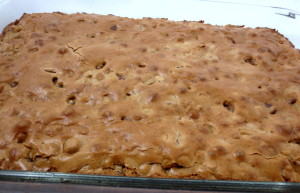 Cool completely before cutting into serving pieces.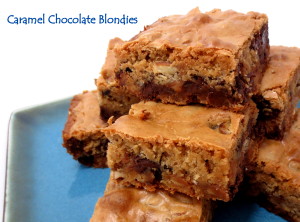 Tips
To make dairy-free use vegan margarine and 2-1/2 cups vegan chocolate chips, omit the caramel bits.
Recipe is adapted from a King Arthur Flour recipe
Happy 4th of July!
I've also been busy baking cookies for my oldest granddaughter and her classmates. Here are some pics to provide inspiration! If you're interested in the recipe for our favorite sugar cookie dough, visit the Recipe page and search for "Sugar Cookies" or click on this link: Sugar Cookies
Additional photos on how I iced the flag cookies: