GINGER SNAPPED TO DEATH, the 8th book in the Cookies & Chance Mystery series by Catherine Bruns captures the spirit and the flavors of the Christmas season. That is except for two carjacking Santas and Sally Donovan's gingerbread men and her brand new cake server left at the scene of the town's Casanova-want-a-be's murder. Sally, owner of Sally's Samples cookie bakery, is bursting at the seams with her own bun in the oven and Baby Donovan is not wanting to make an appearance. Besides worrying about the delay in delivery, Sally has her hands full with Christmas festivities and her sister's wedding. But as usual, a creepy fortune cookie her own bakery made, forewarns her of imminent disaster and it doesn't take long for mayhem to strike. Ms. Bruns takes the reader on a fast-paced caper with several laugh out loud moments (the parental units are the perfect pair to lighten the mood) along with heartwarming scenes that epitomize the holiday theme.
One of the many strengths in the Cookies & Chance series are the characters. The close knit Italian family that surrounds Sally through thick and thin makes me want to revisit them as each book is released and catch up on everything going on. Ms. Bruns does an admirable job of allowing each and every character to grow, to change, and to surprise the reader with every single story. The author also effectively builds suspense in both the murder mystery plot as well in Sally's personal life. There were plenty of suspects to keep me guessing and plenty of twists to keep me turning pages until the very last page. An edge-of-your-seat reveal added to the holiday cheer and makes me eager to find out what's in store for Sally and the gang with the next installment!
Sally's Samples serves up delectable cookies along with their famed fortune cookies. As usual, Ms. Bruns includes a couple yummy recipes at the back of the book that are perfect for holiday baking. I was honored to be asked to include one of my own recipes for the book. I decided on Candy Cane Brownies. Chocolate and peppermint are a favorite flavor combination of mine (Thin Mints!) and the added crunch of crushed candy canes to adorn the tops of the frosted brownies adds a festive touch. Easy to make, this batch will serve a large group which makes it perfect to prepare for any holiday gathering while saving a few pieces for Santa.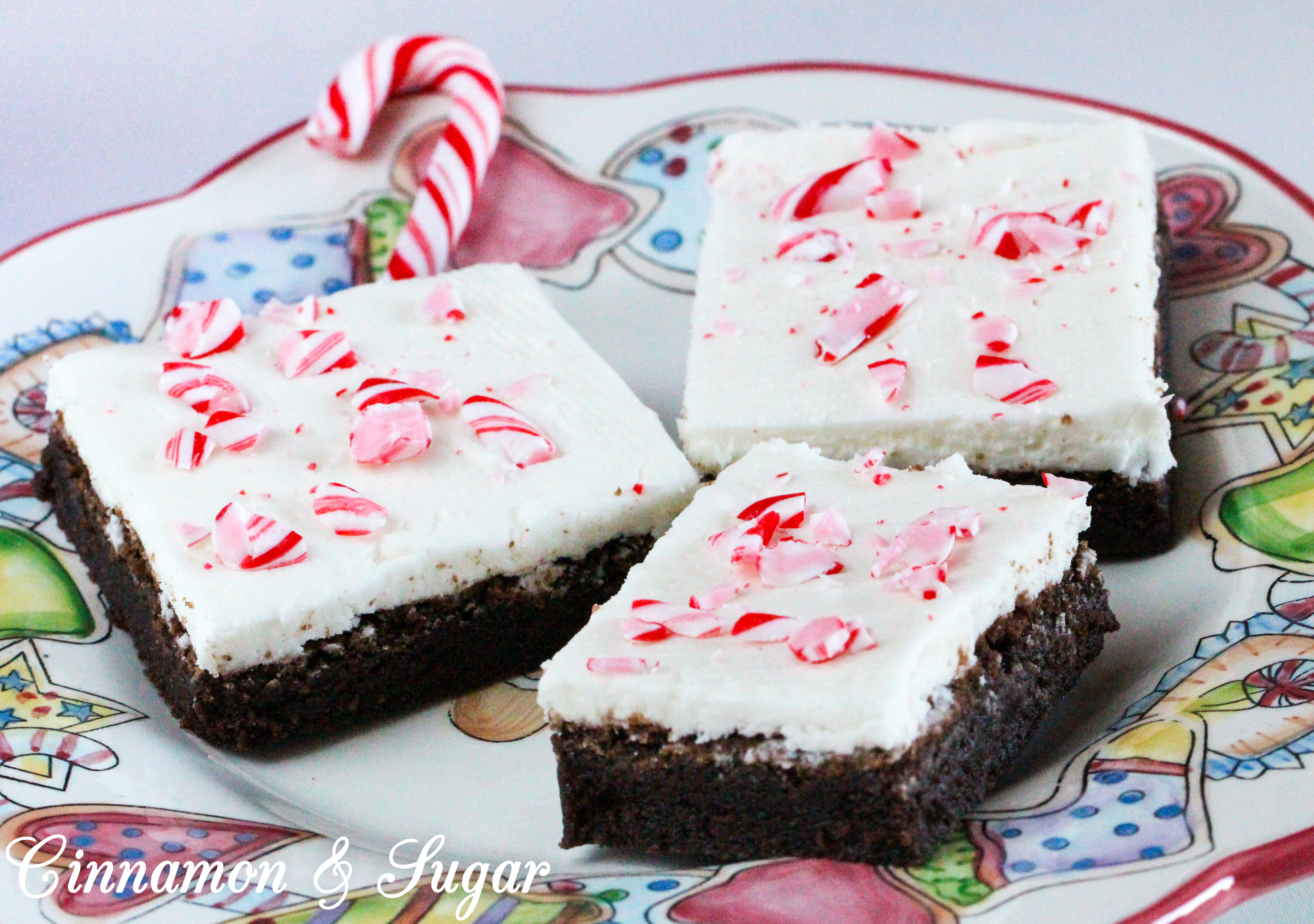 Amazon Synopsis
It's the most wonderful time of the year… Unless you're Sally Muccio.
The full-time baker and sometime sleuth is ready to burst into song. She and her husband are expecting a bundle of joy, her sister's wedding is just around the corner, and it's Christmas, her favorite time of year. But when Sal's the victim of a carjacking by Santa himself and a forgotten item links her to a murder, she doesn't feel like ho-ho-hoing anymore.
Damian Ruger was a drug user, womanizer and first-class jerk. And unfortunately for Sal, she once had a connection to him in high school. The dough really hits the fan when her bakery's gingerbread cookies are found next to his dead body, and Sal's cake server is used as a murder weapon. Someone is trying to frame the expectant mother, but why? Sal has no choice but to try to clear her name…before she and the baby are singing Christmas carols in prison!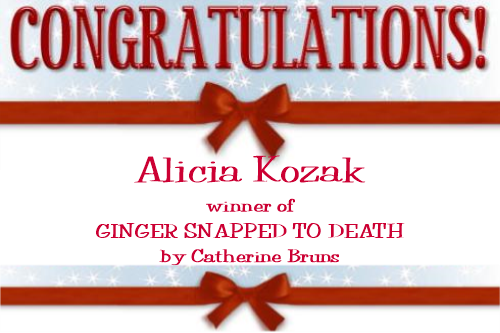 A special thanks to Catherine Bruns for providing one winner with a print copy of GINGER SNAPPED TO DEATH. Contest ends Sunday, November 17, 2019 at 11:59 pm PST and is limited to U.S. residents. Please use the Rafflecopter box located below to enter. The winner will be announced on this page and on Cinnamon & Sugar's Facebook page, as well as notified by email (so check your spam folder!)
Candy Cane Brownies
Ingredients
Brownies
1-1/2

cups

butter, room temperature

3

cups

granulated sugar

3/4

cup

cocoa powder (either natural or dutch cocoa will work here)

5

eggs, room temperature

1

teaspoon

salt

1

teaspoon

peppermint extract

2-1/4

cups

all-purpose flour
Frosting
1/2

cup

butter, room temperature

4

cups

confectioners' sugar

5

tablespoons

heavy whipping cream

1/2

teaspoon

peppermint extract
Garnish
Coarsely broken candy canes
Instructions
Brownies
Preheat oven to 350 degrees (F).

Cream butter and sugar with an electric mixer on medium speed, until light and fluffy, about 3 minutes.

Beat in the cocoa powder until thoroughly incorporated and no lumps remain.

Beat in eggs, one at a time, then add salt and peppermint extract. Mix well.

Gradually add in the flour and stir until completed incorporated.

Line a jelly roll pan (15-1/2"x10-1/2"x1") with parchment paper. Spritz the parchment paper with non-stick cooking spray, then spread the batter evenly in the prepared pan.

Bake for about 30 minutes or until a wooden skewer inserted in the center comes out mostly clean. Rest pan on a wire rack until completely cool before proceeding with frosting.
Frosting
Cream the butter then slowly add the confectioners' sugar and beat until incorporated completely.


Add the peppermint extract.

Mix in 4 tablespoons heavy whipping cream. Add additional cream, up to 1 tablespoon, until spreadable consistency is reached. Whip for an additional 3 minutes, until frosting is light and fluffy.

Frost the brownies then cut into 2-inch squares. Garnish each square with bits of broken candy canes right before serving.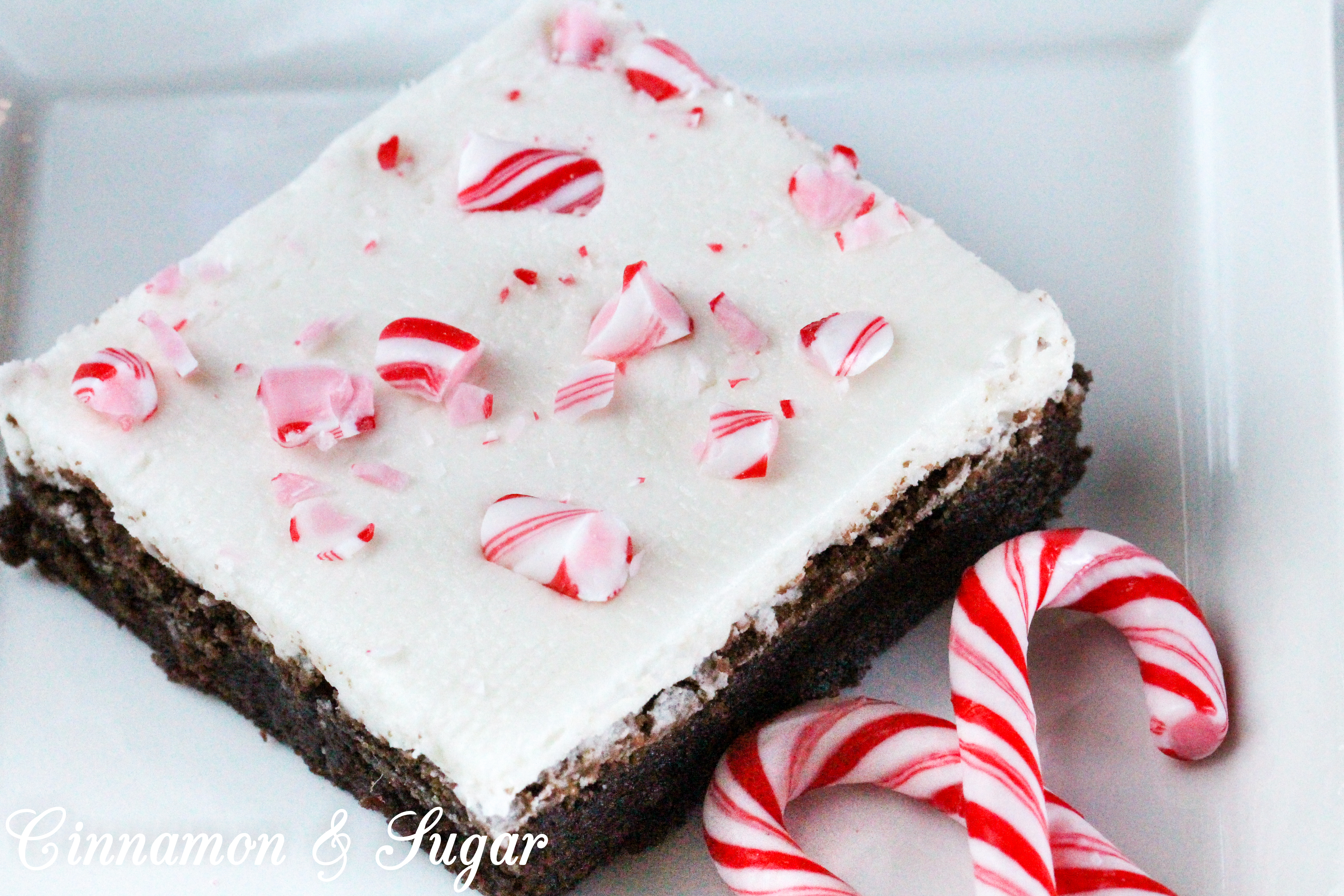 Pin to Pinterest: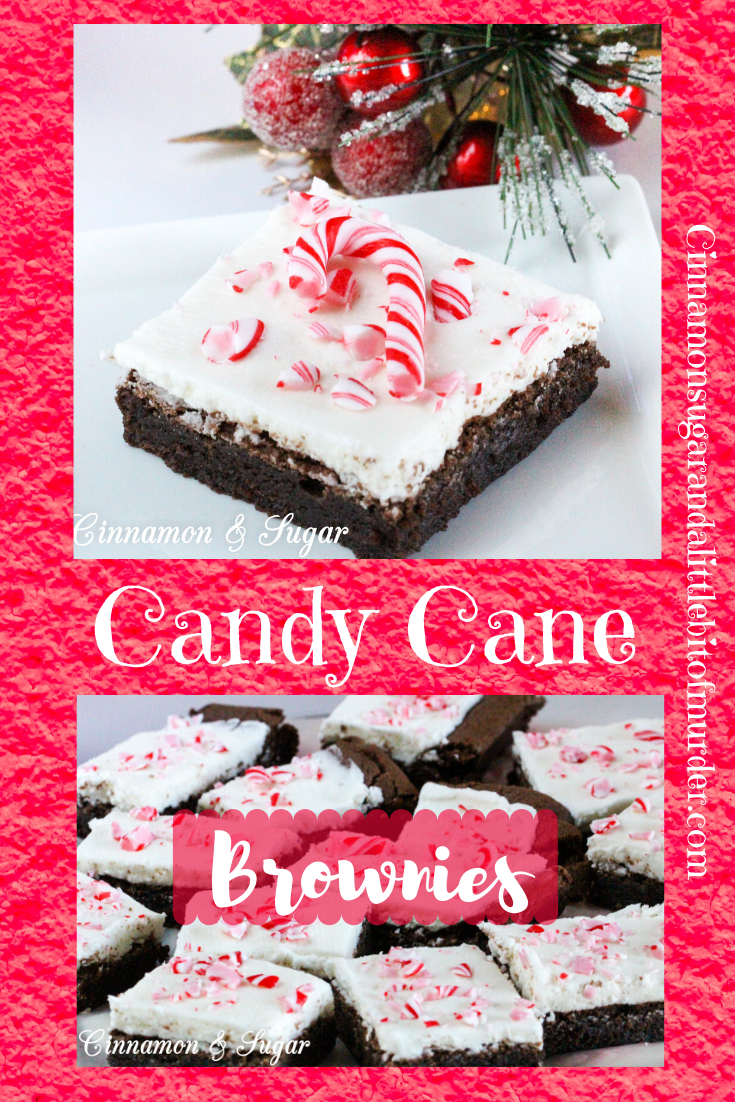 If you receive my blog post via email you will need to visit my website to view the video.
I was provided an advance copy. All thoughts and opinions are my own.