It's always fun to be introduced to a new author who is debuting a new series! I had the pleasure of recently reading BREWING UP MURDER by Neila Young, where the very first sentence and then paragraph captured my attention. The protagonist, Blake Harper, owns Mystery Cup Café in Wilton, Missouri. The town is known for a string of murders that happened 50 years ago, the crimes never solved. While the author doesn't go into great detail, there is enough information provided that makes me curious if subsequent books in this series will lead the protagonist to find answers to the deaths of twelve young women. I'm definitely intrigued with this plot! In addition to the old, unsolved murders, a new murder has taken place. Blake finds her assistant, Nikki, dead in the Mystery Cup Café and her kitchen trashed. Even though Blake's sister, Kyle, is the detective working the case, the café owner still feels responsible for bringing the murderer to justice.
The two sisters have strong personalities and I enjoyed the close bonds they share with their brother, Ryan. There is fun interaction between the three siblings and a bit of entertainment with Ryan always trying to set Blake up on blind dates. Ms. Young has created a great cast of characters to surround her protagonist; some are there for support, a couple to offer romance, while others to create tension and conflict in Blake's life. The town and the characters are good backdrops for a puzzling mystery with plenty of suspects that kept me guessing. When I finally read the surprising conclusion the only thing on my mind was wondering when the next book is coming!
The Mystery Cup Café serves up delectable treats and fortunately for the reader the author provides a couple recipes at the back of the book. Blake has indeed perfected her Espresso Brownie recipe and Ms. Young has graciously allowed me to share it with you. Super rich, super gooey and oh so decadent is the only way to describe these amazing brownies! I found small squares, each topped with a chocolate covered espresso bean, and served with a piping hot cup of coffee made the perfect pick-me-up for a morning snack. The staff at my granddaughter's school certainly enjoyed having these show up in their break room and I was happy that I could share such a delicious treat with them!
Amazon Synopsis
As the owner of Mystery Cup Café in Wilton, Missouri, a town made famous by a string of long-ago murders, Blake Harper is used to the mysterious. When her barista is found strangled in a mound of coffee beans, Blake vows to find the killer, even though her sister, the town's lead police detective, tells her to stay out of it. Blake finds plenty of suspects, like the owners of a rival coffee shop and the handsome new bookstore owner. But when new threats are made, she soon realizes the danger is centered around Mystery Cup and someone is targeting her personally. Will Blake be able to solve the murder, find a new barista, and perfect her recipe for espresso brownies before she becomes the next victim?
A special thanks to Neila Young for offering a copy of BREWING UP MURDER for one lucky winner! Contest ends Friday, September 22, 2017 at 11:59 pm PST and is open to U.S. residents only. Please use the Rafflecopter box located below the recipe to enter. The winner will be announced on this page and on Cinnamon & Sugar's Facebook page, as well as notified by email (so check your spam folder!)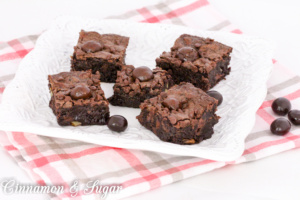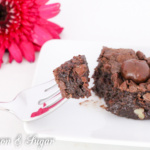 Blake's Signature Espresso Brownies
Ingredients
1-1/3

cup

butter, softened

2-2/3

cups

sugar

3

eggs

1

tablespoon

vanilla

1-1/2

cups

flour

1

cup

baking cocoa

1/2

teaspoon

salt

1

tablespoon

instant coffee

1

cup

chocolate chips

1/2

cup

chopped pecans

1/2

cup

mini chocolate chips

1/2

cup

chocolate-covered espresso beans
Instructions
Preheat oven to 350 degrees (F).

Cream butter and sugar together.

Beat in eggs and vanilla.

Combine flour, cocoa, salt, and instant coffee. Add to the creamed mixture.

Add chocolate chips and pecans and mix well.

Spread into a greased 9x13-inch pan.

Sprinkle with mini chocolate chips and espresso beans.

Bake at 350 degrees for 26 to 28 minutes.

Cool completely before cutting into squares and serving.
Tip
If the brownies seem too soft after cooling, chill in the refrigerator for an hour before serving.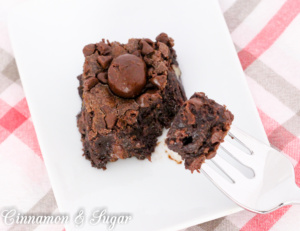 Pin to Pinterest: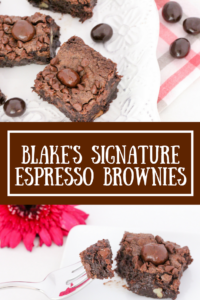 If you receive my blog post via email you will need to visit my website to view the video.
I was provided a copy of this book with the hopes I would review. All thoughts and opinions are my own.