Every August I take a long drive from Southern California to coastal Oregon and go blackberry picking with my youngest sister and her daughters. Prickly bushes are loaded with dark juicy berries that have ripened to perfection in the sun. One of my most favorite things to do with the tart blackberries is make jam. The first summer I visited my sister, shortly after she had moved, we picked enough berries to make two batches of the dark purple preserves….we now pick enough berries to make a dozen or so batches. Once I found out how easy it was to make I decided the jars of yumminess were perfect for Christmas gifts, birthday gifts, hostess gifts, and of course my husband reminds me I should always keep a stash just for him.  The jam is ideal for PB & J sandwiches, toast, ice cream topping and absolutely delicious on fresh, out of the oven, biscuits. I've included a biscuit recipe that's so quick and easy, using only 4 ingredients, kids can mix them up within a few minutes with minimal help.
A special thanks to my sister and nieces for being so willing to pick SO many berries for me! And a huge thank you to my sister, Kathy, for helping me make the jam and biscuits!!!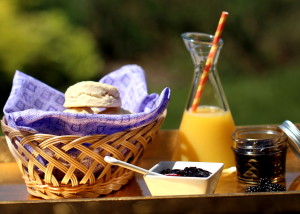 Wild Blackberry Jam
Ingredients
4 cups blackberries – crush, then measure (frozen work perfectly fine, just defrost prior to measuring)
7 cups granulated sugar
1 pouch liquid fruit pectin (such as Certo or Ball brand)
8 8-ounce canning jars with lids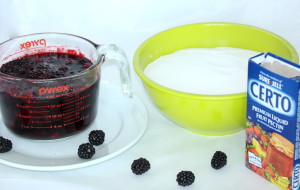 Instructions
Place crushed blackberries along with residual juice into a large stock pot, along with the sugar.
Heat over medium-high heat and bring to a full rolling boil (jam won't stop bubbling when stirred), stirring frequently.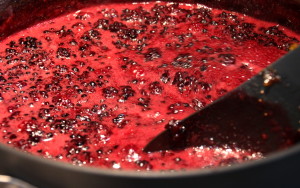 Boil 1 minute, stirring constantly.
Stir the liquid pectin into the boiling jam and return to a full rolling boil, stirring constantly.
Boil exactly 1 minute then remove from the heat.
Skim off any foam with a metal spoon and discard.
Immediately ladle into sterilized glass jars filling to within 1/4 inch from the top.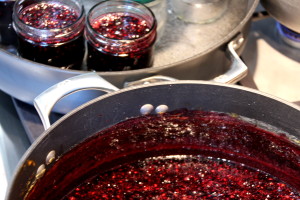 Wipe the glass jar rims and place sterilized lids and bands on. Make sure they are on tight.
Place jars into a prepared water bath and lightly boil for 10 minutes.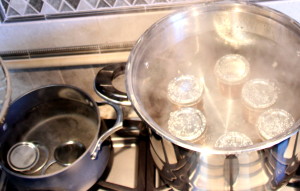 Once processing time is complete, remove and allow to cool completely.
After jam has completely cooled, check the seals by pressing the middle of the lids. If lids spring back or pop the jam has not sealed properly and it must be refrigerated.
Store sealed jam in a cool, dry place for up to one year.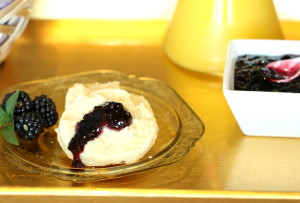 Super Flaky Biscuits
Ingredients
1-1/2 cups ( 6 ounces) all-purpose flour
2-1/4 teaspoons baking powder
1 teaspoon salt
3/4 cup + 1 tablespoon heavy cream, divided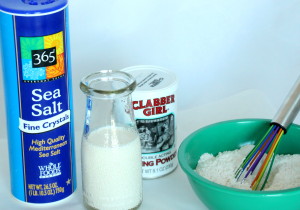 Instructions
Preheat oven to 450 degrees.
Line a baking sheet with parchment paper.
Whisk the all-purpose flour, baking powder and salt together.
Make a well into the middle of the flour mixture and slowly stir in the 3/4 cup heavy cream.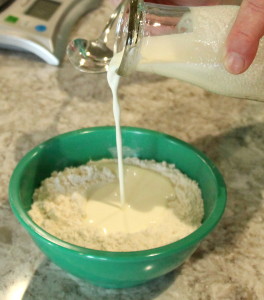 Stir until the dough comes together and doesn't crumble apart.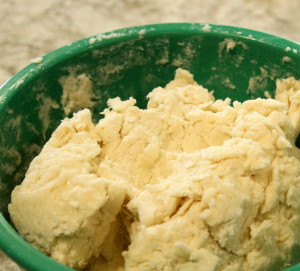 You can scoop the dough into large round tablespoon sized pieces and place on the prepared baking sheet. This is super easy for kids to accomplish! You should get approximately 12 biscuits with this method, depending on how large you make them.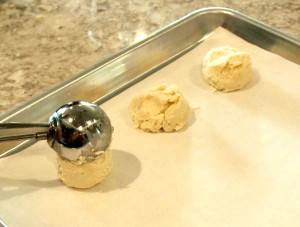 Alternately, you can roll or pat the dough out to 3/4″ thick and cut with a round cutter. Re-roll the scraps 2 times to use as much as possible.
Brush biscuits with the remaining 1 tablespoon heavy cream. This will help them rise so don't skip this step!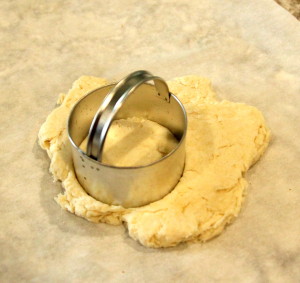 Place the biscuits into the preheated oven and bake for 10 minutes. They should be golden on top but not gooey on the inside. If you're not sure, break one open and test for doneness.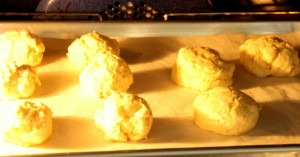 Remove from oven and cool for a couple minutes on the baking sheet.
Serve warm with plenty of your favorite jam and honey.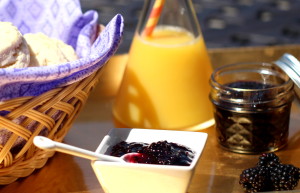 Biscuit recipe inspired by King Arthur Flour