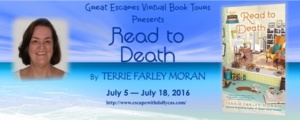 I'm very happy to be a part of the Great Escapes Virtual Book Tour with READ TO DEATH by Terrie Farley Moran! While this is the third book in her Read Em and Eat Mystery series, it is the first one I've had the chance to read. It is easily read as a stand-alone and it didn't take me long to get to know the characters and enjoy their adventure as they solve another crime!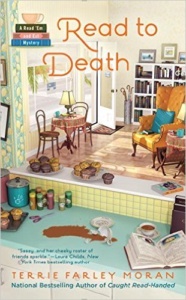 Synopsis
Sassy Cabot owns Read 'Em and Eat Cafe and Book Corner with her best friend, Bridgy Mayfield, in Fort Myers Beach, Florida. It's nearing the end of "snow bird" season so the two women put together the last book club tour for the seniors, visiting Thomas Edison and Henry Ford's winter estates. They hired talkative, know-it-all, although good-hearted Oscar Frieland as the van driver who ends up in an argument with one of the senior ladies in the group.
After the tour the ladies scatter to get ready for their book club meeting and Bridgy returns to the van to retrieve her sunglasses. She finds Oscar dead, stabbed to death with scissors. With the shock of finding the body, Bridgy is overheard saying things that could be construed as admission of guilt. With the police focusing on Bridgy instead of finding the real killer, Sassy knows she needs to start asking questions instead of staying out of the investigation as Lieutenant Frank Anthony (aka Lieutenant Judgmental) demands. When Bridgy and Sassy's mothers show up, Sassy finds she has a lot to juggle. Can she keep her Cafe going, keep the mothers happy, and find the killer before they fly out of town? Or will her best friend and business partner spend the rest of her life in jail?
My Review
READ TO DEATH is a fun, lighthearted read that is character driven. The senior citizen group has some quirky characters, such as Bridgy's Aunt Ophie. There is tension and mystery surrounding the fallout Aunt Ophie had with Bridgy's mother and the subplot weaves nicely with the story Sassy's mother, who calls herself Sage at the moment, has a free spirit keeping everyone on their toes and provides some humor. I also enjoyed the historical facts woven into this cozy mystery. I had no idea that both Edison and Ford wintered in Florida! I missed Oscar after he was murdered because he was a great tour guide providing all sorts of insight into the history of the area.
The author cleverly provides funny nicknames for so many things such as Sassy's Heap-A-Jeep. She has also creatively named the food items sold in the cafe to correspond with books, such as Old Man and the Sea Chowder and My Secret Garden Salad. In addition to a cute culinary cozy, Terrie also includes a couple recipes with her book. The one that I was instantly drawn to, Drunken Raisin Scones, was provided to Terrie by Karen Owen, blogger at A Cup of Tea and a Cozy Mystery. They have graciously allowed me to share the recipe with you…and oh my, these are amazingly flavorful scones! Plump raisins are simmered in a whiskey and cinnamon sauce that infuses the flaky, tender pastry. Additional whiskey and cinnamon reduction is used in the glaze to add another layer of flavor that will have you asking for seconds! Thank you, Terrie and Karen, for allowing me to share such a scrumptious recipe!

A special thank you to Terrie Farley Moran for providing two giveaway copies of READ TO DEATH and given away by the Great Escapes Virtual Book Tour. Please enter via the Rafflecopter located below the recipe.
Drunken Raisin Scones
Ingredients
Raisin Whiskey Reduction
1/4 cup raisins
1/4 cup whiskey
1/4 cup water
1 teaspoon cinnamon
2 teaspoons sugar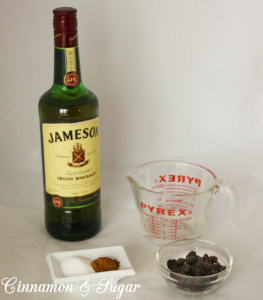 Scones
2 cups all-purpose flour
3 tablespoons sugar
3 teaspoons baking powder
1/2 cup soft salted butter
1/3 cup milk
1 egg
Raisin reduction minus 2 tablespoons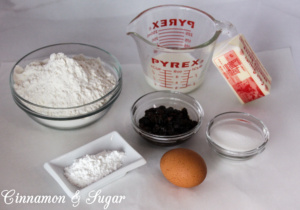 Whiskey Glaze
1/4 cup powdered sugar
2 tablespoons reserved reduced whiskey mixture (liquid only)
2 tablespoons milk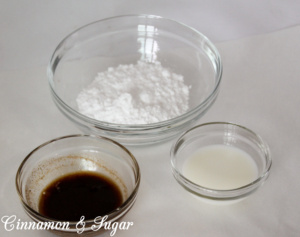 Icing Drizzle – optional
2 tablespoons powdered sugar
3/4 teaspoon milk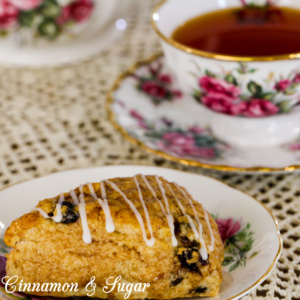 Instructions
Raisin Whiskey Reduction
Place raisins, whiskey, water, cinnamon, and sugar in a small saucepan.
Stir and bring to a boil, then simmer until the liquid is reduced by half.
Remove from heat and set aside 2 tablespoons of the reduction liquid for the glaze.
Set aside the raisins and the remaining reduction liquid for the scones.
Scones
Preheat oven to 400 degrees (F).
Sift flour, sugar, and baking powder in a bowl.
Cut butter in small pieces and blend into the flour mixture until it resembles bread crumbs.
Whisk the egg and milk together then hand stir mixture into the flour mixture.
Add raisins and liquid reduction to scone batter and mix.
If dough is too wet, add a small amount of flour.
On a cutting board, shape dough into a mound.
Cut into eight triangles and place on a cookie sheet without pieces touching.
Bake until the edges are golden brown, approximately 15 – 17 minutes.
Remove from oven and let cool slightly before glazing.
Whiskey Glaze
Place powdered sugar in a small bowl.
Stir in the reduction liquid and milk.
If glaze is too thick, thin to taste with a few drops of water.
Brush over warm scones.
Icing Drizzle – optional
Mix powdered sugar and milk together until smooth.
Drizzle in zigzag pattern over glazed scones.
Tip
If you'd rather not use whiskey, substitute apple juice.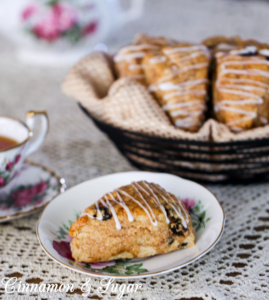 Pin to Pinterest: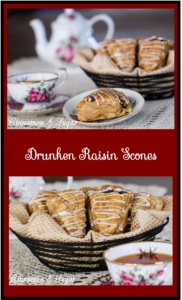 If you receive my blog post via email you will need to visit my website to view the video.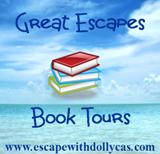 I was provided a copy in exchange for my honest review. All thoughts and opinions are my own.