I always love when a new release comes out in a series that I enjoy reading. I have long been anticipating Karen Rose Smith's SILENCE OF THE LAMPS (such a great title even though the original movie gave me nightmares for weeks…) and it was every bit as good as I had hoped! As usual, Karen includes several recipes with her book, all equally delicious sounding, but I was drawn to Caprice's Easy Beef Bourguignon. I adore anything made in the slow-cooker and even though the ingredient list may look a bit long, it's not complicated and doesn't take long to assemble. My husband was crazy about this easy Beef Bourguignon with it's super flavorful, melt-in-your-mouth tender beef. I liked that Karen uses plenty of vegetables to compliment the beef and that aside from stirring a couple of times, it was mostly hands off cooking.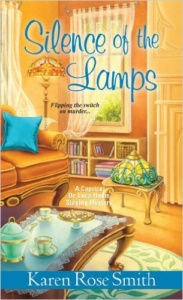 Just as Karen's easy Beef Bourguignon was a hit, SILENCE OF THE LAMPS was a delicious read!
Synopsis
Home Stager Caprice DeLuca is hosting an open house with her sister, Nikki, providing the catering. Nikki has had issues with her former employee, Drew Pierson, since she fired him. Drew had wanted to be partners in her business with some romance thrown in, but Nikki wasn't interest in either. Furious, Drew started up his own catering company and shows up at the open house. He pulls Nikki into a loud argument and vows to destroy her business. Unfortunately, there are several potential home buyers who witness the argument.
A few days later at a wedding expo Nikki is exhibiting at, she and Caprice find that Drew has stolen some of her recipes and clients. In addition, he's serving a Chocolate Walnut Cake that appears to be from his grandmother's closely guarded recipe. Could he have stooped so low to steal from his own grandmother? When Caprice and Nikki find him murdered, all evidence points towards Nikki. Caprice is determined to clear her sister's reputation and help save her business. As she peels back the layers of deceit Drew has built up, she finds there were numerous people who have reasons for killing him. Can she find the murderer or is Nikki going to take the fall?
My Review
I so enjoyed catching up with Caprice and her close-knit family! Their interaction and seeing how much they care for each other and for those in their community is a refreshing change from all the conflict you see in the media. I know from following the author's Facebook page that Karen is involved in caring for stray, almost feral, cats. I loved how she wove part of her personal story and passion into her book. It adds compassion and a depth to her characters, while giving you insight into some of the complications that can exist for these rescued felines. Karen's books are truly character driven, which leaves you thinking of them long after you've finished the story. But she doesn't neglect the plot either… there are enough twists, turns, and suspects to keep you guessing until the end when it reaches an unexpected conclusion!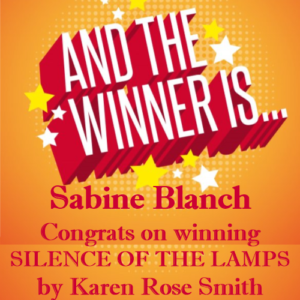 Thank you to Karen Rose Smith for providing winner's choice of e-book or autographed print copy of SILENCE OF THE LAMPS! Print copy available to U.S. residents only. Please use the Rafflecopter box located below the recipe to enter. Contest ends Thursday, May 12, 2016 at 11:59 pm PST. Winners will be announced on this page and on Cinnamon & Sugar's Facebook page, as well as notified by email (so check your spam folder!)
Caprice's Easy Beef Bourguignon
Serves 6 – 8
Ingredients
6 bacon slices, plus 3 tablespoons of the drippings
2-1/2 pounds stewing cubes
2 cups flour
1-1/2 teaspoons salt
1/2 teaspoon pepper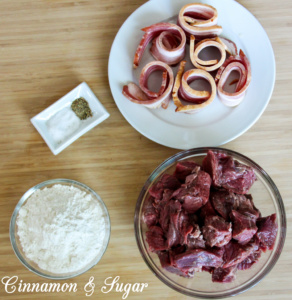 1 cup chopped onion
1 cup peeled and sliced carrots
1 cup chopped celery
1 clove grated (or crushed) garlic
1/8 teaspoon marjoram
1 teaspoon salt
1/2 teaspoon pepper
3 cups beef broth (use Swanson for no MSG)
1-1/2 cups white burgundy wine (red burgundy discolors the mixture)
4 or 5 red pepper flakes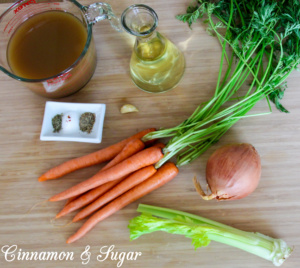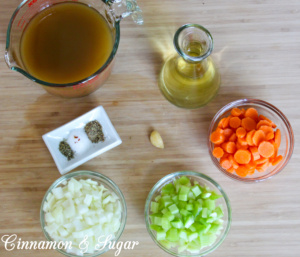 Instructions
Coat a 5-quart slow cooker with non-stick cooking spray.
Fry the bacon, then remove it from the drippings. When it is cool, crumble it and set aside in the refrigerator.
Save 3 tablespoons of the drippings.
Dry beef cubes as much as possible with food-friendly paper towels.
Combine flour, 1-1/2 teaspoons salt, and 1/2 teaspoon pepper in a Ziplock bag.
Drop a few stewing cubes in at a time to coat them, then place the coated cubes in the slow cooker.
Add onion, carrots, celery, garlic, marjoram, 1 teaspoon salt, 1/2 teaspoon pepper, and the red pepper flakes to the beef cubes in the slow cooker.
Pour broth over the mixture, then add the three tablespoons of bacon drippings, and the wine.
Cover and cook on low for 5 hours or until beef cubes are tender. (I cooked on high heat for 5 hours and it was perfect. If you cook on low you may need to cook for up to 8 hours, depending on the cut of beef you use.)
Stir every two hours for a smooth gravy base without flour lumps.
I serve over 1 pound of wide egg noodles and top each portion with crumbled bacon.
Tips
This stew makes a lot of gravy that is very light in color… While this recipe for Beef Bourguignon is extremely easy to make AND is loaded with flavor that my husband absolutely loved, the gravy doesn't have the rich appearance of the traditional dish. If presentation is important to you and your family, I would recommend taking the extra time to brown the meat in the bacon drippings and then proceed with the recipe.
Or you can do what I did and place the gravy at the bottom of the bowl, top with egg noodles, then add the beef and vegetables, garnishing with bacon and parsley.
In the last hour of cooking check the consistency of the gravy. If it appears too thin, remove the lid from the slow-cooker and finish cooking uncovered on high heat. Different cuts of beef can contribute different levels of liquid to the dish.
If you receive my blog post via email you will need to visit my website to view the video.