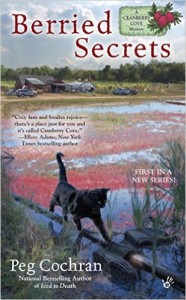 BERRIED SECRETS by Peg Cochran is the first book in the all new Cranberry Cove Mystery series. I love starting a brand new series and this one didn't disappoint! Monica Albertson lost her fiancé and her cafe so decides to make a new start by moving to Cranberry Cove, Michigan, to help out her half-brother, Jeff. Recently returned from the war in Afghanistan, Jeff is coping with being disabled and trying to run his cranberry farm. Monica arrives and finds that the farm is in dire financial straits and her brother doesn't know why. In the early morning hours of the first day of the cranberry harvest, Monica bumps into the murdered body of Sam Culbert while wading in the frigid bog. Sam was the town's mayor and owned a great deal of the town. He was also the manager of Jeff's cranberry farm while he served overseas. When it comes out that Sam was skimming the profits from the farm, the police immediately suspect that Jeff is the murderer.
Monica is certain that her brother is innocent and sets out to prove it…which means she has to find the real killer even though she has no experience in those kinds of things. After all, she's only a baker. Unfortunately, the more questions she asks the more people she finds who had reasons to want the unpopular Sam Culbert dead. One of her suspects is the local bookstore owner, Greg Harper, who has asked her out on a date. She's not sure she's ready to move on after the death of her fiance, especially with someone who may be a killer…but she still finds Greg interesting… When Jeff's mother (Monica's step-mom) roars into town things get even more out of control. Gina is an entertaining, overpowering character and wants to help her step-daughter solve the murder. Monica knows time is running out when another body is found and she must stop the killer even if it means letting her step-mom get involved.
In addition to a cleverly crafted cozy mystery, the author gives a lot of insight into the growing and harvesting of cranberries. I loved her descriptions of both the cranberry growing region in Michigan in addition to the quaint Cranberry Cove town and its characters. Peg also provides several yummy cranberry recipes at the back of the book…and I definitely want to try them all!
In the end I chose her Cranberry Banana Bread with Streusel Topping to showcase. Quick bread has long been a favorite of mine. You can put pull it together in minutes, pop it into the oven and within an hour have a moist, tender loaf that's perfect for breakfast, snack or nibbling on anytime! The cranberries compliment the banana bread perfectly, providing a nice tart addition to the sweetness. Crunchy walnuts round out the bread, while cinnamon-y streusel adds a burst of flavor. Of course if you're like my husband, you can opt to leave the walnuts out 🙂
Thank you to Peg Cochran for allowing me to share her very delicious Cranberry Banana Bread recipe with you!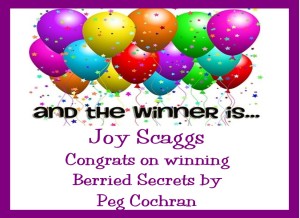 As a bonus for my readers I am offering a copy of BERRIED SECRETS by Peg Cochran. Please comment below for a chance to win. Contest ends Thursday, November 5, 2015 at 11:59 pm PST. Winner will be announced on this page and on Cinnamon & Sugar's Facebook page, as well as notified by email (so check your spam folder!) and will have 5 days to respond or another winner will be chosen. Open to U.S. residents only.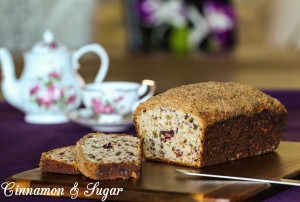 Cranberry Banana Bread with Streusel Topping
Ingredients
Bread
3/4 cup granulated sugar
1/4 cup unsalted butter, room temperature
2 eggs, lightly beaten
3 mashed, ripe bananas
1-1/2 cups chopped, dried cranberries
2 cups sifted all-purpose flour
2 teaspoons baking powder
1/4 teaspoon baking soda
1/2 teaspoon salt
1 cup chopped walnuts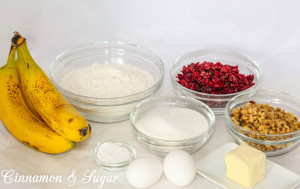 Streusel Topping
1/2 cup all-purpose flour
1/4 cup packed brown sugar
4 tablespoons cold unsalted butter
1/2 teaspoon cinnamon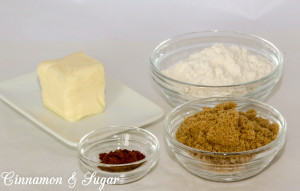 Instructions
Bread
Preheat oven to 350 degrees.
Beat the sugar, butter and eggs until light and fluffy.
Stir in the mashed bananas and cranberries.
In a separate bowl, sift together the flour, baking powder, baking soda and salt.
Stir the flour mixture into the banana and cranberry mixture until smooth.
Stir in the chopped walnuts.
Pour batter into a large, greased loaf pan or four small ones. (I used a 9″ x 5″ loaf pan.)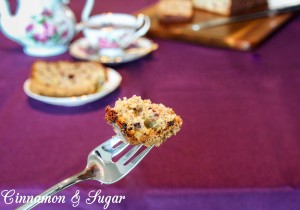 Streusel Topping
Combine flour, sugar, butter and cinnamon in a food processor and pulse until mixture is crumbly. Alternatively, use hands to crumble mixture.
Spread streusel topping evenly over top of bread batter.
Bake approximately 1 hour for the large loaf (mine took 1 hour 5 minutes) and approximately 45 – 50 minutes for the smaller loaf pans. To check for doneness, a wooden skewer inserted into center of the bread should come out with just a few crumbs attached, but not gooey.
If you subscribe to my email version you will need to visit my website to view the video tutorial.