Vacations are a wonderful time to refresh your mind and reconnect to the family member(s) you're traveling with. Recently I went to Ireland with my husband to celebrate our 20th wedding anniversary. Neither of us had ever visited this charming country and we spent eight glorious days exploring the history, the gorgeous countryside, and enjoying all the delicious food. I've never eaten so much cheese in my life but Ireland produces some amazing cheeses and I wanted to try them all. So I did… at every single meal!
Of course vacations call for some shopping and I had you in mind as I browsed through the shops. I love to collect bookmarks and with Ireland's history of famous literary figures it wasn't hard to find several that I just had to have. I bought extras for a giveaway along with four books I've had stashed to go along with the bookmarks. Follow the directions in the Rafflecopter to enter and comment on which book you'd like to win. Bookmarks will be randomly awarded to the winners of the books. (Due to exorbitant shipping costs, contest limited to U.S. residents.)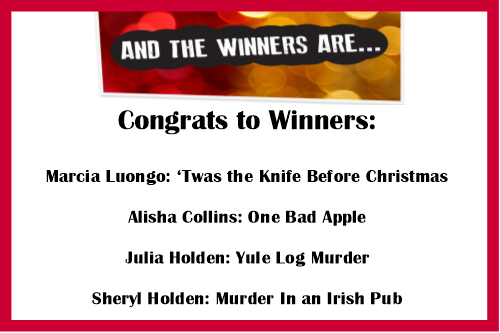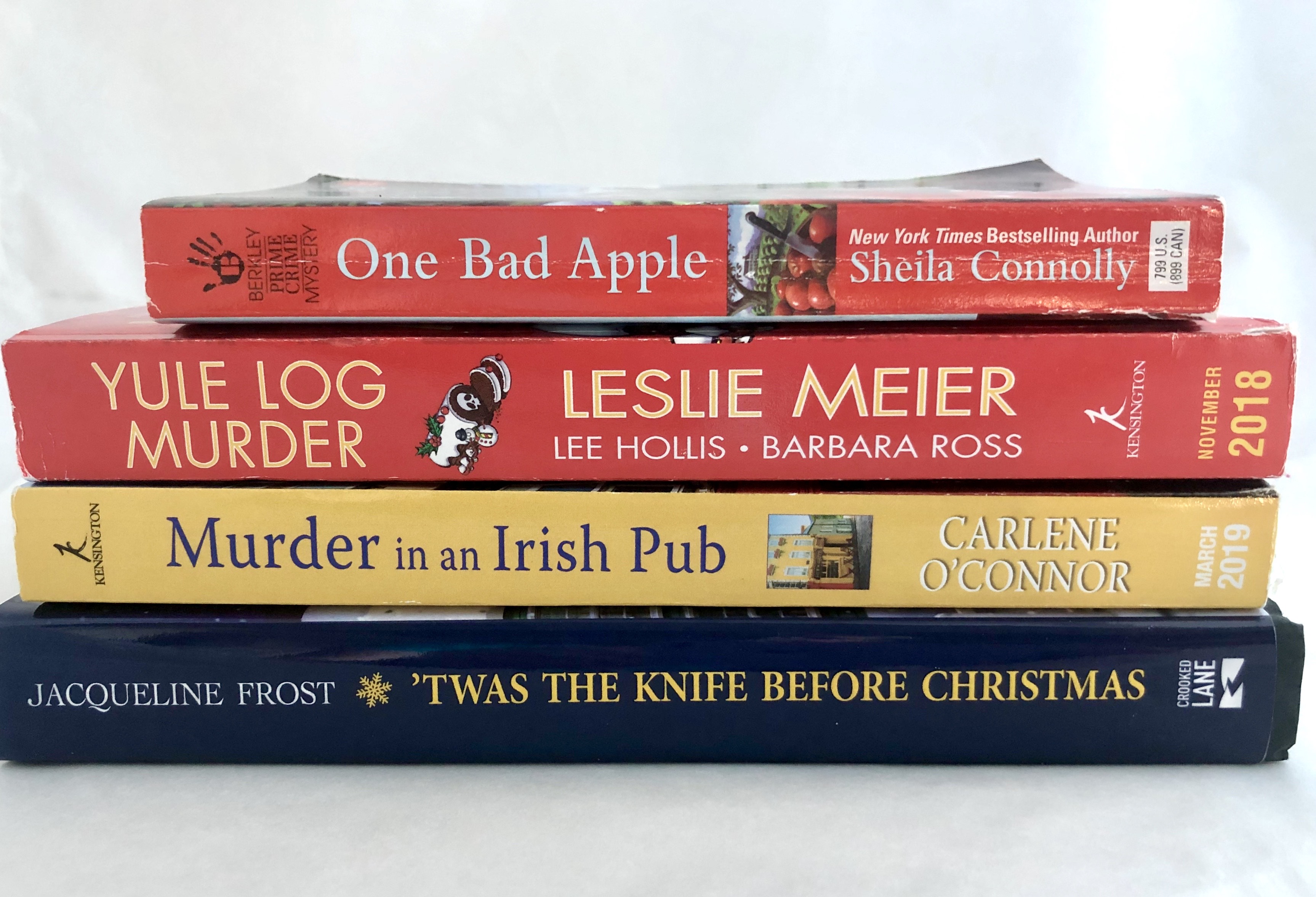 'TWAS THE KNIFE BEFORE CHRISTMAS by Jacqueline Frost
It's out of the cupcake tin, into the fire for Holly White's best friend, Caroline. Can Holly clear Caroline's name in time to go caroling?
When a body turns up in a larger-than-life candy bowl filled with peppermints on the town square, Holly White is horrified to learn her best friend Caroline is the main suspect. Everyone in town, including Mistletoe, Maine's sheriff, saw Caroline fighting with the victim on the night of his death. Worse, a custom kitchen knife, engraved with Caroline's initials was found with him.
Now, just ten days before Christmas, Holly's up to her jingle bells in holiday shenanigans and in desperate need of a miracle. Juggling extra shifts at her family's Christmas tree farm and making enough gingerbread jewelry to satisfy the crowd is already more than she can handle―and now she has to find time to clear her best friend of murder. Add in her budding relationship with the sheriff, and a personal stalker dressed as Santa Claus, and Holly's ready to fly south until springtime.
But her Sherpa-lined mittens come off when Caroline is taken into custody. Can Holly wrap up the case in time for Christmas…even after she gains the true killer's attention? Find out in 'Twas the Knife Before Christmas, Jacqueline Frost's second pine-scented Christmas Tree Farm mystery.
MURDER IN AN IRISH PUB by Carlene O'Connor
When competing card sharps stir up Siobhán O'Sullivan's quiet Irish village, a poker tournament turns into a game of Hangman . . .
 
In the small village of Kilbane in County Cork, for a cuppa tea or a slice of brown bread, you go to Naomi's Bistro, managed by the many siblings of the lively O'Sullivan brood. For a pint or a game of darts—or for the poker tournament that's just come to town—it's the pub you want.
One player's reputation precedes him: Eamon Foley, a tinker out of Dublin, called the Octopus for playing like he has eight hands under the table. But when Foley is found at the end of a rope, swinging from the rafters of Rory Mack's pub, it's time for the garda to take matters into their own hands. Macdara Flannery would lay odds it's a simple suicide—after all, there's a note and the room was locked. But Siobhán suspects foul play, as does Foley's very pregnant widow. Perhaps one of Foley's fellow finalists just raised the stakes to life and death.
With conflicting theories on the crime—not to mention the possibility of a proposal—tensions are running high between Siobhán and Macdara. Soon it's up to Siobhán to call a killer's bluff, but if she doesn't play her cards right, she may be the next one taken out of the game . . .
YULE LOG MURDER  – 3 novellas by Leslie Meier, Lee Hollis, and Barbara Ross
Fresh-baked desserts can warm even the frostiest Christmas in coastal Maine. But there's little room for holiday cheer when murder is the new seasonal tradition . . .
 
YULE LOG MURDER by LESLIE MEIER
Lucy Stone is thrilled to be cast as an extra in a festive period film—until the set becomes a murder scene. Returning to her role as sleuth, Lucy dashes to restore peace to Tinker's Cove, unwrap a cold-hearted criminal's MO—and reveal how one ornate Yule log cake could possibly cause so much drama.
 
DEATH BY YULE LOG by LEE HOLLIS
Hayley Powell's holidays aren't off to a very merry start. Not only has her daughter brought Conner—an infuriatingly perfect new beau—home to Bar Harbor, but a local troublemaker has been found dead with traces of Hayley's signature Yule log cake on his body. . . . And Conner is the prime murder suspect.
LOGGED ON by BARBARA ROSS
Julia Snowden can't make a decent Bûche de Noël to save her life, so she enlists the help of her eccentric neighbor, Mrs. St. Onge, in hopes of mastering the dessert for Christmas. But with everyone in the older woman's circle missing or deceased, it's up to Julia to stop the deadly tidings before she's the next Busman's Harbor resident to meet a not-so-jolly fate.
ONE BAD APPLE by Sheila Connolly 
Meg Corey has come to the quaint New England town of Granford, Massachusetts, to sell her mother?s old colonial home and apple orchard. Instead, she becomes embroiled in development plans that include her land?and her former flame from Boston. When he?s found dead in the new septic tank on her property, the police immediately suspect Meg, whose only ally in town is the plumber Seth Chapin. Together, they?ll have to peel back the layers of secrecy that surround the deal in order to find the real murderer? and save the orchard.
Below are some photos of the highlights of our trip. I took way too many photos to share all of them, but thanks for indulging a few of my memories 🙂