MURDER ONCE REMOVED is the delightful debut novel by S.C. Perkins and I was fascinated by the premise of this first book in the Ancestry Mystery series! Protagonist, Lucy Lancaster, uses genealogy (combing through websites, library archives and DNA) to solve a long ago murder mystery while tracking down a current day killer. Lucy is the epitome of southern sassiness with a big ol' side helping of creative intelligence. I adore her interaction with her best friends, Serena and Josephine along with the purported former drug lord turn restaurant owner, Flaco of Big Flaco's Tacos (whose food descriptions will have you drooling). Their repartee gives opportunities for some humorous one-liners and laugh out loud moments which kept me highly entertained. Ms. Perkins has created great character development and descriptive voice even for minor characters. She effectively uses the flavors of food, language, and the historical sites of Austin to bring the setting to life and make the reader feel like they're right there.
The book grabbed my attention from the very first sentence and kept me glued to the pages. The murder plots from both 1849 and current day are well entwined. I was fascinated with the amount of research the author obviously has done to understand and explain the process of genealogy, without making it complicated for the reader. Ms. Perkins also interjects some interesting history about the State of Texas without detracting from the pace. As the threads of the story are woven together and suspects are considered and then abandoned, Lucy finds herself working with the FBI, particularly a handsome agent who is also a history professor. This is a fun twist to a potential romantic attraction. The exciting reveal was fast paced, keeping me on the edge of my seat, yet never felt rushed. I can't wait to read the next installment in this well-written debut!
While there aren't any recipes included in the book, there's a huge variety of food mentioned that had me craving tacos, cookies, casseroles and cupcakes! After finding the murder victim, Lucy and her best friend bake up casseroles and Chocolate Cinnamon Cake to take to the victim's co-workers because "that's what good Southern girls do". Ms. Perkins graciously has allowed me to share her recipe for Spanish Chocolate Cake which is a delicious recipe passed down to her from her late Nana… which makes it all that more special! Cinnamon adds a warm, spicy touch to the rich, moist cake while buttery pecans add crunch to the fudgy frosting creating a delectable dessert to serve to family and friends.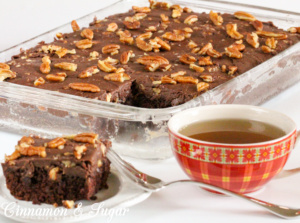 Amazon Synopsis
Except for a good taco, genealogist Lucy Lancaster loves nothing more than tracking down her clients' long-dead ancestors, and her job has never been so exciting as when she discovers a daguerreotype photograph and a journal that prove Austin, Texas, billionaire Gus Halloran's great-great grandfather was murdered back in 1849. What's more, Lucy is able to tell Gus who was responsible for his ancestor's death.
Partly, at least. Using clues from the journal, Lucy narrows the suspects down to two nineteenth-century Texans, one of whom is the ancestor of present-day U.S. senator Daniel Applewhite. But when Gus publicly outs the senator as the descendant of a murderer―with the accidental help of Lucy herself―and her former co-worker is murdered protecting the daguerreotype, Lucy will find that shaking the branches of some family trees proves them to be more twisted and dangerous than she ever thought possible.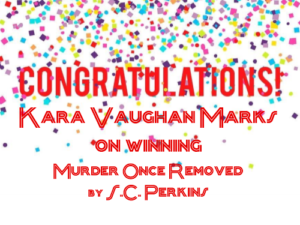 A special thanks to S.C. Perkins for providing a winner with a hardcover copy of MURDER ONCE REMOVED. Contest ends Sunday, March 24, 2019 at 11:59 pm PST and is limited to U.S. residents. Please use the Rafflecopter box located below to enter. The winner will be announced on this page and on Cinnamon & Sugar's Facebook page, as well as notified by email (so check your spam folder!)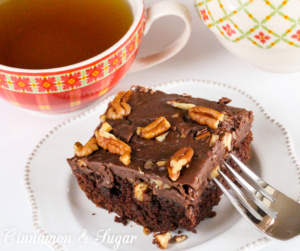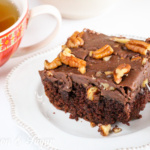 Spanish Chocolate Cake
My father's side of the family has been making this cake since it was given to my grandmother in 1970. It's basically a variation of the classic Texas Sheet Cake, but we've always called it Spanish Chocolate Cake due to its wonderful cinnamon kick.
Ingredients
Cake ingredients:
2

cups

all-purpose flour

2

cups

granulated sugar

1/4

teaspoon

salt

1

teaspoon

to 3 teaspoons cinnamon, depending on your tastes (recommended: 2 teaspoons

1

cup

(2 sticks) butter

4

tablespoons

unsweetened cocoa

3/4

cup

water

1/2

cup

buttermilk

1

teaspoon

baking soda

2

eggs

1

teaspoon

vanilla extract
Icing ingredients:
1/2

cup

(1 stick) butter

4

tablespoons

unsweetened cocoa

Pinch of cinnamon if desired

6

tablespoons

whole milk, half and half, or heavy cream

16

ounces

powdered sugar

1

teaspoon

vanilla extract

1

cup

pecans, chopped into small pieces, plus extra for garnish if desired
Instructions
Heat oven to 350 degrees. If using a glass baking dish, turn the oven down to 325 degrees.

Use a 9 x 13 sheet pan, lightly buttered and floured, or lined with parchment paper.
Cake instructions:
Combine flour, sugar, salt, and cinnamon in a bowl.

Heat butter, cocoa, and water to a boil, and then pour over the flour mixture.

Add the buttermilk, baking soda, eggs, and vanilla.

Mix all ingredients and pour into prepared 9 x 13 pan.

Bake for 30 to 45 minutes.
Icing Ingredients:
Using a saucepan on low heat, cook butter, cocoa, a pinch of cinnamon if desired, until blended. Add milk or cream and bring to a boil. Remove from heat.

Add powdered sugar, vanilla, and pecans, and mix to combine.

Once the cake has been cooled and iced, garnish with additional pecans if desired. Cut into squares and enjoy!
Tip
Make sure to spread the icing as soon as you make it. It sets up quickly.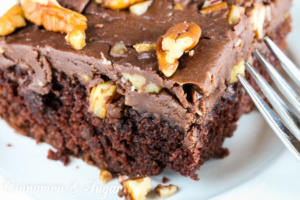 Pin to Pinterest: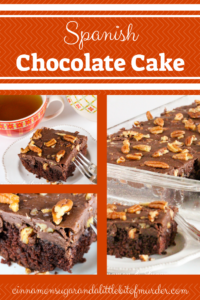 If you receive my blog post via email you will need to visit my website to view the video.
I was provided an advance copy with the hopes I would review. All thoughts and opinions are my own.