SOMETHING READ, SOMETHING DEAD is the fifth book in the Lighthouse Library Mystery series by Eva Gates (aka Vicki Delany) and I'm so happy that this series has continued to flourish with its new publisher. The protagonist, Lucy Richardson, lives and works in the coolest spot imaginable: a lighthouse turned library! This Outer Banks setting in Nags Head, North Carolina is brought to life by the author, who weaves a tale of murder, stalking, and a disintegrating lighthouse into wedding celebrations. The backdrop is set amidst unpleasant out-of-town family descending upon the town to sow their discord. The drama that ensues is enough to make the bride, Josie, want to follow through on her wishes to elope, or hide out until the disagreeable guests have left town. Ms. Gates has created well-developed characters and allowed her protagonist to shine in the face of adversity as Lucy supports her cousin/best friend, Josie. Some of the out-of-town guests are nasty people and it wasn't hard to think that someone, or even many people, would want to do away with one of them.
Ms. Gates also weaves in a few subplots that effectively kept me guessing about who the culprit was with a unique twist at the end that I didn't see coming. The entire town is also pulled into the drama when a huge crack is discovered at the lighthouse library and the safety of the building is questionable. It provided an uplifting way to showcase the small-town spirit and the heartwarming conclusion left me cheering for Lucy and her friends and counting down the days until the next book!
While there aren't any recipes in this series, the bride-to-be, Josie, owns a bakery while her fiancé owns Jake's Seafood Bar. There are so many yummy mentions of food and Ms. Gates has kindly shared her recipe for Gluten-Free Banana Cupcakes as served at Josie's bridal shower held at the lighthouse. These moist cupcakes rely more on the bananas for their richness and flavor instead of being heavy on butter or oil, which I truly appreciate. I left a few cupcakes unfrosted and served them as breakfast cupcakes (aka muffins) which was a hit with my granddaughters. Note: If you don't have to eat a gluten-free diet, feel free to substitute regular all-purpose flour. But if you must eat gluten-free, you'll feel spoiled when you bite into one of these delectable mini cakes!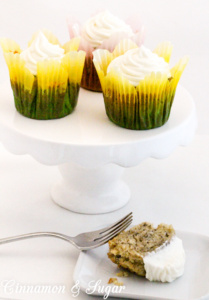 Amazon Synopsis
Dark deeds in the Lighthouse Library threaten to send Lucy Richardson's soon-to-be-wed cousin Josie to an early 'til-death-do-us-part.
Winter falls on North Carolina's Outer Banks as Lucy Richardson and her friends joyfully help her favorite cousin, Josie O'Malley, plan her wedding. The owner and head baker of Josie's Cozy Bakery and her fiancé, chef Jake Greenblatt, want a small, simple wedding.
But to their horror, Josie's imperious grandmother, Gloria, descends with the "Louisiana Mafia": a gaggle of aunts and cousins who intend to take control of the wedding plans. Gloria doesn't do small and simple, and cousin Mirabelle has her own ideas for Josie's wedding, something grand and lavish—and paid for by Josie's parents, of course—that will kickstart her fledgling event planning business and get her work shown on the covers of wedding magazines. To make matters worse, Mirabelle focuses her full Southern charm on the prospective groom…and Jake doesn't seem entirely adverse to her attentions.
To smooth the waters, Lucy hosts a bridal shower at the Bodie Island Lighthouse Library. But it turns deadly when Mirabelle collapses—soon after eating the gluten-free treats Josie prepared specifically for her. Now, to save her favorite cousin from prison, Lucy will have to bring a crook to book in this fifth festive Lighthouse Library mystery from national bestselling author Eva Gates.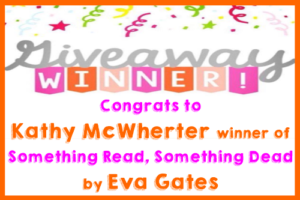 A special thanks to Eva Gates for providing a winner with a hardcover copy of SOMETHING READ SOMETHING DEAD. Contest ends Sunday, March 17, 2019 at 11:59 pm PST and is limited to U.S. and Canadian residents. Please use the Rafflecopter box located below to enter. The winner will be announced on this page and on Cinnamon & Sugar's Facebook page, as well as notified by email (so check your spam folder!)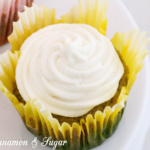 Gluten-Free Banana Cupcakes
Its January in the Outer Banks, and Lucy Richardson and her friends are joyfully helping her favorite cousin, Josie O'Malley, plan her wedding in Something Read Something Dead. Lucy and Josie's mother throw a shower at the Lighthouse Library, and Josie, being Josie, insists on doing the baking herself. Two of the desserts she makes are gluten-free, including these tasty cupcakes.
Ingredients
1-1/2

cups

all-purpose gluten-free flour blend

1/2

teaspoon

baking soda

1/4

teaspoon

salt

3/4

cup

granulated sugar

1/4

cup

+ 2 tablespoons unsalted butter, softened (6 tablespoons total)

2

eggs, room temperature

2

medium overripe bananas, mashed

1/2

cup

buttermilk
Instructions
Preheat oven to 350°F (180°C). Line a cupcake pan with paper liners.

In a medium mixing bowl, whisk the flour, baking soda, and salt.

In a large mixing bowl, cream the sugar and butter together on medium-high speed until light and fluffy. Add the eggs, mashed banana, and buttermilk and continue to beat until combined.

Mix the dry ingredients into the wet ingredients just till combined.

Divide the batter evenly among the liners, filling 2/3 full (about 1/4 cup of batter per cupcake).

Bake for 23-25 minutes until a toothpick comes out clean.

Cool completely before frosting with your favorite frosting.
Pin to Pinterest:
If you receive my blog post via email you will need to visit my website to view the video.
I was provided an advance copy with the hopes I would review. All thoughts and opinions are my own.