GAME OF SCONES is the first book in the brand new Sugar & Spice Mystery series by Mary Lee Ashford! The premise of Sugar & Spice is cleverly based on the names of the protagonist, Rosetta Sugarbaker Calloway, aka Sugar, and her friend, Dixie Spicer, aka Spice. Together they own Sugar and Spice Publishing Company, which publishes community cookbooks for fundraisers in St. Ignatius, Iowa. I truly enjoyed the insight the author provides about the details of creating the cookbook for their first client, the St. Ignatius Founder Day Committee fundraiser. The mouthwatering descriptions of the dishes Spice tests for the cookbook will leave the reader drooling, along with some interesting regional dishes mention that had me running to Pinterest to find out exactly what it was.
Ms. Ashford has created some fun, well-developed characters for this new series. Sugar and Spice work well together and have great interaction. I like the potential for romantic developments between Spice and the local sheriff (although something happened between them long ago that has caused a riff). And the handsome food photographer might just be interested in Sugar. The action starts right off the bat with a huge dispute between two elderly committee members, almost a cat fight, over whose scone recipe will be included in the cookbook. After Sugar finds one of the women murdered and Spice's aunt is considered a suspect, they decide to start asking questions to get to the bottom of the mystery. There are plenty of suspects to keep the reader guessing and as the two women sift through the clues, the stakes turn even higher when their fledgling business is vandalized. The exciting reveal has some twists and turns that I didn't see coming and I look forward to future installments in this delicious new series!
So many yummy dishes are described as Spice tests the recipes and styles them for the photographer. Ms. Ashford has a delicious way of helping the reader practically see, smell, and taste the dishes prepared. Fortunately, she includes a few recipes at the back of the book, including Spice's aunt's recipe for Bertie Sparks's Proper English Scones. Buttery and rich, the addition of dried fruit brings some sweetness to each bite… but you'll still want to slather the scones with creamy butter and some jam for an authentic taste. These Proper English Scones are a welcome addition to any breakfast, brunch, or tea time! I had the chance to share some of these scones with one of my elderly neighbors and she said she felt like she was back eating breakfast with her British mother… they were exactly like her mother made when she was young. I was touched that I could bring back such wonderful memories in a delicious way!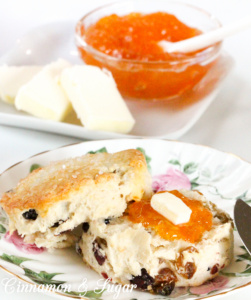 Amazon Synopsis
As co-owner of Sugar and Spice Cookbooks, Sugar Calloway has seen simple confections bring friends together and spark fiery feuds. Except this time, the recipe truly is to die for . . .
After losing her job as food editor at a glossy magazine, Rosetta Sugarbaker Calloway—aka "Sugar" to friends—isn't sweet on accepting defeat and crawling back to her gossipy southern hometown. So when she has an opportunity to launch a community cookbook business with blue-ribbon baker Dixie Spicer in peaceful St. Ignatius, Iowa, she jumps at the chance to start over from scratch . . .
But as Sugar assembles recipes for the local centennial celebration, it's not long before she's up to her oven mitts in explosive threats, too-hot-to-handle scandals, and a dead body belonging to the moody matriarch of the town's first family. With suspicions running wild, Sugar and Spice must solve the murder before someone innocent takes the heat—and the real culprit gathers enough ingredients to strike again . . .

A special thanks to Mary Lee Ashford for providing a winner with an e-book copy of GAME OF SCONES. Contest ends Sunday, December 16, 2018 at 11:59 pm PST. Please use the Rafflecopter box located below to enter. The winner will be announced on this page and on Cinnamon & Sugar's Facebook page, as well as notified by email (so check your spam folder!)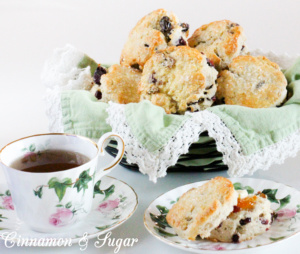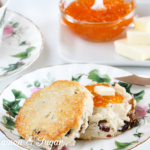 Bertie Sparks's Proper English Scones
Ingredients
2

cups

+ 13 tablespoons self-rising flour

1/4

teaspoon

salt

1

teaspoon

baking powder

3

tablespoons

caster or regular sugar

3

ounces

butter, cubed

3/4

cup

milk

1

teaspoon

vanilla extract

Squeeze of lemon juice

1

egg, beaten to glaze

1

cup raisins or craisins, or dried fruit of your choice
Instructions
Preheat your oven to 425 degrees (F). Bertie recommends also preheating your baking tray.

In a mixing bowl, add the sifted flour, salt, baking powder, and combine.

Add the butter and rub in with your fingers until the mixture looks like fine crumbs.

Using a knife, stir in the sugar.

Put the milk into a cup and heat in the microwave for 30 seconds. Add the vanilla and lemon juice, then set aside for 2 minutes.

Make a well in the dry mix, then add the liquid and combine it quickly with a knife. Dust some flour onto the work surface and place the dough on the surface. *Add the 1 cup of raisins, or craisins, or dried fruit, shake some more flour on the dough and your hands then fold the dough over a few times until it's slightly smoother and the fruit is incorporated. Gently pat it into a round about 1-1/2 inches deep.

Take a 2-inch cutter and dip it into some flour. Cut into the dough, then repeat until you have four scones. Then press what's left of the dough back into a round to cut out another four. Try not to over work the dough; be light with your hands when reshaping.

Brush the tops with beaten egg, then carefully place onto the hot baking tray.

Bake for 10 minutes until risen and golden on the top.
Cinnamon & Sugar's Note
*I mixed the fruit in with the flour when I added the sugar with good results. Either way should work just fine.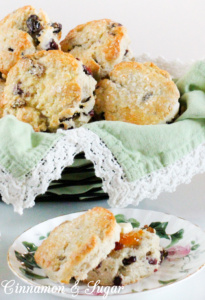 Pin to Pinterest: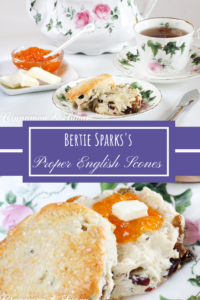 If you receive my blog post via email you will need to visit my website to view the video.
I was provided an advance copy with the hopes I would review. All thoughts and opinions are my own.