A STEW TO A KILL, the fourth book in Callie's Kitchen Cozy Mystery series by Jenny Kales, brings the reader to Crystal Bay, Wisconsin, just in time to get into the spirit of Halloween festivities. Protagonist Calliope "Callie" Costas owns Callie's Kitchen, which is a Mediterranean-meets-Midwest eatery. She and her shop are actively (and very busily) supporting the town's Halloween Walk and Gala, to raise both food and money for the local food pantry. I enjoyed the small-town dynamics between Callie, her employees and the other local downtown shops surrounding Callie's Kitchen. Callie shows her caring personality by trying to help them be successful. When one of her friends finds an employee murdered in her shop, Tea for Two, Callie knows she needs to ask a few questions so her friend doesn't lose any business. Callie is also drawn to helping find the real killer because her boyfriend, Detective Ian Sands, is in England and she's not liking how the stand-in detective has their eye on her friend for the crime. The murder mystery plot is well-paced and Ms. Kales weaves in plenty of suspects and clues which kept me guessing. The exciting conclusion was a nail-biter and wrapped up the threads of the plot in a satisfying manner.
One of the things that keeps me anticipating and coming back to read this series is the character development. Callie has a wonderful family in her 11-year-old daughter, her widowed Greek father and his girlfriend. They are close knit and I've enjoyed seeing how they've grown from the first book through this fourth book. Ms. Kales also includes a bit of humor by including some Midwest personality and amusing references to the movie 'My Big Fat Greek Wedding.' It gives the book a good feel of what Callie's eatery is trying to accomplish with fun results. 
And speaking of Callie's Kitchen, be prepared to drool as you read through the mouthwatering passages detailing Callie's delectable treats coming out of her kitchen. Fortunately for the reader, Ms. Kales provides several recipes at the back of the book, with many being traditional Greek dishes. I was drawn to her recipe for Chai Spice Cake for several reasons. With autumn and the holidays here, warm spices seem to capture the season. Plus I really like that the recipe includes using individual spices to create the chai mix instead of having to track down and buy a specialty spice. And lastly, the cake is baked in a bundt cake pan which makes the cake seem festive with little effort. Ms. Kales includes a yummy cream cheese glaze for the Chai Spice Cake, but if pressed for time I think a sprinkling of confectioners' sugar would be a simple alternative. I'll definitely be adding this cake to my repertoire of "go-to" desserts for autumn-flavored sweets.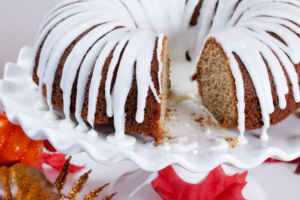 Amazon Synopsis
When a new employee at a neighboring business, Tea for Two, is found dead, Callie is drawn into a murky brew of motives and murder suspects. It turns out that the seemingly mild-mannered victim might have a few skeletons in his closet. What's more, the timing of the murder, just a day before Crystal Bay's first annual Halloween Walk, has threatened to derail the town's festive fall events, including a Halloween Gala benefiting the local food pantry, one of Callie's favorite causes.
Callie's already full plate is set to overflowing with the return of an old boyfriend who has his eye on developing a mall that will compete with and possibly destroy Crystal Bay's small business scene. Could there be a tie between the mall and the murder?
Somebody has been stewing. Will Callie help find the unsavory killer before things reach the boiling point?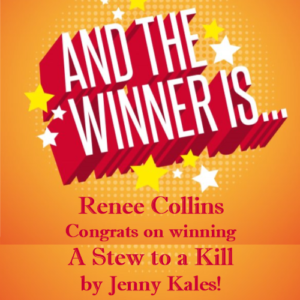 A special thanks to Jenny Kales for providing winner's choice of print or an e-book copy of A STEW TO A KILL. Print copy limited to U.S. residents only. Contest ends Thursday, October 25, 2018 at 11:59 pm PST. Please use the Rafflecopter box located below to enter. The winners will be announced on this page and on Cinnamon & Sugar's Facebook page, as well as notified by email (so check your spam folder!)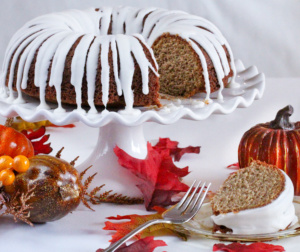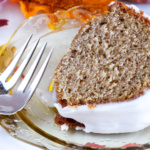 Chai Spice Cake
Bring out your best Bundt pan for this one and you will have one impressive cake to share at a fall gathering or the holidays. I use my Vintage Star Bundt pan for this, but any Bundt or tube pan will work. With its warm blend of spices, this cake could even grace the table at a special brunch. An easy glaze recipe is included, but you could also dust this cake with powdered sugar for a simple decoration. Either way, this cake is full of scrumptious flavor.
Ingredients
Cake:
2

cups

all-purpose flour

1

teaspoon

baking powder

1

teaspoon

baking soda

Pinch

salt

1/2

cup

unsalted butter, softened

4

tablespoons

cream cheese, softened

2

eggs

1

cup

sugar

1

cup

sour cream

1

teaspoon

vanilla extract
Chai spice mix:
1-1/2

teaspoons

ground cinnamon

3/4

teaspoon

ground ginger

1

teaspoon

ground cardamom

1/2

teaspoon

ground cloves

1/4

teaspoon

ground nutmeg

Pinch

finely ground black pepper
Cream Cheese Glaze:
1

tablespoon

very soft cream cheese

1

cup

powdered sugar

1 - 2

tablespoons

milk

1

teaspoon

vanilla extract
Instructions
Cake
Preheat oven to 350 degrees (F).

Spray a Bundt pan or tube pan with Pam baking spray (with flour).

Mix flour, baking powder, baking soda, salt and chai spice in a medium bowl. Set aside.

Beat butter and cream cheese with sugar until very light and fluffy, about 5 minutes.

Add eggs, one at a time, beating until blended.

Add flour mixture in thirds, alternating with sour cream. Do not overbeat.

Add the vanilla extract and mix until just blended.

Pour batter into Bundt pan and smooth the top. Bake for 38-40 minutes. Check for doneness by testing the center with a toothpick; it should come out clean. Be careful not to overbake.

Cool in pan for 10 minutes before unmolding to cool completely on a wire rack. Let cool a little longer before slicing the cake. It is best served warm.
Cream Cheese Glaze:
Whisk ingredients together until the glaze is smooth and pourable. Add a little more milk if the mixture is too stiff. Drizzle over top of cake.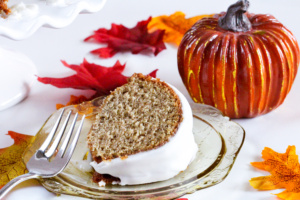 Pin to Pinterest: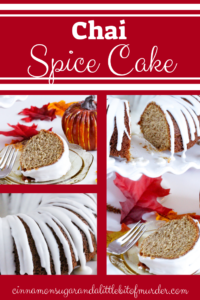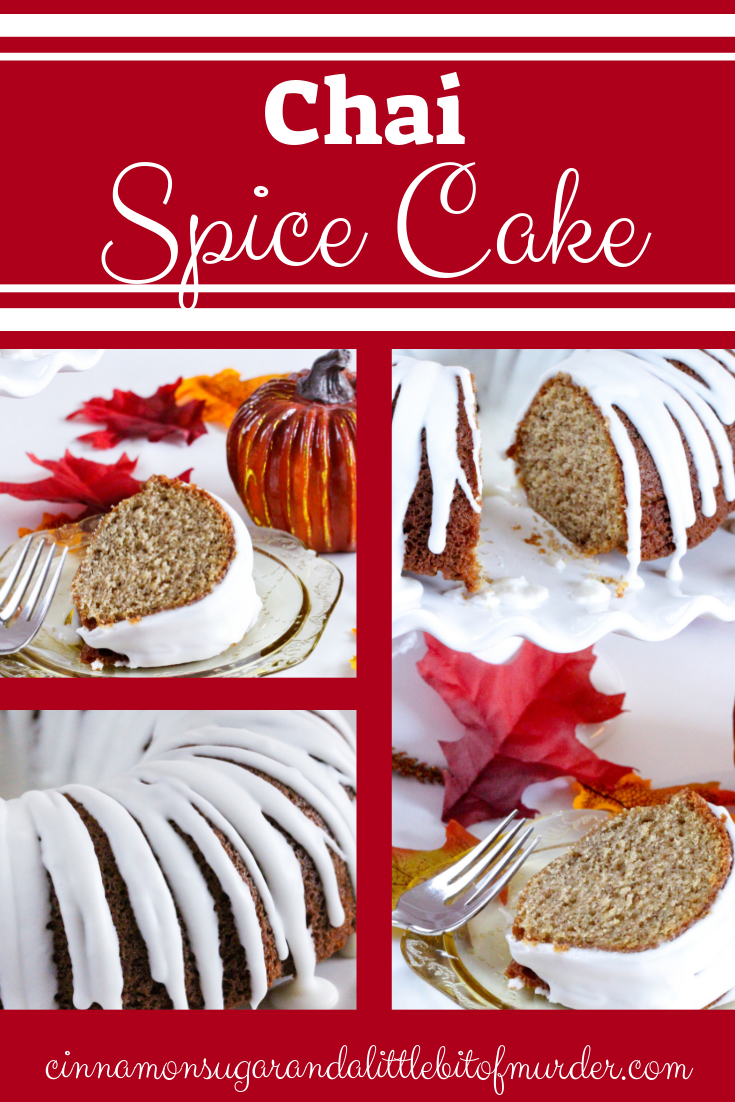 If you receive my blog post via email you will need to visit my website to view the video.
I was provided an advance copy with the hopes I would review. All thoughts and opinions are my own.