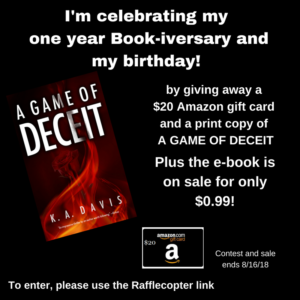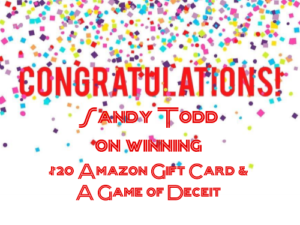 I'm celebrating both my one-year book-iversary for A GAME OF DECEIT and my birthday by giving away a $20 Amazon gift card and a print copy of my book! Plus A GAME OF DECEIT e-book is on sale for only $0.99 at: https://www.amazon.com/A Game-Deceit
I am grateful to all of you who have been so encouraging to me both as a writer and a blogger this past year!
I'm also sharing my recipe from A GAME OF DECEIT for Lemon Poppy Seed Bundt Cake with Lemon Glaze. I've been making this cake for years and it's always been a hit with it's supremely moist crumb and refreshing, lemony flavor. Best of all, since it relies on a boxed mix, it's easy to throw together so you can get out of the kitchen in a timely manner and have plenty of time to celebrate any special occasion!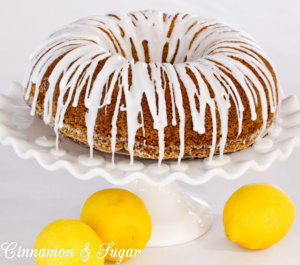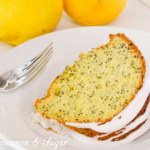 Lemon Poppy Seed Bundt Cake with Lemon Glaze
Ingredients
Cake
1

yellow cake mix

1

(3.4 ounce) box instant lemon pudding mix

Zest from 1 lemon

1

cup

sour cream

1/2

cup

vegetable oil

1/2

cup

sherry (or whole milk)

4

eggs

1/4

cup

poppy seeds
Glaze
1

cup

powdered sugar

2

tablespoons

fresh lemon juice (or more as needed)
Instructions
Cake
Preheat oven to 350 degrees (F).

Heavily grease a bundt pan with vegetable shortening (not butter) and sprinkle with granulated sugar.

In a large bowl whisk the cake mix and instant pudding mix together.

Add the lemon zest, sour cream, vegetable oil, eggs and sherry (or milk).

Using an electric mixer (either handheld or stand), beat until the batter is smooth, about 2 minutes.

Pour cake batter into prepared baking pan and bake for 40 - 50 minutes, until a wooden skewer inserted comes out mostly clean. A few moist crumbs clinging is fine.

Allow to cool in the pan 10 minutes before inverting cake onto a serving platter.

Allow to cool completely before drizzling with glaze.
Glaze
Whisk the powdered sugar and lemon juice together until smooth. If the mixture is too thick to drizzle, add lemon juice, 1/2 teaspoon at a time, until desired consistency is reached.

Drizzle glaze over completely cooled cake.

Store at room temperature, covered, for up to 3 days.
Pin to Pinterest: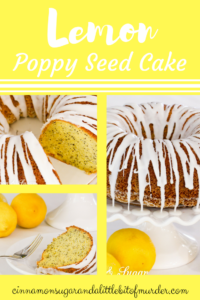 If you receive my blog post via email you will need to visit my website to view the video.
Amazon Synopsis
A father's disappearance never solved, a mother's secret taken to the grave, a daughter deceived…
Kathryn Landry thinks her life is just about perfect. She is the owner of a successful interior designer business in Newport Beach, California, and she has an attentive, supportive husband. But her world comes crashing down when her husband, Neil Landry, vanishes without a trace… in a situation almost identical to the disappearance of her father twenty years before.
With her father's disappearance still a mystery, Kathryn is skeptical that the detective assigned to her case will be able to find her husband. Determined to uncover the truth, Kathryn is plunged into a world of politics, high-priced call girls and wealth. As she begins to search for her husband, a decades-old secret her mother took to the grave threatens to destroy all she holds dear. Caught up in a web of betrayals and deceit, and not knowing who to trust, Kathryn must find a way to survive as she discovers the past has a way of repeating itself.
"…Davis deftly keeps readers as up in the air as Kathryn throughout this well-crafted tale. An impressive thriller by an author worth following." – Kirkus Reviews
"In A Game of Deceit author K. A. Davis offers up a taut, edge-of-your-seat suspense novel that will make you lock the doors, close the blinds, and wonder who you can truly trust. Don't miss this great debut from Ms. Davis." – Paige Shelton, New York Times Bestselling author of the Farmers' Market, Country Cooking School, Dangerous Type, and Scottish Bookshop mysteries.
"In A Game of Deceit, K. A. Davis has crafted an emotional suspense with a taut, satisfying ending that should delight any fan of Mary Higgins Clark." – Daryl Wood Gerber, Agatha Award-winning author of the Cookbook Nook, French Bistro Mysteries, and Cheese Shop Mysteries, and the stand-alone suspense novels, GIRL ON THE RUN and DAY OF SECRETS.
"Sly, sexy and spellbinding, A Game of Deceit grabs you in the first chapter and doesn't let you go until its breathtaking finish. Debut author K. A. Davis creates a riveting tale of betrayal, family, suspense and murder." – Jenny Kales, author of The Callie's Kitchen Mystery series.
"A Game of Deceit is a marvelous read packed with action, suspense and intrigue. I couldn't put it down!" – Catherine Bruns, USA Today Best Selling Author of the Cookies & Chance mysteries.