A PINCH OF MURDER is the second book in the newly revised and re-released Frosted Love Cozy Mystery series by Summer Prescott. The protagonist, Missy Gladstone, is a cupcake bakery owner and is heading to Las Vegas for a national bake-off contest. Missy is a sweet, kind woman who has poured her life into her bakery. You can't help but like her and cheer her accomplishments, despite how her long-ago nemesis makes her feel about her talents when Missy runs into her in Vegas. When she's accused of murdering her nemesis and the police seem determined to pin the crime on her, Missy reaches out to Detective Chas Beckett from her hometown. He quickly rushes to town to help Missy out and I enjoyed their budding friendship and the reader hopes that perhaps romance will blossom between the two.
The plot flowed with enough suspects to keep me interested and the threads of the clues were wrapped up at the exciting conclusion. This is a quick read and while it is not a complex story, it's entertaining with room for the characters to grow and develop in future installments.
With the re-release, Ms. Prescott has included a delectable recipe for Casino Caramel Royale Cupcakes. Dark brown sugar brings caramel notes to both the cupcakes and the frosting. My taste testers enjoyed the cupcakes, which were moist and substantial. The frosting was extremely tasty but (and maybe it was my error) no matter how long I beat it, the brown sugar was still a bit grainy. However, the majority of my tasters really enjoyed it and it didn't keep anyone from gobbling these up. I appreciated the ease of mixing up the cupcakes and they baked up beautifully providing a delicious base for the frosting. I did add some extra powdered sugar to make a stiffer frosting since I knew the cupcakes would be sitting out in summer's heat. They held up quite nicely and were an elegant addition to the picnic table.
Amazon Synopsis
Cupcake baker, Missy Gladstone, decided to leave her cozy little hometown in LaChance, Louisiana, for the bright lights of Vegas, to compete in a national cupcake bake-off with a Grand Prize of $50,000.00. The prize money would go a long way toward Missy's dreams of expansion, and a trip to Vegas would provide the busy gal with a much-needed vacation, making the trip seem like a win/win.
Dismayed to encounter a former hometown rival in attendance, Missy soon learns that there were ulterior motives attached to her invitation to the event. A sticky proposal pits the two of them against one another again, and Missy stands to lose more than the competition if she doesn't make some very tough choices.
Alone, far from home, and suspected of murder, Missy reaches out to the only ally who might be able to help her – the dashing Detective Chas Beckett.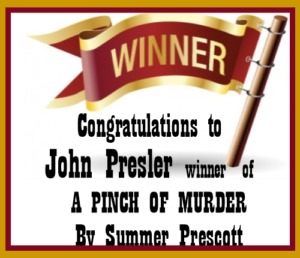 A special thanks to Summer Prescott for providing a winner with an e-book copy of A PINCH OF MURDER. Contest ends Sunday, August 19, 2018 at 11:59 pm PST. Please use the Rafflecopter box located below to enter. The winner will be announced on this page and on Cinnamon & Sugar's Facebook page, as well as notified by email (so check your spam folder!)
Casino Caramel Royal Cupcakes
Ingredients
Cupcakes
1

cup

packed dark brown sugar

1/2

cup

sugar

1/4

cup

(1/2 stick) butter at room temperature

2

large eggs at room temperature

1

teaspoon

vanilla extract

1/2

cup

whole milk (or buttermilk)

1-1/2

cups

all-purpose flour

3/4

teaspoon

baking powder

1/2

teaspoon

salt
Salted Caramel Icing
1/2

cup

(1 stick) unsalted butter at room temperature

1

cup

packed dark brown sugar

1/3

cup

heavy cream

1/2

teaspoon

salt

2 - 3

cups

powdered sugar

Additional pinch of salt as needed
Instructions
Cupcakes
Preheat oven to 350 degrees.

Beat brown sugar, sugar, butter, eggs, vanilla extract, and milk (or buttermilk) together.

Sift flour, baking powder, and salt together. Set aside.

Sift the dry ingredients into the liquid ingredients. Stir until dry ingredients are all incorporated.

Pour batter to fill 2/3 of the cupcake liner. Bake cupcakes for 15 - 17 minutes and check with a toothpick. If the toothpick comes out clean, then the cupcakes are done.
Salted Caramel Icing
Beat butter, brown sugar, heavy cream, salt, and powdered sugar together until smooth.

Frost cupcakes once they are cool.

Use salted caramel chocolate candies for decoration, if desired.
Notes
Makes 18 - 24 cupcakes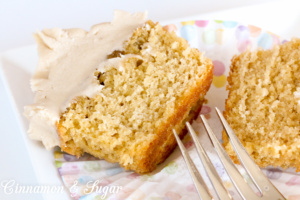 Pin to Pinterest:
If you receive my blog post via email you will need to visit my website to view the video.