I'll be honest, I haven't heard or seen anything online about the release of BURGLARS & BLINTZES, the second book in the Moorehaven Mystery series by Morgan C. Talbot. From the lack of fanfare, you might think that this unassuming new release is one to overlook. However, the peaceful, calming cover is hiding a treasure trove of an adventurous cozy mystery and I was glued to the pages! In fact, I couldn't tear myself away from the flow of the story to take notes for my review. I wanted to read without interruption and without thought of what I wanted to say in my review. Ms. Talbot writes a rollicking tale of an ancient treasure; a cold case haunting her great-uncle; a tsunami; and a writers' bed and breakfast retreat! The plot and sub-plots combine to create a page turning mystery that kept me on the edge of my seat.
With the help of her great-uncle, protagonist Pippa Winterbourne owns and runs the Moorehaven Bed & Breakfast, which only accepts reservations from working authors. The entertaining characters are well-developed, including the various writers in residence. I enjoyed seeing the way the guests must learn to overlook differences and work together to assist Pippa in solving both a cold case and a current day murder. Except Pippa isn't sure who she can trust aside from her uncle. The story flows at a fast pace and the exciting conclusion wraps up the various threads creatively… making me count down the days until the next book is available!
The Moorehaven B & B serves blintzes to the guests several times throughout the book and you'll be craving them while reading. Thankfully, Ms. Talbot includes a recipe for Moorehaven's Mouthwatering Blintzes which includes a cheese filling and a fresh berry sauce. I loved that the components are quickly mixed up using a blender and when put together, create a memorable breakfast or brunch for family and friends!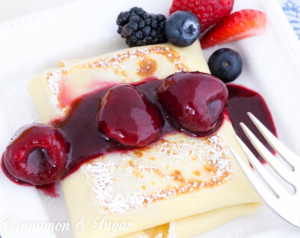 Amazon Synopsis
Moorehaven is swarming with guests during summer's last hurrah, and Pippa has her hands full at the mystery-author B&B. When her gossip-group connections inform her that a local construction project has unearthed a skeleton with a pocketful of Spanish gold, the news spreads, and treasure hunters flood the beaches. But the skeleton has a more recent connection to the area than anyone suspected, unearthing a shameful secret that hits far too close to home.
A marine salvage team rolls into town, seeking the rest of the treasure. When they hire Pippa's boyfriend, Lake, to be their pilot, the team's pretty spelunker quickly stakes a claim, rousing Pippa's jealousy. But Pippa's been playing tug-of-war over Lake ever since his ex-wife, Mallory Tavish, became the new acting chief of police.
When a killer's strike brings tragedy to Moorehaven's door, Pippa must rally her friends, family, and mystery-writing guests to catch the murderer before she loses someone she can't live without and all the warmth of summer dies with one last gasp.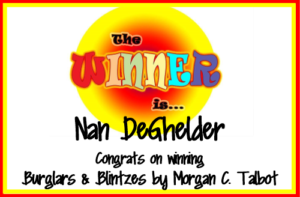 A special thanks to Morgan C. Talbot for providing a winner with an e-book copy of BURGLARS & BLINTZES. Contest ends Sunday, August 26, 2018 at 11:59 pm PST. Please use the Rafflecopter box located below to enter. The winner will be announced on this page and on Cinnamon & Sugar's Facebook page, as well as notified by email (so check your spam folder!)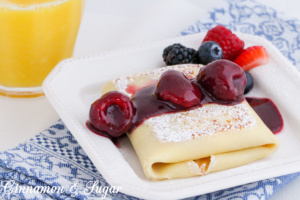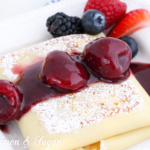 Moorehaven's Mouthwatering Blintzes
Ingredients
Crepes
2

eggs

2

tablespoons

unsalted butter, melted

2

cups

milk

1

teaspoon

vanilla

1

tablespoon

sugar

1/2

teaspoon

salt

1-1/2

cups

all-purpose flour
Filling
3/4

cup

cream cheese, softened

3/4

cup

small-curd cottage cheese

1/2

cup

honey vanilla Greek yogurt

1/4

cup

sugar

1

teaspoon

vanilla
Berry Sauce
1/2

cup

fresh marionberries or blackberries

1/2

cup

fresh blueberries

1/2

cup

fresh strawberries, quartered

1/2

cup

sugar

1/2

cup

fresh raspberries
Other ingredients
Grapeseed oil for frying

Powdered sugar for sprinkling
Instructions
Make all ingredients at least a couple of hours beforehand to allow them to rest. The batter in particular benefits from resting a couple of hours or overnight. The crepes can also be made ahead of time, after the batter rests, and refrigerated.
To prepare crepes:
Add the ingredients to a blender in the order they are listed. Cover and blend until batter is smooth. Let batter rest at least two hours.
To prepare filling:
Combine ingredients in blender until smooth. Cover and let rest in refrigerator, up to a day ahead of time.
To prepare berry sauce:
In a medium saucepan, combine marionberries, blueberries, strawberries, and sugar. Boil over medium-high heat, stirring constantly. Cook until berries soften, about 2 minutes.

Remove from heat and puree using an immersion blender, or use a blender then pour mixture through a fine strainer to remove all the seeds.

If desired, set aside 1/4 cup of sauce to add to filling, the way Penelope likes it.

Fold raspberries into the remaining sauce. Cover and refrigerate.
To make blintzes:
Heat an 8-inch skillet or crepe griddle over medium-high heat. Coat lightly with a small amount of grapeseed oil, which tolerates high heat well. Pour 1/4 cup of batter into skillet or onto griddle and immediately rotate pan or smooth batter across griddle to coat hot surface in a thin layer. Cook approximately 1 minute or until surface loses its sheen. Do not flip to cook other side. Stack to cool, or use immediately.

To fill each blintz, flip crepe over so the browned side is up. Add ~3 tablespoons of filling to the lower middle. Fold the lower edge up, then the top down over it, then fold in the two sides. The un-browned side should be outward and ready for frying.

Place blintz in a skillet or griddle set over medium-high heat, folded side down, for about 1 minute, then flip to cook the top.

Transfer to a plate and spoon berry sauce on top. Sprinkle with powdered sugar.
Tips:
Thawed frozen fruit may be substituted for fresh.

For a crisp, raw-fruit topping for whole or chopped fruit, mix fruit with honey or sugar in a bowl and simply spoon atop your blintz. Moore thought it was most excellent on warm summer mornings.

Any fruit may be substituted for the berries, really. Blintz toppings are virtually limitless.

Want to add cinnamon? Nutmeg? Peppermint? Coconut? Sugar sprinkles? Go for it!

For open-ended blintzes, fry both sides of the crepe. Add filling and roll it up, then add topping.

For those interested in a less sugary experience, 3 tablespoons agave syrup may be substituted for each quarter cup of sugar. Agave has a much lower glycemic index than granulated sugar.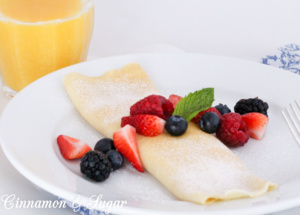 Pin to Pinterest: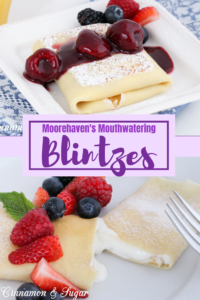 If you receive my blog post via email you will need to visit my website to view the video.
I was provided an advance copy with the hopes I would review. All thoughts and opinions are my own.