Congratulations and happy release day to Laura Childs! It's always a pleasure visiting Charleston, South Carolina on the pages and catching up with Theodosia Browning and the crew at the Indigo Tea Shop! From the inviting cover of PLUM TEA CRAZY, the nineteenth book in the Tea Shop Mystery series by Laura Childs, to the very last page, this brand new release kept me entertained and reading late into the night. This latest installment finds Theodosia and her good friend and tea sommelier, Drayton Conneley, participating in the city's Gaslights and Galleons Parade event. Sailing ships from around the world are converging on Charleston and the pair have a bird's-eye view at one of the spectacular mansions situated on the route. When a gruesome tragedy happens during the event, Theodosia jumps in right away. She is a take charge type of gal and the action starts right off the bat. When it's determined that it was a murder and not a horrible accident, Theodosia gets involved in solving the case after her host begs her to.
Her hunt takes her on searches for antique weapons, high society fashion shows, a Japanese art gallery, and a "Hair Ball" black-tie event benefiting homeless cats. Theodosia is one busy woman with all the special events going on all over the city along with hosting several events at the Indigo Tea Shop, including the Plum Blossom Tea event! I enjoyed the descriptions of the events and could envision the settings perfectly. Theodosia's supportive friends are there to help her out from Drayton to Haley, the talented shop's chef, and Haley's young nephew, Jamie. The supporting characters are well thought out and add fun to the storyline. Theodosia's relationship with Detective Pete Riley is progressing and I find it refreshing that he doesn't demand that she stop snooping. He accepts her for who she is… although I wish he'd tell her to stop running down dark alleys late at night! The exciting, suspenseful reveal surprised me with how it played out but it wrapped up the plot and subplots nicely. I was greatly entertained by this newest installment in this series and look forward to the next one!
Ms. Childs provides several delectable tea time recipes at the back of the book along with Tea Time Tips and links for Tea Resources (which you'll want to bookmark). She has graciously allowed me to share her recipe for Sinfully Chocolate Tea Bread. This super easy to mix up quick bread is a delightful treat and perfect with a pot of tea! I loved the crunch of the walnuts with the dark chocolate bread. The use of cake flour kept the crumb nice and light along with a judicious hand on the butter. Not only is this a yummy afternoon tea time snack, I decided that Sinfully Chocolate Tea Bread is delicious toasted and enjoyed at breakfast too.
Amazon Synopsis
While viewing the harbor's Gaslights and Galleons Parade from the widow's walk of Timothy Neville's Charleston mansion, local banker Carson Lanier seemingly tumbles over a narrow railing, then plunges three stories to his death. But a tragic accident becomes something much more sinister when it's discovered that the victim was first shot with a bolt from a crossbow.
At the request of the mansion owner, Theodosia investigates the tragedy and is soon neck deep in suspects. An almost ex-wife, a coworker, a real estate partner–all had motives for killing the luckless banker, but one resorted to murder to settle accounts.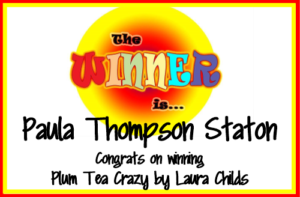 A special thank you to Laura Childs for providing one lucky winner a hardcover copy of PLUM TEA CRAZY! Contest ends Monday, March 12, 2018 at 11:59 pm PST and is limited to U.S. residents only. Please use the Rafflecopter box located below the recipe to enter. The winner will be announced on this page and on Cinnamon & Sugar's Facebook page, as well as notified by email (so check your spam folder!)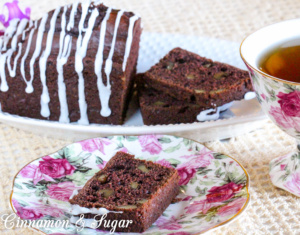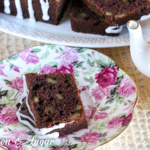 Sinfully Chocolate Tea Bread
Ingredients
1/4

cup

butter

2/3

cup

sugar

1

egg, beaten

2

cups

cake flour

1

teaspoon

baking soda

1/2

teaspoon

salt

1/3

cup

powdered cocoa, unsweetened

1

cup

buttermilk

3/4

cup

walnuts, chopped
Instructions
Cream together butter, sugar, and egg.

Sift the cake flour, baking soda, salt, and powdered cocoa.

Gently stir in the flour and cocoa mixture, the buttermilk, and walnuts.

When ingredients are well mixed, pour into a greased loaf pan.

Bake at 350 degrees for 1 hour, or until silver knife comes out clean.
Optional Drizzle
If you wish to drizzle a glaze over the Chocolate Tea Bread, mix 1/2 cup powdered sugar with 1-1/2 to 2 teaspoons water until smooth. Drizzle and let set for 15 minutes before slicing.
Note
You may also bake the batter in mini loaf pans. Divide the batter between 3 mini pans and bake 35 - 40 minutes.

I think some mini chocolate chips would be yummy in this recipe too!
Pin to Pinterest: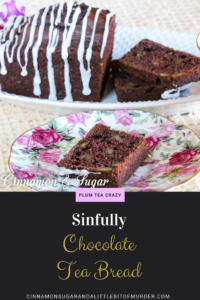 If you receive my blog post via email you will need to visit my website to view the video.
I was provided an advance copy with the hopes I would review. All thoughts and opinions are my own.