WHO MOVED MY GOAT CHEESE? by Lynn Cahoon is the first book in the brand new Farm-to-Fork Mystery series and one not to be missed! The premise is based on the farm-to-fork restaurant, The County Seat, that protagonist Angie Turner is opening with her best friend in rural Idaho. I enjoyed reading about the issues Angie faces in making sure her restaurant procures local produce and food and what it takes to open an eatery. I would love to tag along with her, visiting the farmers' market and various farms! The theme of being an outsider after being away for many years and finding your place in the community is also a part of the story as Angie settles into her deceased grandmother's farm house. She also has to find a way to win over the townspeople who express their opposition to her new restaurant, since many don't want changes coming to their small village. Angie's sidekicks, a St. Bernard puppy, a baby goat, and a hen, make for some entertaining and heartwarming reading. The reader is able to see Angie's personality as she interacts with the animals in her care and made me want to know more about her.
When the goat dairy farmer, Old Man Moss, is found murdered shortly after Angie visits him to procure cheese for her restaurant, she feels a responsibility to find justice for him. I'll have to admit I was saddened that the elderly, secretive man was the victim… he was a strong character that I thought would be a good sounding board for Angie in future books. Unfortunately it's not always the mean person who gets killed in our cozy mysteries and the author has set the series up with many more memorable characters. The mystery itself was intriguing although the suspect pool wasn't large. The suspenseful ending wrapped up the plot and subplots while setting the stage for the next book, which I'm eagerly waiting for!
Reading about all the dishes Angie creates for her restaurant will have you drooling! Ms. Cahoon shares her family recipe for Potato Sausage Soup with Egg Dumplings at the back of the book. I enjoyed that she shares insight into her family as she describes the recipe. Many thanks to Lynn for allowing me to share her recipe with you! The overwhelming description about this dish is that it is truly "comfort in a bowl"! Warming and filling, the chunky potatoes give support to rich sausage and cream while simple egg dumplings add texture and substance. I chose to make it with mild sausage and cut back on the red pepper flakes since my granddaughters were eating the soup as well. And for the one granddaughter who detests any kind of soup, she said it was like thin mashed potatoes with sausage and it was much better than she expected…as she ate every drop in her bowl. Trust me, that's high praise from a thirteen-year-old, lol! I'll definitely be making this again while the weather is still chilly.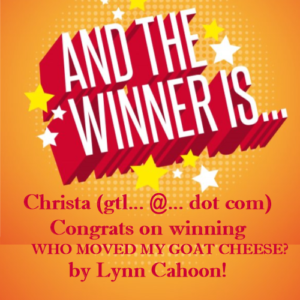 A special thank you to Lynn Cahoon for providing one lucky winner an e-book copy of WHO MOVED MY GOAT CHEESE? Contest ends Wednesday, March 28, 2018 at 11:59 pm PST. Please use the Rafflecopter box located below the recipe to enter. The winner will be announced on this page and on Cinnamon & Sugar's Facebook page, as well as notified by email (so check your spam folder!)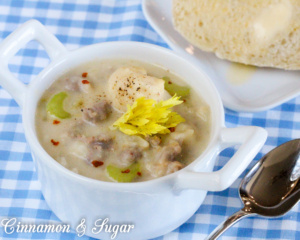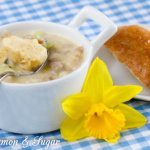 Potato Soup with Egg Dumplings
Ingredients
Soup
1

onion, chopped

2

cloves garlic, minced

1

pound

fresh sausage (sweet Italian or spicy, your choice)

1

teaspoon

red pepper flakes (or to taste)

2

tablespoons

olive oil

1

quart

(4 cups) chicken stock

4 - 6

russet potatoes, peeled and chopped into small pieces (about 2-1/2 pounds)

2

stalks celery, thinly sliced, including the leaves

1

teaspoons

salt

A few grinds of fresh pepper

Water as needed

1

cup

heavy cream

whole milk, as needed
Egg Dumplings
1/2

cup

flour

Dashes of salt, pepper, garlic salt and/or seasonal salt

1

egg
Instructions
Soup
Coat the bottom of a large, heavy stockpot with olive oil. Add the chopped onion and garlic and cook until lightly browned.

Add the fresh sausage to the pan and sprinkle with red pepper flakes. Cook until the meat is done but not overcooked and dry. Drain the sausage mixture in a colander, discarding all the fat. Set sausage mixture aside.

Pour 1 quart of chicken stock into the empty stockpot. Don't worry that there might be bits and pieces from the sausage mixture still in the pan.

Add the chopped russet potatoes and the celery into the pot. Add enough water to cover the potatoes and add salt and pepper.

Bring to a boil and simmer for 30 minutes, checking the water level occasionally. You don't want this to dry out and burn so add water if needed. When potatoes are soft, mash up some of the potatoes. Not all of the pot. You can also do this by inserting an immersion blender, but it seems a bit fancy for this recipe.

Return the drained sausage mixture to the stockpot along with the heavy cream and enough milk to make the soup appear creamy. Bring to a very low simmer, stirring often.
Egg Dumplings
In a separate bowl mix the flour and seasoning together. Crack an egg and place in the middle of the flour mixture. Mix together in the bowl, then drop by spoonful into the soup. If there are leftover crumblings, add those as well as the flour/egg mixture will thicken your soup.

Put a lid on the soup and heat until the egg dumplings are cooked through before serving, 12 minutes. Don't lift the lid. Dumplings should float to the top of the soup.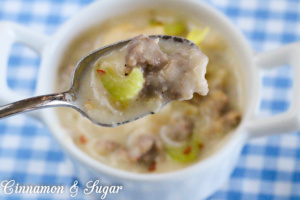 Pin to Pinterest: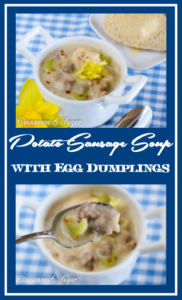 If you receive my blog post via email you will need to visit my website to view the video.
I was provided an advance copy with the hopes I would review. All thoughts and opinions are my own.