PLAYING WITH BONBON FIRE, the second book in the Southern Chocolate Shop Mystery series by Dorothy St. James is a sweet addition to a yummy series! Protagonist Charity "Penn" has been in Camellia Beach for five months, learning to make the decadent chocolates her maternal grandmother was famous for. Except it's not as easy as it appears and Penn is struggling to become the chocolatier her deceased grandmother wanted her to be. Penn has had an emotionally devoid life having been abandoned as a newborn by first her unwed mother (and the mystery of who her mother is, is a theme that runs through both book one and two) and then her young father. Raised by her wealthy paternal grandmother who wanted nothing to do with her, Penn has learned to protect herself with a prickly exterior and hasn't ever made friends. However, being in Camellia Beach has softened her some and the townspeople are teaching her to open up and accept their friendship and help. But she obviously has lots of baggage and I'm glad to see that the author is allowing Penn to grow.
Penn is also getting involved in her town's inaugural Summer Solstice Beach Music Festival. She has convinced her half-sister's ex-boyfriend, Bixby, to headline the music show but trouble seems to have followed him in to town. When one of the town's older band singers is found murdered, Penn is sure Bixby was the target. After all, he has a stalker that has followed him across country. With the success of the town's festivities on the line and her determination to keep Bixby alive, Penn starts asking questions, trying to find out who killed the singer. As she digs deeper, a forty-year-old mystery comes to the forefront that might shed light on who her mother is. But so many of the older townspeople are closing ranks and hiding secrets that Penn feels like an outsider again. With time running out and her chocolate shop a target for vandals, can Penn find the truth? There were plenty of viable suspects and I enjoyed how the old mystery was woven into the current day mystery. I loved getting to know the characters surrounding Penn and the southern sayings they throw out. The sayings puzzle Penn and I have to admit me too, but there's always someone willing to translate and clarify what was meant… that provided some laugh out loud moments. The finale was a surprise and the author pulls the various threads together and answers the questions Penn has, yet leaves a door open for more changes coming to Penn's life. I'm anxious to find out what happens next and if Penn's chocolatier ability will blossom.
While Penn may be struggling with the art of chocolate, there are several townspeople who were each taught a recipe by Penn's grandmother and they in turn are trying to teach her. There are so many delectable chocolates and truffles mentioned… it will be difficult for a die-hard chocoholic to read through the book without having a few pieces of chocolate close by. Fortunately, Ms. St. James includes several recipes at the back of the book. Chocolate-Covered Cherry Bonbons are quintessential to any assorted candy box so I couldn't wait to try these and share with family and friends. I found them even easier to make than I thought they would be after reading the recipe. And while I've never been a huge fan of this type of candy (I'm more of a dark chocolate with nuts and crunchy stuff type of gal and typically skip the chocolates with fruit) Mabel's Chocolate-Covered Cherry Bonbons converted me! Maybe it's the freshness of the fondant covered cherries that are enrobed with chocolate, or the fact that the fondant isn't chemical laden but instead relies on sweet butter and corn syrup. Whatever the reason, I'm happy that this recipe is now a part of my repertoire of candies and I'll be making them again and again for special occasions or to treat myself!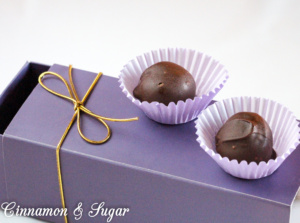 Amazon Synopsis
Chocoholic Charity Penn must smoke out the killer to stop her newly inherited beachside chocolate shop from going up in flames in Dorothy St. James' decadent follow-up to Asking for Truffle.
Chocolate shop owner Charity Penn is finally settling into life in the quirky South Carolina seaside town of Camellia Beach cooking up chocolate treats. She's even helped organize the town's lively beach music festival which has brought rollicking crowds eager to dance the Carolina shag. That is, until one of the band's lead singers is found dead beside a beach bonfire.
While also trying to balance the amorous attention of music star Bixby Lewis, in town for the festival, and her quest to perfect a new hot flavored bonbon, Charity dives into the investigation. Though it's more spice than sugar when she discovers a threatening note, comes across decades of age-old secrets, and Bixby comes into the line of fire when a gas grill explodes on the deck of a beachfront house.
Now Charity must turn up the heat and catch the killer before her chance melts away in Playing With Bonbon Fire, the delightful second Southern Chocolate Shop mystery served up just right.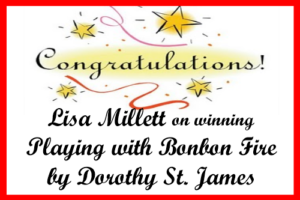 A special thank you to Dorothy St. James for providing one lucky winner a hardcover copy of PLAYING WITH BONBON FIRE! Contest ends Monday, March 19, 2018 at 11:59 pm PST and is limited to U.S. residents only. Please use the Rafflecopter box located below the recipe to enter. The winner will be announced on this page and on Cinnamon & Sugar's Facebook page, as well as notified by email (so check your spam folder!)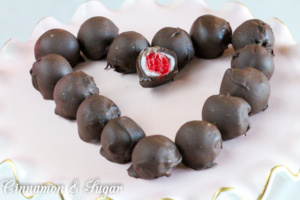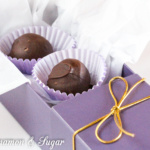 Mabel's Chocolate-Covered Cherry Bonbons
Ingredients
3

tablespoons

butter

3

tablespoons

light corn syrup

1

pinch

salt

2

cups

10x powdered sugar

36

maraschino cherries

12

ounces

semisweet chocolate chips
Instructions
Combine butter, corn syrup, and salt. Add sugar and mix until smooth. This makes a fondant. Chill in refrigerator for 1/2 hour.

Drain cherries and let dry on paper towels.

Flatten a small amount of fondant in your hand and wrap around a cherry (completely cover the cherry or juice will leak out and make dipping difficult). Repeat with remaining fondant and cherries. Refrigerate fondant-covered cherries and let harden.

Melt chocolate in double boiler or microwave. (To melt in microwave: In microwave-safe bowl, heat chocolate in batches on 50% power for 2 minutes. If not melted, continue to heat for 30-second intervals. It won't look completely melted. Stir until smooth.)

Dip fondant-wrapped cherries into melted chocolate. Coat completely. (Gently reheat chocolate as necessary if it thickens too much while dipping.)

Set on cookie sheet lined with parchment paper. Place in refrigerator for at least 1 hour to set.

Store in the refrigerator in an airtight container. Makes about 36 bonbons.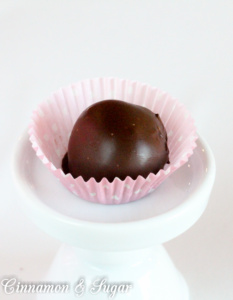 Pin to Pinterest: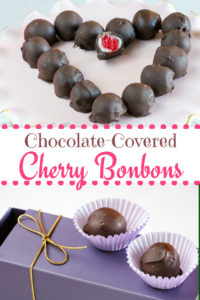 If you receive my blog post via email you will need to visit my website to view the video.
I was provided an advance copy with the hopes I would review. All thoughts and opinions are my own.