ANOTHER ONE BITES THE CRUST by Ellie Alexander is a worthy addition to a very enjoyable series! This seventh book in her Bake Shop Mystery series builds on the characters and strengthens the protagonist, Jules (Juliet) Capshaw's ties to Ashland, Oregon. And yes, she was named after "that" Juliet.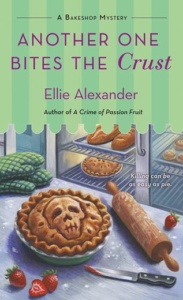 Ashland is known for its Shakespearean Festival each summer (it really is a real-life event!) and the setting provides so many opportunities for drama and small-town connections. Jules and her mother own Torte, a delightfully yummy bakeshop. I would dearly love to spend time in her shop every day, enjoying the close-knit banter between the staff, the incredibly decadent smells and tastes coming from the kitchen, and the sweet kindness from the proprietress. If I could describe this series in just a couple of words, it would be character connection. I love how Jules and her staff at Torte really are like family, despite their many differences. I think one of the things that can make a cozy mystery series successful is the connection the author can create between the reader and the characters. Ms. Alexander definitely brings the reader directly into Jules' life and helps us experience Torte, Ashland, and the mystery first hand.
In ANOTHER ONE BITES THE CRUST, Jules' friend, Lance, who is the artistic director of The Shakespeare Festival, has been arrested for murder of the leading man. There are several suspects since actors and actresses lend themselves easily to the drama of the situation. However, Lance himself seems to be hiding something, which brings tension to the plot. Jules finds out just how much her friendship to Lance means and gets involved to prove his innocence. Ms. Alexander brings an emotional level to this new book that hasn't been quite so evident before. It begins by examining what friendship means, especially when a person's presence has been taken for granted. Jules also begins to acknowledge her buried feelings about her mother's pending remarriage and the feelings associated with her deceased father. This conveys a vulnerability and an emotional connection to the story. The ending brings a satisfying conclusion to the murder mystery but I will be impatiently waiting to see what's next in store for Jules and her friends!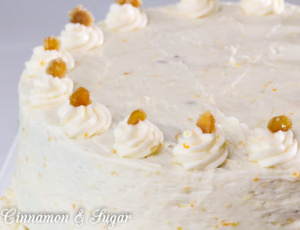 Spending any time reading about Jules at Torte will leave you drooling and ready to raid the pantry. Fortunately the author provides recipes at the back of the book so you can experience some of the treats at home. Ellie has graciously allowed me to share her recipe for her Carrot Cake with Cream Cheese Frosting and Candied Ginger…. and let me be the first to say, "oh my"! This is decadently rich and was a huge hit with my step-daughter's book club luncheon, even with ladies who never eat dessert! The cake is chock-full of carrots, nuts, spices, and citrus while the cream cheese frosting carries on the citrus theme with plenty of tasty zest from both a lemon and an orange. To top it off, fresh candied ginger garnishes the cake, tying in the flavor of freshly grated ginger used in the batter. This carrot cake is worthy of any special occasion or any reason to splurge and treat yourself to a very delicious dessert!
Amazon Synopsis
Torte―the beloved small-town bakeshop run by Jules Capshaw―is set to hit the stage. But who would have guessed that murder would makes a surprise appearance?
It's the role of a lifetime for Jules. The Shakespeare Festival has returned to Ashland, Oregon, for the season and Torte has been cast as the supplier of Elizabethan-era treats for the main event. But on the eve of opening night, a brawl between Jules's friend Lance, the artistic director, and a strapping young thespian named Anthony almost brings down the house. . .and the next morning, Anthony is dead. Jules knows that Lance loves his drama―and his just desserts―but she also knows that murder is way off-script for him. Now it's up to Jules to cut through a bevy of backstage betrayals and catty co-stars who all have their own secrets―before the curtain drops on someone else. . .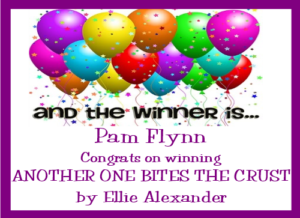 A special thanks to Ellie Alexander for providing one winner with a signed copy of ANOTHER ONE BITES THE CRUST! Contest ends Sunday, January 7, 2018 at 11:59 pm PST and is limited to U.S. residents only. Please use the Rafflecopter box located below the recipe to enter. The winner will be announced on this page and on Cinnamon & Sugar's Facebook page, as well as notified by email (so check your spam folder!)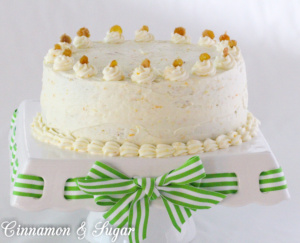 Carrot Cake with Cream Cheese Frosting and Candied Ginger
Ingredients
Ingredients for cake:
2

large eggs

1-1/4

cups

canola oil

1/4

cup

buttermilk

2

cups

sugar

1

teaspoon

vanilla

1

teaspoon

vanilla butter extract (or substitute vanilla)

2

cups

flour

2

teaspoons

baking soda

2

teaspoons

baking powder

1

teaspoon

salt

2

teaspoons

cinnamon

1

teaspoon

cardamom

1

teaspoon

nutmeg

3

cups

grated carrots (use fresh grated carrots, not pre-packaged grated)

Juice of one lemon, reserve zest & 1 teaspoon juice for frosting

Juice of one orange, reserve zest & 1 teaspoon juice for frosting

Small piece of ginger root, grated

1

cup

pecans, chopped

1

cup

walnuts, chopped
Ingredients for candied ginger:
Fresh ginger root

1/4

cup

sugar

water
Ingredients for frosting:
1/2

cup

butter, at room temperature

1 8

oz.

package of cream cheese, at room temperature

1

teaspoon

vanilla

1

teaspoon

orange juice

1

teaspoon

lemon juice

Zest of lemon and orange

3-1/2 to 4

cups

of powdered sugar
Instructions
Directions for cake:
Preheat oven to 350 degrees. In a large bowl add eggs, oil, buttermilk, sugar, vanilla, orange juice, and lemon juice. Beat together, then mix in flour, baking soda, baking powder, and spices. Fold in shredded carrots, grated ginger, and nuts. Spread into two greased nine-inch pans*. Bake for 25 to 35 minutes. Cool in pans for 10 minutes then turn out onto wire racks. Allow cakes to cool before frosting.
Directions for candied ginger:
Use a mandolin (or a vegetable peeler or sharp chef's knife) to slice thin pieces of ginger (with the bark removed). Place in a saucepan and simmer in 1/4 cup of water for 30 minutes or until ginger is tender. Remove from heat and drain water. Return ginger to pan, add 1/4 cup water and 1/4 cup of sugar and bring to a boil, stirring frequently. Reduce heat to low and continue to stir until the syrup begins to look dry (almost as if it has evaporated). Remove from heat and allow ginger pieces to cool on a wire baking rack.
Directions for frosting:
Beat butter on high speed in an electric mixer for 5 minutes. Add cream cheese and whip for another 2 to 3 minutes. Add vanilla, lemon and orange juice, plus zest and sift in powdered sugar one cup at a time until blended and creamy. Spread immediately on cooled cake. Top with candied ginger pieces.
Tips:
You will need 15 ounces (421g) of grated carrots so buy more than 1 pound to allow for peeling and trimming end pieces.

*I found that the cake stuck on the bottom. Next time I'll line my cake pans with parchment paper and spritz with non-stick cooking spray before adding batter. If you have non-stick pans you probably won't need the parchment paper.

To easily grate fresh ginger, peel the outer layer off with a vegetable peeler then freeze the ginger root in a freezer-safe ziplock bag. Once frozen, remove as needed and grate on a rasp-style grater. The leftover ginger can be stored in the freezer to use for future recipes.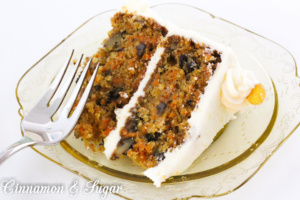 Pin to Pinterest: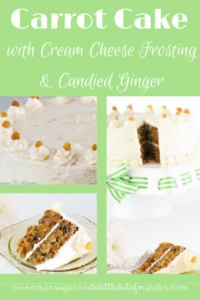 If you receive my blog post via email you will need to visit my website to view the video.
I was provided an advance copy with the hopes I would review. All thoughts and opinions are my own.