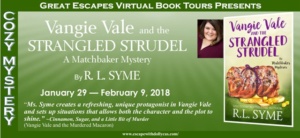 I'm delighted to be hosting VANGIE VALE AND THE STRANGLED STRUDEL as part of the Great Escapes Book Tour! This third book in the Matchbaker Mystery series by R.L. Syme starts out with the town of Saint Agnes, Montana under extreme fire danger with a wildfire in the area threatening them. Given the recent fires in Southern California, I could totally relate to the anxiety that Vangie (Evangeline) Vale is experiencing in this story. Vangie, owner of the Matchbaker bakery and a part-time pastor, is finally feeling connected to the town and accepted by the folks who live there. Having recently completed her six-month probation with her church, she's starting to breathe just a little easier, no longer worrying that she might be fired. That is until a mother is found dead, poisoned while eating Vangie's pudding. With both her bakery reputation and personal reputation on the line, Vangie starts asking questions, trying to piece together who would have wanted the mother out of the way… and the answers she finds are quite shocking.
This newest installment grabs the reader's attention from the beginning with a tragic death. While murder is never acceptable, I'm always a bit more comfortable with a story-line when the super mean person is done in. The fact that a mother is killed off made the story feel heartbreakingly real… but the author, through Vangie, handles the situation with sensitivity and I found myself glued to the pages, waiting for the murderer to be revealed and arrested. Vangie's self-introspection is quite interesting regarding finding the killer. She obviously wants to find justice for the victim, yet feels guilty because at the same time, wants to clear her own name and save her bakery business. Her emotional conflict brings a depth to the story as does her blossoming relationship with Derek. I cracked up when a character remarks that the big biker guy is dating a woman pastor. You would think they are an unlikely pair, yet their qualities seem to complement each other. This is a terrific addition to a great series and I enjoy how Vangie's compassion helps solve a crime and brings comfort to the town.
I love the recipes that Ms. Syme includes at the back of all of her books and this Apple Strudel is no exception. I'm always a bit tentative when it comes to making pastry dough… I'm worried that I'm going to overwork it and make it tough, or not add enough liquid so it ends up being dry and crumbly. I was intrigued by the use of sour cream vs. water or another liquid and found, much to my delight, the dough rolled out smoothly and easily. It was super easy to handle and when baked, provided the lightest, crispiest crust I've ever made! The filling is full of flavor and my taste testers loved the addition of crushed ginger cookies for both taste and texture. Like her new release, Ms. Syme has hit another home-run with this Apple Strudel!
Amazon Synopsis
Just when Vangie Vale's life was getting back to normal after a murder that rocked her little Rocky Mountain tourist town, she found herself in the middle of another murder… as the chief suspect.
Vangie stood shocked on the side of the curb as the sheriff stretched yellow crime scene tape around the front of her new bakery. Wouldn't this make a lovely headline in next week's paper: Local Baker Kills Parishioner With Pudding. Vangie's road back to good graces as a part-time pastor was bumpy enough already. This would be a road block. Can't have that.

A special thank you to R.L. Syme for providing 1 winner with autographed copies of all three of the books in the Matchbaker Mystery series! This giveaway is administered by Great Escapes Virtual Book Tours and you can use the Rafflecopter box located below the recipe to enter. Contest ends February 9, 2018. Winner will be announced on this page and on Great Escapes Virtual Book Tours site, as well as notified by email (so check your spam folder!)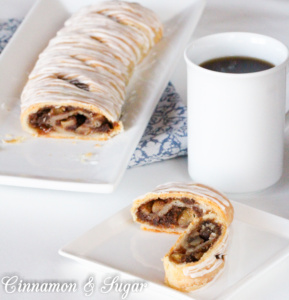 Apple Strudel
Ingredients
For the pastry:
2

cups

all-purpose flour

1

cup

cold butter

1

tablespoon

sugar

8

oz.

sour cream

1/4

teaspoon

salt
For the filling:
2

cups

crushed ginger cookies

1/4

cup

(1/2 stick) butter, melted

1

cup

sugar

1-1/2

teaspoon

cinnamon

2

cups

chopped apples, chunky to your taste (about 8 ounces)
Instructions
For the pastry:
Gently pulse together the flour, butter, and sugar. Add sour cream and salt, pulse a bit longer and then pull out the pastry dough. Wrap in plastic and chill for at least an hour—longer is better, up to 36 hours.
For the filling:
In a bowl, combine cookie crumbs and melted butter until they form a bit of a paste. Add the apples, sugar, and cinnamon and mix.


Preheat oven to 350. On a lightly floured surface, roll out 1/3 of the chilled dough into a rectangle just a bit longer than your baking dish. (I recommend 9x13-inch for the baking dish.) Then roll out the other two pieces of dough, in the same manner.


Split the filling into 1/3 sections as well, and here's where I like to mix things up. I will put different spices in a couple of the different fillings. Maybe add some lemon zest and a bit of honey to one. Stewed cranberries to another. I like to mix up the fillings.


I like to spoon the filling onto the whole sheet of the strudel, and roll it up like a cinnamon roll dough. But if you'd prefer, you can put the filling in the center and then cut the sides and braid them down over the filling. I prefer to roll. Your preference.


Place the strudels side by side in a baking dish (bake separately if you have different fruits in the filling, so you can control the bake). Bake for 60 minutes, watching the browning of the crust. Remember to adjust the cooking time up if you are at high elevations, as the air will be thinner.


I glaze with an icing-sugar-and-cream glaze. But traditionally, they are unglazed.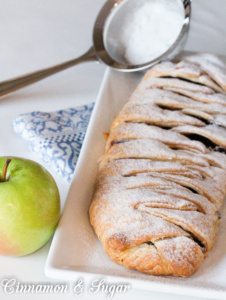 Pin to Pinterest:
If you receive my blog post via email you will need to visit my website to view the video.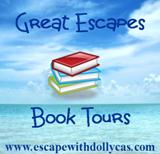 TOUR PARTICIPANTS
January 29 – Cinnamon, Sugar, and a Little Bit of Murder – REVIEW
January 30 – A Blue Million Books – CHARACTER INTERVIEW
January 30 – Lisa Ks Book Reviews – REVIEW
January 31 – The Pulp and Mystery Shelf – INTERVIEW
February 1 – Valerie's Musings – REVIEW, GUEST POST
February 1 – Jane Reads – CHARACTER GUEST POST
February 1 – Queen of All She Reads – GUEST POST
February 2 – The Montana Bookaholic – REVIEW
February 3 – Books a Plenty Book Reviews – REVIEW
February 3 – StoreyBook Reviews – GUEST POST
February 4 –A Holland Reads – SPOTLIGHT
February 5 – A Chick Who Reads – REVIEW
February 6 – Laura's Interests – REVIEW, CHARACTER GUEST POST
February 7 – Escape With Dollycas Into A Good Book – REVIEW, GUEST POST
February 8 – My Reading Journeys – CHARACTER GUEST POST
February 9 – Island Confidential – CHARACTER INTERVIEW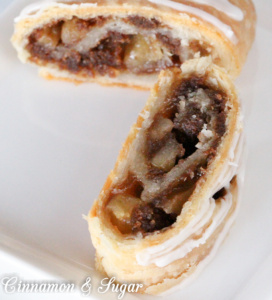 I was provided an advance copy with the hopes I would review. All thoughts and opinions are my own.