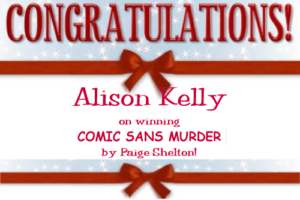 I'm very excited to have Paige Shelton guest blogging for me today! Congratulations on your new release, COMIC SANS MURDER! Paige is also very generously giving away a copy of her new book, so scroll down for the Rafflecopter link after the recipes.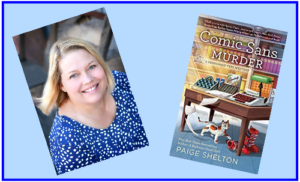 Happy Holidays, everyone! Thanks to Kim for helping kick off my new book, COMIC SANS MURDER. You are amazing, Kim, and all your hard work and dedication are much appreciated! It's an honor to be a part of your blog today.
So, here's the scenario: Way back in 2003, we moved to a Sugarhouse neighborhood in Salt Lake City. We loved that neighborhood, and were very fond of our neighbors – still are, even though we moved to Arizona a few years ago. But those neighbors, as wonderful as they were, threw me for a loop. As that first December approached, we started to receive neighbor gifts. Now, I LOVE the idea of neighbor gifts, but we had never lived in a neighborhood that exchanged them. However, it took only one time of me panicking and reaching for some candy canes hanging on our tree to get my act together and be better prepared to give, or take the initiative and deliver a few gifts ourselves. It was so much fun, even if I did burn the banana bread one year.
Following are some of our favorite neighbor gifts. I took the pictures and the recipes directly from the internet, although Kim did recreate the recipe for Cinnamon Sugared Pecans, aka Awesome Meredith's Pecans, and used her own photos (and made a video) for this particular recipe.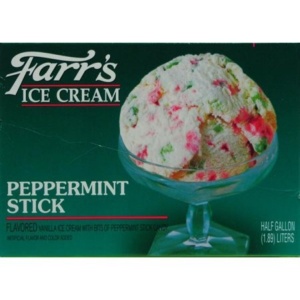 — It was only during the holiday season that Farr's peppermint ice cream would show up at our local grocery store. The first year I saw it I thought – "Oh, a good neighbor gift. I'll come back this evening and get some." By that evening, though, the store was sold out. Apparently, I wasn't the only one who thought it looked good. I was never tricked again. In subsequent years, the second I saw it, I got a few quarts for gifts, and maybe one or two for us. It is delicious, but if it's not available in your area, probably all peppermint ice cream is good.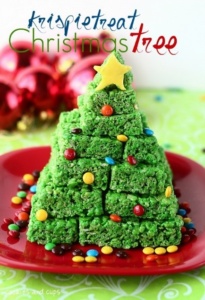 — I have a knack for Rice Krispie treats. Anyone can have a knack if they just follow the recipe on the cereal box, although, I will say that I think the Costco butter in the blue box makes all Rice Krispie treats taste even better. I don't think you can go wrong giving a gift of a plate of Rice Krispie treats as a gift, but I saw this pretty thing on Pinterest. I haven't tried it yet, but it can't be too hard. A little food coloring, some M&Ms. I think this is a perfect gift.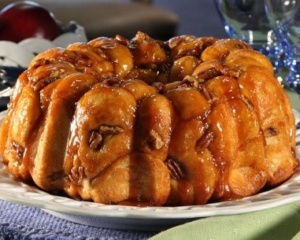 — This next one is something we came to crave every year. There were times we were brazen enough to ask each other if the Sorensons had brought over the Monkey Bread yet. Could we have made it on our own? Yes, the Sorensons weren't trying to keep the recipe a secret. But it just wouldn't have been the same, you know. Besides, they always wrapped it beautifully, with red cellophane and a holiday bow. It really is delicious, and here's the recipe straight from the Rhodes site:
Monkey Bread
Ingredients
24 Rhodes White Yeast Dinner Rolls
2/3 cup brown sugar
2 teaspoon cinnamon
1/2 cup butter or margarine, melted
1/2 cup pecans, chopped
Instructions
Thaw rolls until soft (about 1 hour at room temperature). Cut each roll in half. In a medium bowl, mix brown sugar, cinnamon, and nuts together. Dip roll halves in butter then roll in cinnamon/sugar mixture until thoroughly coated. Arrange in sprayed bundt pan. Cover with sprayed plastic wrap. Let rise until double in size (2-3 hours). Remove wrap. Bake at 350°F for 30 to 35 minutes. Cover with foil the last 5 minutes of baking. Immediately after removing from the oven, carefully release edges and center tube with a knife. Invert onto a serving plate. (Wrap in red cellophane and a pretty bow if you're as awesome as the Sorensons.)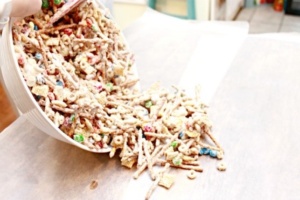 — Next up is close to the one I remember, but not it exactly. In fact, it wasn't a neighbor gift, but a coworker gift. Erin and I worked together for three years and she would pack up cute red Solo cups with this good stuff and tie Christmas bows around them. She actually gave me the recipe, but, sadly, I lost it. And, when she left the newspapers to become a paralegal, I lost track of her.
Nevertheless, here's something close to Erin's Christmas Crack. I took it from the Mom For Real blog.
Erin's Christmas Crack
Ingredients
3 Cups of Cheerios
3 Cups of Corn Chex
1 Bag of Pretzel Sticks or Small Pretzels
2 Bags of White Chocolate Chips
1 12.6 oz. Bag of M-n-M's
Instructions
Start by melting the white chocolate chips in a double boiler or candy melting pot. In a large bowl, add all of the dry ingredients, including the M-&-M's and mix them together. Once the chocolate is melted, fold into the dry ingredients, making sure to lightly coat all of it. Pour the mixture onto a large piece of wax paper and smooth out into a thin layer. Once the chocolate has hardened, break into pieces and serve or store.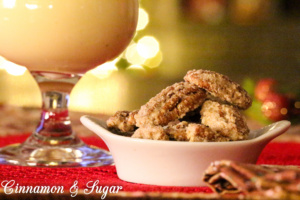 — Finally, this is one that I was just introduced to last year when a sweet friend brought over a container. Inside said container were Cinnamon Sugared Pecans. This is a lovely and delicious gift, and truly not too difficult. We have dubbed them Awesome Meredith's Pecans (both Meredith and the pecans are awesome, but Meredith is the most awesome).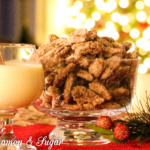 Cinnamon Sugared Pecans
aka Awesome Meredith's Pecans
Ingredients
1

pound

pecan halves

1

large egg white

1

tablespoon

water

1/2

teaspoon

vanilla extract (use gluten-free if necessary)

1

cup

granulated sugar

1

teaspoon

cinnamon
Instructions
Preheat oven to 250 degrees (F).

In a large mixing bowl, whisk the egg white with the water and vanilla until very frothy.

In a small mixing bowl, whisk together the sugar, cinnamon and salt.

Add the pecans to the egg white mixture and toss until evenly coated.

Pour half of the sugar mixture over the pecans and toss several times. Add the remaining sugar mixture and toss until evenly coated.

Pour pecans over a parchment paper-lined baking sheet and spread into an even layer.

Bake in the preheated oven for 1 hour, stirring every 15 minutes.

Allow to cool then store in an airtight container.
Notes
Recipe was adapted from cookingclassy.com
Hopefully, this helps with some ideas, but I would love to know your favorite neighbor or coworker gifts. Thanks for letting me stop by and happy holidays!
Pin to Pinterest: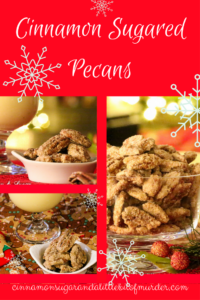 If you receive my blog post via email you will need to visit my website to view the video.
My Review
COMIC SANS MURDER by Paige Shelton, the third book in her Dangerous Type Mystery series starts out with a bang. The opening scene grabs your attention, putting your senses on high alert and then Ms. Shelton delivers a thrilling read! She expertly melds together a famous horror author, valuable antique typewriters, a reclusive wealthy business man, and a ski-boot clad foot missing its body. This eclectic combination is set against the backdrop of Star City, Utah during ski season. The author sets a well-developed stage to capture the full flavors of each scene bringing the reader into the story to experience it fully as the twisty-turvey plot unfolds.
The protagonist, Clare Henry, is extremely likeable. She's a sweet, caring person that I'd like to spend time with… well, except when she's investigating a murder. Her relationship with geologist, Seth, is adorable. I greatly enjoyed the geology puns they throw around, bringing a chuckle or two to the read. Clare and her grandfather, Chester, own The Rescued Word, a charming shop that would draw me in and make me want to linger. I enjoyed learning about the Hooven typewriters, a brand I have never heard about. What makes them so special is that these are the first electric typewriters designed and was the birth of the first computers. As with the previous two books, COMIC SANS MURDER has me anxiously awaiting the next book in the series to see what adventures Clare finds herself in next!
I'll be brief about the Cinnamon Sugared Pecans… my husband, who is not a huge fan of nuts, has already asked me to make a second batch!!! I guess he thought I was eating more than my half, lol! So be prepared to make a batch (or two) for yourself if you plan on sharing any with friends, neighbors and co-workers.
Amazon Synopsis
The visit of quirky world-famous horror author Nathan Grimes to Star City is especially thrilling for Clare Henry and her grandfather Chester. As the owners of The Rescued Word, a charming boutique shop in town, Clare and Chester specialize in restoring old typewriters and repairing beloved books. They've invited Nathan to their shop to use their equipment for his next book.

But all plans to work on the book take a step in the wrong direction when a tourist discovers an abandoned ski boot on the slopes—and the only sign of the owner is the dismembered foot he left inside! Nathan's writer's curiosity for all things horror is further piqued after the body of Clare's high school friend Lloyd Gavin is discovered sans one foot. When all toes point to a class reunion gone wrong, Nathan can't help but join Clare and her best friend, police officer Jodie Wentworth, as they hurry to track down the killer before more former classmates become Most Likely to Be Killed.
I was provided an advance copy with the hopes I would review. All thoughts and opinions are my own.