THE TROUBLE WITH MURDER by Kathy Krevat is the first book in the brand new Gourmet Cat Mystery series and a terrific start! The protagonist, Colbie Summers, is very likeable. Unlike the majority of cozy mystery heroines who are young, and footloose, Colbie is single, but also a mother to a pre-teen son. This brings a depth of reality and seriousness to the story along with a greater sense of danger when a child is threatened. It also adds to the depth of Colbie's character with the interaction between her child and her father, whom they live with. The author also explores the difficult relationship that can often occur between a grown woman and her parents. She captures the essence of Colbie's relationship with her father in this one sentence, "Why did every serious conversation with him have to be fraught with so many emotional landmines?"
I loved Colbie's line of business, gourmet cat food, selling under the name Meow-io Batali Gourmet Cat Food – a great pun along with so many clever names for the pet food! Her cat, Trouble, is a character all to his own, and between him and the doorbell ringing chicken, they bring lots of smiles to the story! Ms. Krevat writes with a great sense of humor and lots of puns bringing laugh out loud moments. Yet when Colbie's friend is killed with Colbie's Meowi Chef Knife, the seriousness of the situation comes to light and the author creates a tight plot with lots of viable suspects. All in all this is a terrific start to a series that I can't wait to continue reading!
In case you didn't realize it, Kathy Krevat also writes the Chocolate Covered Mystery series under the name Kathy Aarons! While that series contains some awesome chocolate candy recipes, this new series doesn't contain recipes. However, one of Colbie's elderly neighbors bakes some banana nut muffins to comfort them after a body was found. So, I decided to share my own recipe for Banana Nut Muffins and added a walnut streusel to make it more enticing for holiday gatherings. Muffins are a staple in my family and the freezer at my granddaughters' house often contains a wide assortment for a quick breakfast or on-the-go snack. One of my granddaughters isn't a huge nut fan but decided that these muffins were still pretty awesome… in fact I was told that these Banana Nut Muffins made an appearance in her lunch for several days running. I hope your family and holiday guests enjoy them as well!
Amazon Synopsis
Colbie Summers has moved back in with her father, a place she left with no intention of ever returning. When her father grows ill, Colbie knows she has no choice but to pack up her 12-year-old son, their cat, Trouble, and her gourmet cat food business and go back to the tiny town of Sunnyside, CA.
While Colbie expected that things might be complicated, she certainly never expected the complications to lead to murder. When police suspect her of murdering one of the other women in the Sunnyside Power Moms trade show, Colbie realizes that in order to save her name, her business, and her son, she needs to find out who the real killer is and that might include getting into a little trouble!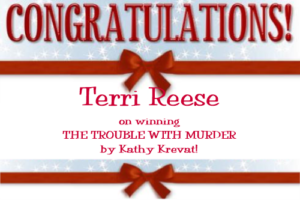 A special thanks to Kathy Krevat for providing one winner with an e-book copy of THE TROUBLE WITH MURDER! Contest ends Thursday, December 21, 2017 at 11:59 pm PST. Please use the Rafflecopter box located below the recipe to enter. The winner will be announced on this page and on Cinnamon & Sugar's Facebook page, as well as notified by email (so check your spam folder!)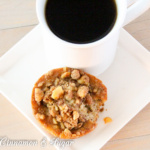 Banana Nut Muffins with Streusel
Ingredients
Muffins
1-1/2

cups

all-purpose flour

1

teaspoon

baking powder

1/2

teaspoon

baking soda

1/2

teaspoon

salt

1/2

teaspoon

ground cinnamon

1-1/4

cup

ripe bananas, mashed (about 2 very large bananas)

1/2

cup

granulated sugar

1/4

cup

brown sugar, packed

1/3

cup

vegetable oil

1/4

cup

milk (2%, whole, or dairy-free)

1

large egg

2

teaspoons

vanilla extract

3/4

cup

walnuts, chopped
Steusel
1/4

cup

walnuts, chopped

2

tablespoons

brown sugar

2

tablespoons

all-purpose flour

1/2

teaspoon

ground cinnamon

1

tablespoon

butter, melted (can substitute dairy-free margarine)
Instructions
Muffins
Preheat oven to 350 degrees (F). Line a 12-cup cupcake tin with wrappers, or grease.

In a large bowl, whisk together the flour, baking powder, baking soda, salt, and cinnamon together. Set aside.

Mix together the mashed banana, vegetable oil, granulated sugar, brown sugar, milk, egg, and vanilla until well combined.

Pour the wet ingredients into the flour mixture and stir just until moistened.

Gently stir in 3/4 cup walnuts.
Streusel
Mix the walnuts, brown sugar, flour, and cinnamon together.

Stir in the melted butter then divide the mixture between the muffins, sprinkling on top.

Bake for 18 - 20 minutes or until a wooden skewer inserted into the center comes out mostly clean. A few moist crumbs clinging to the skewer is fine.

Allow the muffins to rest in the pan for 3 to 5 minutes, then remove and cool on a wire rack.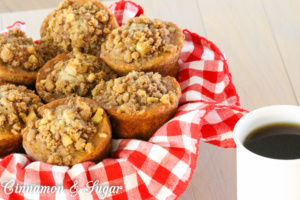 Pin to Pinterest: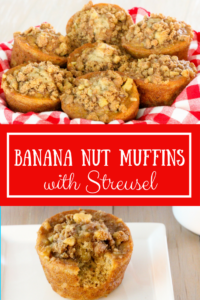 If you receive my blog post via email you will need to visit my website to view the video.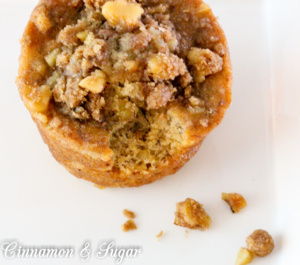 I was provided an advance copy with the hopes I would review. All thoughts and opinions are my own.