NOT A CREATURE WAS PURRING, book 5 in the Paws and Claws Mystery series by Krista Davis, has to be my favorite book so far! Set in adorable Wagtail, Virginia during the Christmas holiday, the setting sets the scene for getting the reader in the mood for holiday cheer. Even though I read an advance copy in autumn, I was ready to trim my tree and deck my halls. Holly Miller is an engaging protagonist. I love how she jumps in to tend to both human and pet guests' needs at the family Sugar Maple Inn, even when there's good reason to not like some of the human guests. Holly's darling sidekicks, Trixie and Twinkletoes, get themselves right in the action and prove themselves to be worthy crime stoppers. Holly and her friends also show great generosity towards those in their community who are struggling, and the author provides plenty of heartwarming moments to add to this holiday cheer book.
The subplots are woven effortlessly throughout the main murder mystery plot with plenty of suspects to keep you guessing. Early on in the book I thought I knew who the victim would be and who the suspects could be… boy was I wrong! The author provides lots of twists and turns, keeping the reader engaged and turning pages. With an exciting, suspense conclusion I can barely wait for the next in this darling series!
Holly's grandmother is German and there's plenty of mouthwatering delectable dishes mentioned. Krista has included several recipes at the back of the book, both for human and furry friends' consumption. I was drawn to her recipe for Krista's Modern Christmas Stollen for several reasons. First, I've heard of the traditional German bread numerous times but while I've been intrigued, I have never tried it. One of the things that stopped me is the use of Christmas candied fruit, which I have never developed a taste for. Krista, fortunately, substitutes dried cherries and apricots which I find much more palatable and definitely adds to the appeal of this yummy yeast bread. Even though it looks like it is time consuming to make the Christmas Stollen, a lot of the process is hands off, waiting for the bread to rise. I found Krista's directions very easy to follow and the resulting festive Christmas Stollen was a hit at my granddaughter's teachers' in-service breakfast!
Amazon Synopsis
Inn owner Holly Miller finds it ruff staying cheerful over the holidays when the dead body of a beloved businessman turns up in the pet-friendly town of Wagtail, Virginia.

Inspired by her German heritage, Holly's grandmother has arranged for Wagtail to have a Christkindl Market packed with goodies and decorations for the howliday tourists. But Holly's mood takes an unseasonable turn when she learns that her old flame and childhood friend Holmes Richardson has brought his fiancée home—and she'll be staying at the Sugar Maple Inn…

A love triangle becomes the last thing on Holly's mind when her Jack Russell Trixie's nose for trouble leads her to the corpse of a pet clothing tycoon. Now Holly and her dedicated detectives—Trixie and Twinkletoes the cat—must sniff out the killer to keep Christmas from going to the dogs…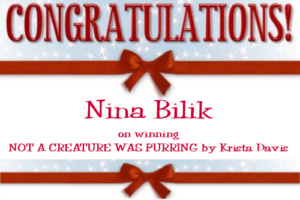 A very special thanks to Krista Davis for providing one lucky winner a print copy of NOT A CREATURE WAS PURRING plus a pet bandanna! Contest ends Tuesday, November 14, 2017 at 11:59 pm PST and is limited to U.S. residents only. Please use the Rafflecopter box located below the recipe to enter. The winner will be announced on this page and on Cinnamon & Sugar's Facebook page, as well as notified by email (so check your spam folder!)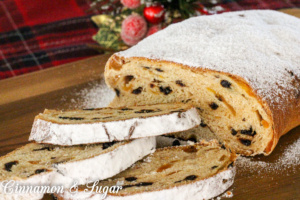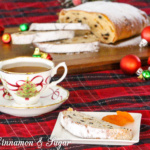 Krista's Modern Christmas Stollen
Christmas Stollen is a German bread traditionally baked for the holiday. Krista has updated this bread with dried fruit in place of the typical candied fruit. She bakes it for the holidays every year.
Ingredients
1-1/2

cups

(8 ounces) dried apricots

1-1/4

cups

(8 ounces) dried cherries

1/2

cup

rum, I used silver rum but any will do

1/4

cup

lukewarm water

2

packs

fast-rising instant yeast

3/4

cup

sugar plus a pinch of sugar, divided

5-1/2

cups

all-purpose flour

1

cup

milk

1/2

teaspoon

salt

2

eggs, room temperature

1

cup

unsalted butter, softened and cut into 1/4-inch pieces

6 - 8

tablespoons

unsalted butter, melted

Confectioners' sugar
Instructions
Chop the apricots and cherries with a knife (do not use a food processor) and place in a bowl. Pour the rum over them and let sit for 1 hour.

Pour the lukewarm water in a 2-cup or larger bowl. Sprinkle with the yeast and a pinch of sugar. Stir to help dissolve. Set aside (Krista puts it in a cold oven) for 10 - 15 minutes. It should have doubled in size.

Pour the rum from the fruit into a bowl and set aside. Lay paper towels out and spread with the fruit. Dab with additional paper towels to dry. Pour the fruit into a dry bowl and sprinkle with 2 tablespoons of flour. Turn several times to coat. Set aside.

Combine milk, 1/2 cup sugar, and salt in a heavy-bottomed pot and heat until the sugar dissolves and a thermometer registers 110 degrees (F). Remove from the heat. Stir in the rum and the yeast mixture.

Fit dough hook into mixer. (This may be made by hand, but a heavy-duty mixer like KitchenAid is a big help.) Measure 4 cups of flour into a mixing bowl. With the mixer on low speed, slowly add the milk mixture. Whisk the 2 eggs well, then add to the dough, and continue mixing. Slowly add as much of the remaining 1-1/2 cups flour as needed. Mix in the softened 1 cup butter. The dough should begin to shape into a ball.

Dust your hands and kneading area with flour. Remove the dough from the bowl and knead 10 - 15 minutes, until the dough is smooth and pliable. Incorporate the fruit by pressing it into the dough a bit at a time. Flour your hands as necessary and continue to add the fruit and turn the dough.

Grease a deep bowl with butter, place the dough in the bowl, flip it once to coat with butter, cover with a kitchen towel, and place in a warm area away from any drafts for 2 hours or until doubled in size. (A cool oven will work.)

Punch the dough down and divide into 2 pieces. Allow to rest for 10 minutes. Working with one at a time, roll each ball of dough out into a rectangle roughly 12 inches long and 8 inches wide. Brush each with 1 tablespoon of melted butter and sprinkle with 1 tablespoon of sugar.

Fold one side (of the 8-inch width) over about 2/3 of the way. Fold the other side over so that it overlaps the top of the first side by about 1 inch. Press the top seam gently. Shape it into an oval with floured hands as necessary, patting it so it is approximately 4 inches across.

Prepare a very large cookie sheet or lipped baking pan by covering with parchment paper. Transfer the dough to the parchment paper, leaving at least 3 - 4 inches between the two loaves. Brush each with 1 tablespoon of melted butter. Place in a warm location away from drafts and allow to rise for 1 hour or until doubled in size.

Preheat oven to 375 degrees (F). Slide the baking sheet into the oven and bake 25 - 30 minutes or until they are golden brown and crusty. Bread should reach an internal temperature of 190 degrees (F).

When cool and before serving, dust generously with powdered sugar.
Tip
If you need to, this bread freezes well. Wrap each loaf tightly in aluminum foil then encased in a freezer-safe ziplock bag. Allow to come to room temperature completely before removing from ziplock back and unwrapping the foil.

Spritz your knife with non-stick cooking spray before chopping the fruit.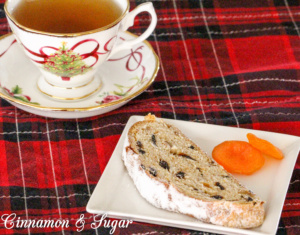 Pin to Pinterest: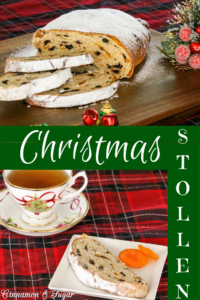 If you receive my blog post via email you will need to visit my website to view the video.
I was provided a copy of this book with the hopes I would review. All thoughts and opinions are my own.