DEATH IN THE STACKS, the eighth book in the Library Lover's Mysteries by Jenn McKinlay is a worthy addition to a charming series! The author's clever, snappy dialog entertains the reader, bringing several laugh-out-loud moments. I loved the way the characters of Ms. McKinlay's three separate series converge in this book, leading to some humorous moments. While I've read the majority of the books in her Cupcake Bakery Mystery series (and adore them!) I haven't had the chance to read any of the Hat Shop Mystery series…yet. However, after being introduced to the Hat Shop's cast of witty characters in DEATH IN THE STACKS, I'll be remedying that.
The protagonist, Lindsey Norris, is a thoughtful, caring librarian. She seems to take those who don't quite fit in under her wing, sticking up for them no matter what. The murder victim, Olive Boyle, was the new president of the library board. Olive proved herself to be a bully and went after Lindsey's staff members, specifically new-hire Paula, and threatened Lindsey's job. It's no wonder there are a plethora of suspects, especially Paula. Lindsey decides she must find the killer and clear her employee's name, even though she seems to be hiding something. The plot includes small-town politics and blackmail while middle-aged mean girls "travel in their pack of rude condescension."
The library hosts a crafternoon group in which each member brings a dish to share for lunch, after which they participate in a craft and discuss a book every Thursday. I love that Jenn provides recipes, a craft, and a book discussion form at the back of the book. This adds enjoyment after the delightful story is over. I decided to try the Cheese and Spinach Strata for a couple of reasons: we're always trying to find ways to get extra veggies in our meals, and this is a very delicious way to do so! Plus since it is assembled the day before, it frees up time to spend with family and friends on the day of serving. This strata makes for a hearty breakfast or brunch, but is also perfect for dinner when served with crusty bread and a crisp salad!
Amazon Synopsis
Lindsey Norris and her staff are gearing up for the Briar Creek Library's annual Dinner in the Stacks fund-raiser. The night of dinner and dancing is not only a booklover's dream—it's the library's biggest moneymaker of the year. But instead of raising funds, the new library board president is busy raising a stink and making the staff miserable.
Although Olive Boyle acts like a storybook villain, Lindsey is determined to work with her and make the event a success. But when Olive publicly threatens the library's newest hire, Paula, Lindsey cracks like an old book spine and throws Olive out of the library.
The night of the fund-raiser, Lindsey dreads another altercation with Olive—but instead finds Paula crouched over Olive's dead body. Paula may have secrets, but Lindsey and the rest of the crafternooners know she's not the one who took Olive out of circulation. As the plot thickens, Lindsey must catch the real killer before the book closes on Paula's future . . .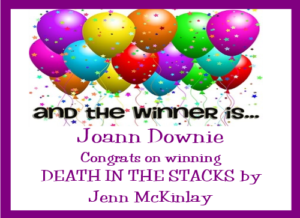 A very special thanks to Jenn McKinlay for providing one lucky winner a hardcover copy of DEATH IN THE STACKS! Contest ends Saturday, November 18, 2017 at 11:59 pm PST and is limited to U.S. residents only. Please use the Rafflecopter box located below the recipe to enter. The winner will be announced on this page and on Cinnamon & Sugar's Facebook page, as well as notified by email (so check your spam folder!)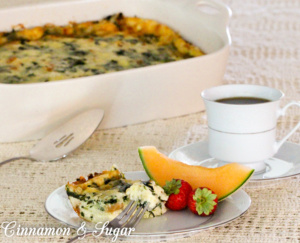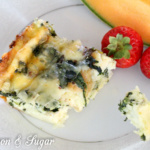 Cheese and Spinach Strata
Ingredients
1

10-ounce package

frozen spinach, thawed

1-1/2

cups

finely chopped onion

3

tablespoons

unsalted butter

1

teaspoon

salt

1/2

teaspoon

black pepper

1/4

teaspoon

nutmeg

8

cups

French bread, cubed

6

ounces

grated Gruyère cheese

2

ounces

finely grated Parmesan cheese

2-3/4

cups

milk, 2% or whole

9

large eggs

2

tablespoons

Dijon mustard
Instructions
Dry spinach with a paper or lint-free towel, then finely chop

Cook onion in melted butter in a large skillet over medium heat, stirring frequently, until soft.

Stir in 1/2 teaspoon salt, 1/4 teaspoon pepper, and nutmeg. Cook for 1 minute.

Add spinach, then remove from heat.

Spread one third of bread cubes in a buttered 3-quart casserole dish and top with one third spinach mixture. Sprinkle with one third of each cheese.

Repeat layering twice, ending with cheeses.

Whisk together milk, eggs, mustard and remaining 1/2 teaspoon salt and 1/4 teaspoon pepper in a large mixing bowl and pour evenly over strata.

Chill, covered with plastic wrap, for 8 hours to allow the bread to absorb the custard.

Preheat oven to 350 degrees (F).

Let strata sit at room temperature for 30 minutes before baking.

Bake strata, uncovered, in middle of oven until golden brown and puffed, about 45 to 55 minutes. Let stand 5 minutes before serving.
Tips
8 cups of cubed bread is about 12 ounces or 14 - 15 slices of bread.

Dried out, stale bread absorbs the egg mixture more readily. You can cube bread, place on a baking sheet and leave out overnight. Alternately, you can warm in a 180 degree (F) oven for 15 minutes, stirring twice. Allow to completely cool before proceeding with recipe.

A cup of diced ham would be a terrific addition to this recipe!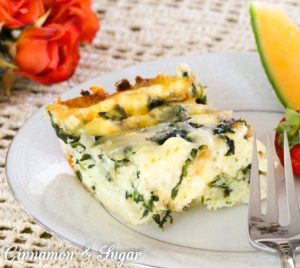 Pin to Pinterest: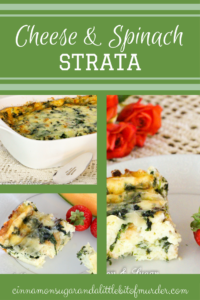 If you receive my blog post via email you will need to visit my website to view the video.
I was provided a copy of this book with the hopes I would review. All thoughts and opinions are my own.