I'm excited to be helping Julia Buckley celebrate the release of PUDDING UP WITH MURDER, the third book in her Undercover Dish Mystery series. Lilah Drake provides private catering to people in the town of Pine Haven who want to take credit for cooking a particular dish themselves, but either don't have the time or the talent to do so. Discrete is Lilah's middle name but that's gotten her in trouble in the past and may cause potential problems in this new book. I love, love the premise of series. How clever to have someone cook a dish so that someone else can take credit?!?! And so many mentions of delicious dishes! It also gives the protagonist an "in" with a variety of townspeople who she otherwise wouldn't come in contact with.
While this is the third book in the series, it can easily be read as a standalone. A new reader won't be lost as there is a bit of backstory mentioned. However, previous books sets up the scenes for Lilah's blossoming romance with Detective Jay Parker. It's very entertaining that Lilah met him via his mother, Ellie, who uses her catering service and claims the dishes as her own. Even her grown children think she's an amazing cook. There is an undercurrent of romance throughout the book that is cute at times and also sweet but perhaps that's because the season is spring and everyone is twitterpated. It does not detract from the plot and instead, provides a nice backdrop to the murder mystery.
When Lilah accompanies Ellie to a 65th birthday party for Ellie's next door neighbor, little did she know that the birthday "boy" would drop face first into her dish of rice pudding during the party, poisoned to death. Lilah feels a bit responsible since the man just ate her pudding and starts asking some questions and listening to the gossip going around town. The author provides plenty of suspects via the victim's many adult children and the book deftly explores the theme of parent/child relationships, especially as they age. The threads of the plot and subplots are skillfully interwoven to provide a very surprising and suspenseful ending… one that I didn't see coming at all! And as I read the last page, wondered just how long I have to wait for the next book to release!
Being a caterer, Lilah prepares many yummy dishes and the descriptions will make you hungry! Fortunately, Julia has provided several recipes at the back of the book and has graciously allowed me to share Lilah's Raspberry-Almond Deep-Dish Coffee Cake. Using both fresh raspberries and raspberry jam, this coffee cake mixes up quickly without much fuss making it a perfect choice for breakfast or brunch tables.
Amazon Synopsis
Secret chef Lilah Drake has a killer casserole to deal with in the latest Undercover Dish mystery from the author of Cheddar Off Dead….
Customers trust Lilah Drake to keep her mouthwatering meals under wraps, but when a millionaire meets his untimely end, some sinister secrets become the main course. . . .

Spring is right around the corner, and with the warmer temperatures come plenty of food requests from Lilah Drake's covered-dish clients. Lilah pulls out all the stops with a sweet new casserole for the birthday party of Marcus Cantwell, a wealthy curmudgeon who has some angry ex-wives and more than a few enemies.

When he's found facedown in Lilah's casserole, it's anyone's guess as to who might have wanted the old man dead. A possible new heir to Marcus's fortune adds some unexpected spice to the investigation, but Lilah fears that the old adage is true, and "the proof is in the pudding."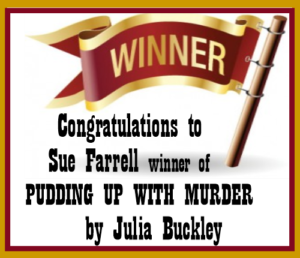 A special thanks to Julia Buckley for offering a print copy of PUDDING UP WITH MURDER for one lucky winner! Contest ends Saturday, September 9, 2017 at 11:59 pm PST. Please use the Rafflecopter box located below the recipe to enter. The winner will be announced on this page and on Cinnamon & Sugar's Facebook page, as well as notified by email (so check your spam folder!)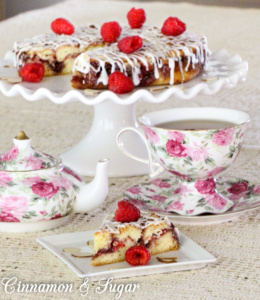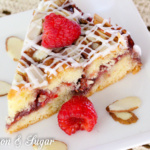 Lilah's Raspberry-Almond Deep-Dish Coffee Cake
Ingredients
For the filling:
1/4

cup

light brown sugar

a handful of fresh raspberries

1

teaspoon

flour

1/2

cup

raspberry jam

1-1/2

teaspoons

butter, cut into small pieces
For the coffee cake:
1

cup

flour

1/2

cup

sugar

1

teaspoon

baking powder

1/2

teaspoon

salt

1/4

cup

butter, melted

2

eggs

1

teaspoon

vanilla extract

1/4

cup

sliced almonds
For the glaze
1/2

cup

powdered sugar

2-3

teaspoons

milk

1/2

teaspoon

vanilla extract

1/2

teaspoon

raspberry extract

2

pats butter, softened
Instructions
Preheat oven to 350 degrees (F).

Grease and flour an 8-inch square glass casserole dish (OR use a larger one, but double the ingredients; I use a Pyrex 10 x 15-inch dish that my mother gave me, but then I double the recipe to feed more people.) OR, line an 8-inch round cake tin with parchment paper.

Mix raspberry jam, brown sugar, 1-1/2 teaspoons butter, and 1 teaspoon of flour along with some of the raspberries in a bowl. Keep this on hand for later in the recipe.

Next, find a larger bowl to combine all of the dry ingredients (flour, sugar, baking powder, salt).

Mix your melted butter with the eggs and add the teaspoon of vanilla.

Add the egg and butter mixture to the dry ingredients and stir until combined.

Put half the batter in your pan. Take your raspberry mixture and carefully spoon it, as evenly as possible, onto the batter. Then put the rest of the batter on top.

Find your sliced almonds and sprinkle these in a pleasing arrangement across the top of the batter.

Set your timer for somewhere between 23 - 28 minutes, but only remove from the oven when a fork inserted into the center of your cake comes out clean. If you double the ingredients you may need to bake longer.

Combine the glaze ingredients; if they become stiff, add tiny amounts of water or milk until the frosting is the desired consistency.

Drizzle the glaze over a warm (but not hot) cake.

Serve with fresh raspberries, whipped cream, a pot of tea or coffee, or all of the above.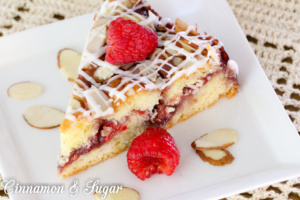 Pin to Pinterest: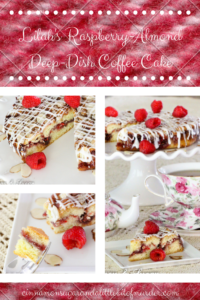 If you receive my blog post via email you will need to visit my website to view the video.
I was provided a copy of this book with the hopes I would review. All thoughts and opinions are my own.