I was smitten with the first book in Vicki Delaney's Sherlock Holmes Bookshop Mystery series so when I had the opportunity to read the second book, BODY ON BAKER STREET, I jumped at the chance. This new book captured my interest and imagination as quickly as the first release and her protagonist, Gemma Doyle, is a character that is as unique as they come.
Gemma owns Sherlock Holmes Bookshop and Emporium in West London, Cape Cod. When she receives a last minute request to host a book signing for famous author, Renalta Van Markoff, she can't pass up the opportunity. However instead of having a successful event, Renalta falls dead during the signing and all signs point to murder. Gemma is overtly observant, although her people skills could use some work… but it does lead to some humorous situations. She uses her skills to correctly surmise what people have been doing, almost channeling Sherlock Holmes, which provides clues to the reader as they turn pages.
Vicki Delaney proves herself to be a master at creating a tension-filled story with a twisty-turvey plot that had an unexpected surprise ending. I couldn't put the book down and stayed up far too late to read the very last page… but it was worth it. The setting in West London and the book shop is delightful and the descriptions had me wanting to book a flight and go for a visit. Gemma has several good friends, despite her quirks, and they provide a nice support system. I look forward to the next book in this charming series!
Gemma's best friend, Jayne, owns Mrs. Hudson's Tea Room, which is attached to the book shop. She serves up delectable treats and afternoon tea that will leave the reader drooling! While there aren't any recipes in the book, Vicki created one for Blueberry Muffins and has allowed me to share. When discussing what recipe to put on my blog, Vicki indicated that she was making 150 blueberry muffins for her daughter's wedding breakfast! Congrats to the happy couple! That alone made me want to try these yummy muffins. I ended up making a double batch for my granddaughter's birthday slumber party and Mrs. Hudson's Tea Room Blueberry Muffins were a hit with all the girls!
Amazon Synopsis
Gemma Doyle and Jayne Wilson are busy managing the Sherlock Holmes Bookshop and Emporium on Baker Street and adjoining Mrs. Hudson's Tea Room in anticipation of the store's upcoming book signing with the illustrious Renalta Van Markoff, author of the controversial Hudson and Holmes mystery series. But during the author Q&A session, dedicated Sherlockian Donald Morris verbally attacks Renalta and her series for disgracing Sherlock's legacy, only to be publicly humiliated when the author triumphantly lashes back and gains the upper hand. That is until Renalta collapses on the table―dead.
Donald insists he didn't do it and pleads to his friends to clear his name. Fortunately, Gemma and Jayne have no shortage of suspects between author's bullied personal assistant, her frustrated publicist, the hapless publisher, a handsome rare book dealer, an obsessively rabid fan, and a world of other Sherlock enthusiasts with strong objections to Renalta's depiction of the Great Detective. It's up to the shrewd sleuthing duo to eliminate the impossible and deduce the truth before the West London police arrest an innocent man in Body on Baker Street, the second Sherlock Homes Bookshop mystery.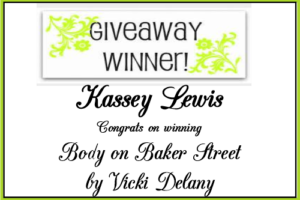 A special thanks to Crooked Lane Books and Vicki Delaney for offering a hardcover copy of BODY ON BAKER STREET for one lucky winner! Contest ends Friday, September 15, 2017 at 11:59 pm PST and is open to U.S. residents only. Please use the Rafflecopter box located below the recipe to enter. The winner will be announced on this page and on Cinnamon & Sugar's Facebook page, as well as notified by email (so check your spam folder!)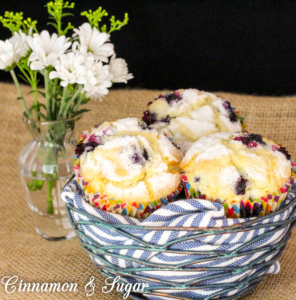 Mrs. Hudson's Tea Room Blueberry Muffins
Ingredients
2

cups

all-purpose flour

1-1/2

teaspoons

baking powder

1/2

teaspoon

salt

1/2

cup

unsalted butter, room temperature

1

cup

sugar

2

large eggs

2

teaspoons

pure vanilla extract

1/2

cup

milk

2

cups

fresh blueberries
Topping
1/4

cup

sugar

1/4

teaspoon

freshly grated nutmeg
Instructions
Preheat oven to 375 degrees.

Generously butter a standard 12-cup muffin pan and dust with flour, tapping out excess; set aside. You may also line with cupcake wrappers.


In a medium bowl, whisk together flour, baking powder, and salt. Working over the bowl, toss blueberries in a fine sieve with about 1-1/2 teaspoons flour mixture to lightly coat; set aside the flour mixture and the blueberries.


In the bowl of an electric mixer or using a handheld mixer, beat butter and 1 cup sugar on medium-high speed until light and fluffy, about 3 minutes.


Add eggs, one at a time, beating until combined.


Mix in the vanilla extract.

With the mixer on low speed, add reserved flour mixture, beating until just combined. Add milk, beating until just combined. Do not overmix.


Using a rubber spatula, fold in the blueberries.


Divide batter evenly among the prepared muffin cups.


For topping mix together 1/4 cup sugar and nutmeg. Sprinkle sugar mixture on top of muffin batter.


Bake, rotating pan halfway though, until muffins are golden brown and a cake tester inserted in the center of one muffin comes out clean, about 30 minutes.


Transfer pan to a wire rack to cool 10 minutes before serving.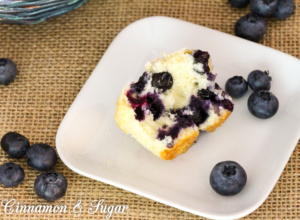 Pin to Pinterest: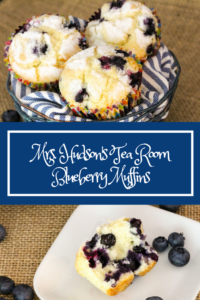 If you receive my blog post via email you will need to visit my website to view the video.
I was provided a copy of this book with the hopes I would review. All thoughts and opinions are my own.