From the perfect title to the adorable cover with a sweet doggie that looks like one of my friend's furbaby, OH FUDGE by Nancy Coco captured my attention from the very first page which starts off with a bang. The author takes the reader on rollercoaster of a ride with Allie McMurphy, owner of McMurphy Hotel and Fudge Shop on Mackinac Island. The murder becomes personal when Allie's cousin, Tori, is found standing over the dead body with her fingerprints all over the weapon. To make matters worse, Allie hasn't seen her cousin for a very long time and there's angst between the two women after Tori feels slighted out of inheriting the family's McMurphy Hotel. Allie wants to believe in her cousin's innocence but Tori seems to be hiding something which prompts Allie to get involved. The delicate balance between estranged family relationships is explored and you can't help but hope a solution is found for the two young women.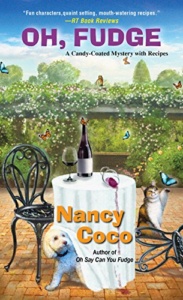 In addition to a mystery full of suspects, the author includes humor to keep the reader entertained. I enjoyed the repartee between Allie and her best friend, who plans events for her hotel and shop. I was also amused when Allie comments on the accent her California aunt has when visiting Mackinac Island. Being born and raised in California, trust me, we truly believe the rest of the country has accents and we are accent free…lol! There is also some sweet romance and could there be a wedding in the mix? You need to read OH FUDGE to find out!
Be prepared to crave chocolate while reading this book – you'd better have some on hand! Nancy Coco provides many yummy fudge recipes and they're all on my list to try. I chose to make Salted Caramel Fudge because 1) it sounds incredibly delicious – I love dulce de leche! 2) This recipe is both quick and easy to make and 3) Apparently fool-proof, which is a good thing because I've had the unfortunate happenstance of fudge recipes turning super grainy. And let me tell you, Salted Caramel Fudge did not disappoint… in fact, it exceeded my expectations and instead of sharing the goodies with a few friends, I kept most of it for myself! And as soon as I finished that off I contemplated making another batch…
Amazon Synopsis
Life is always sweet in Allie McMurphy's delectable fudge shop. But murder can make things unpleasantly sticky . . .

A DEADLY CONFECTION

After Allie inherited her family's McMurphy Hotel and Fudge Shop, cousin Tori moved off to California in a bitter huff, and the two haven't spoken since. So to have her cousin reappear on Mackinac Island without warning is a big surprise—but not as surprising as finding her standing over a dead woman impaled with a garden spade in the Mackinac Butterfly House. Butterflies may be free, but Tori won't be for much longer—unless the cousins can bury the hatchet and work together to catch a killer who's taken flight. Because when it comes to family, blood is thicker than fudge . . .

A special thanks to Nancy Coco for offering a print copy of OH FUDGE for one lucky winner! Contest ends Saturday, September 2, 2017 at 11:59 pm PST. Please use the Rafflecopter box located below the recipe to enter. The winner will be announced on this page and on Cinnamon & Sugar's Facebook page, as well as notified by email (so check your spam folder!)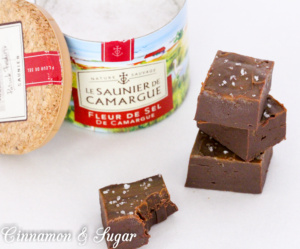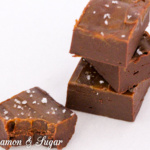 Salted Caramel Fudge
Ingredients
1

14-ounce

can sweetened condensed milk

2

cups

dark chocolate chips

1

teaspoon

vanilla

1/4

cup

dulce de leche

Sea salt flakes
Instructions
In a 2-quart microwave-safe bowl, microwave the sweetened condensed milk and chocolate chips on high for 1 minute.

Let sit for 1 minute and stir. If chips are not all melted, microwave another 30 seconds.

Add vanilla and pour into a buttered 8-inch square pan, lined with aluminium foil.

In a separate bowl, microwave the dulce de leche just until pourable: 0 - 20 seconds. Pour over chocolate fudge.

Use a cold butter knife to swirl the caramel. Sprinkle with sea salt.

Cool completely. Cut into 1-inch squares and enjoy!
Tips
Be aware that a package of dark chocolate chips may not contain 2 cups. Measure before starting the recipe.

Next time I make this, I will add some toasted pecans to the top since it's reminiscent of turtle candies!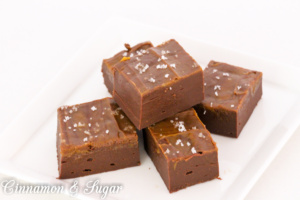 Pin to Pinterest: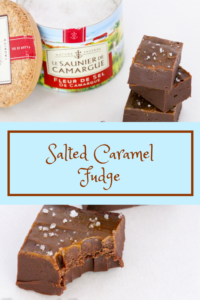 If you receive my blog post via email you will need to visit my website to view the video.
I was provided a copy of this book with the hopes I would review. All thoughts and opinions are my own.