I am very excited to be celebrating the
release day for A GAME OF DECEIT!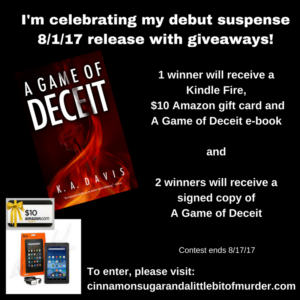 so I'm giving away a
7-inch Kindle Fire Tablet
along with an e-book copy of
A GAME OF DECEIT

and a


$10 Amazon gift card
2 runner-ups will receive a print copy of A GAME OF DECEIT
Through August 15, 2017 100% of my net sales will be donated to rettsyndrome.org
and the e-book price will be discounted to $0.99!
Don't miss out on this low price that will benefit a good cause!
Please use the Rafflecopter link below to enter the contest. If a non-U.S. resident wins the grand prize, a $50 Amazon gift card will be awarded instead. Contest ends August 17, 2017.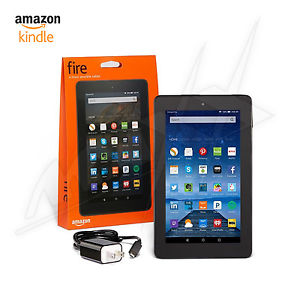 My protagonist, Kathryn, gets caught in a wild fire with the detective who is investigating the disappearance of her husband. Several years ago I had to evacuate my two young granddaughters as a wild fire swept towards their home. This experience inspired both the scene in my book and my giveaway!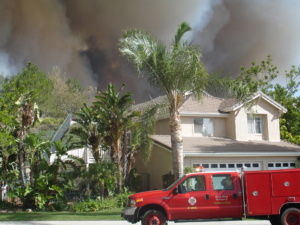 Excerpt
He came to a stop and rolled down his window when they reached the barrier. They were greeted by a blast of hot, sooty air. Kathryn thought the officer manning the barricade looked like a bandit. His cowboy-style hat was pulled low, mirrored sunglasses hid his eyes and a dark blue bandana covered his nose and mouth. His khaki-colored uniform had turned a dusty gray with matching combat boots.
"Hey Mike, glad you made it," the sheriff's deputy said after pulling down the bandana. "Captain says we can give you about twenty minutes to get in and evacuate your horses."
"Thanks, Rudy, I owe you one."
"Not a problem," the deputy answered, pulling the roadblock aside. "Just do me a favor and get out of here as quickly as you can. This fire has a mind of its own, jumping roads and firebreaks like I've never seen. I'd hate for you and your friend to get caught in the middle of it."
"Don't worry. We'll be out of here before you know it."
Kathryn started choking on the thick smoke that had swirled into the Explorer. Her breathing became more rapid and her palms started sweating.
What are you getting yourself into? Is it too late to back out?
Mike quickly rolled the window up and turned the air conditioning on high before finally turning off onto a single-lane blacktop road blocked by an elegant, wrought-iron electric gate. He pushed the remote button attached to the sun visor and the gate slowly opened. The road wound between pastures enclosed by once-pristine white fences, now grimy with soot. Drab olive-green eucalyptus trees lined the drive. The murky air caused the SUV's headlights to come on. They crossed a stone bridge under which a dry river bed ran, then turned a bend in the road and his house came into view. But they didn't notice. Instead, their eyes were riveted on the fifty-foot roaring flames shooting up from the hill behind Mike's house, less than a mile away.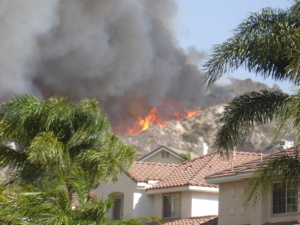 Purchase links:
Apple: https://goo.gl/sVzo6B
Amazon: https://goo.gl/8muPuf
Barnes & Noble: https://goo.gl/Q6uVZP
Kobo: https://goo.gl/28Nsdo
A GAME OF DECEIT is also being featured on Great Escapes Virtual Book Tours at the following stops, with chances to win copies of my new release and a $25 Amazon gift card:
July 31 – Cozy Up With Kathy – INTERVIEW
July 31 – Books,Dreams,Life – SPOTLIGHT
August 1 – Must Read Faster – CHARACTER GUEST POST
August 1 – Bibliophile Reviews – REVIEW, GIVEAWAY
August 2 – Texas Book-aholic – REVIEW
August 3 – Celticlady's Reviews – SPOTLIGHT
August 4 – A Cozy Experience – REVIEW
August 5 – A Blue Million Books – CHARACTER INTERVIEW
August 6 – Laura's Interests – SPOTLIGHT
August 7 – Brooke Blogs – GUEST POST
August 7 – Cassidy's Bookshelves – REVIEW
August 8 – The Pulp and Mystery Shelf – INTERVIEW
August 9 – 3 Partners in Shopping, Nana, Mommy, &, Sissy, Too! – SPOTLIGHT
August 10 – Escape With Dollycas Into A Good Book – REVIEW
August 11 – StoreyBook Reviews – GUEST POST, GIVEAWAY
August 12 – Island Confidential – CHARACTER INTERVIEW
August 13 – Varietats – REVIEW
August 14 – Maureen's Musings – SPOTLIGHT