I had the pleasure of meeting up again with Jenn McKinlay at Left Coast Crime in Honolulu last month. She is just as humorous in person as she is in her books and I was excited to have the chance to read the newest release in her Cupcake Bakery Mystery series, CARAMEL CRUSH. Of course there was absolutely no time to read during the conference, so I decided to start the book on the flight home to Los Angeles. Now typically I never read on an airplane… I hate, hate, hate to fly and the stress makes me unable to focus on the words in front of me. Instead, my eyes glaze over as I watch mindless movies or tv shows, while I pretend I'm anywhere but on the airplane. Jenn's book proved to be the exception! Not only did I read the entire way, I wasn't quite ready for the jet's wheels to touch down because I only had two chapters left to go to finish the book. Her sassy humor captivated me from the very first page and pulled me into the story, making me forget where I was.
Jenn weaves a tantalizing tale involving a bridezilla, a long-ago debt that Mel thinks she can never repay, and a man murdered just before Mel delivers breakup cupcakes. There were unexpected twists to the clever plot and subplots, that I didn't see coming. I greatly enjoy seeing the relationship Mel has with her best friend and bakery co-owner, Angie. It has a ring of authenticity… they care about each other but they also have squabbles that long-time best friends can have; especially those who also work together day in and day out. Angie's mother and her future mother-in-law are a hoot, and even though they only had a cameo appearance, I hope to see more of them in future books. Mel and her boyfriend, Joe, (who is also Angie's brother) are progressing ever so slowly in their relationship, but they are sweet together.
And just as sweet as Mel and Joe are together, the recipes Jenn includes at the back of the book are amazingly sweet! So many delectable cupcake recipes to choose from, I had a difficult decision about which one to share. In the end I chose Key Lime Cupcakes with Key Lime Buttercream because that happens to be one of my granddaughter's favorite pies and I knew she would love these cupcakes. The cupcakes are tender and moist while the buttercream tops them off with a zingy creaminess which made them a hit in my household! Thanks, Jenn, for allowing me to share your wonderful recipe!
Amazon Synopsis
Love is in the air at Fairy Tale Cupcakes as Angie prepares for her wedding, but co-owner, Mel, is preparing for a breakup. Her old friend, Diane Earnest, is dumping her fiancé after discovering he's only marrying her for her money. She wants Mel to personally deliver a batch of caramel breakup cupcakes to the louse and give her a play-by-play of his reaction.

When Mel finally tracks the man down, the look on his face isn't the reaction she was expecting: he's dead. After the police arrive and see the incriminating cupcakes, Diane becomes their prime suspect. If she hopes to taste freedom again, Mel and Angie must make sure the real killer gets their just desserts…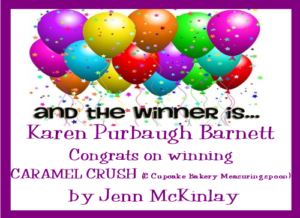 I'm happy to be able to offer winner's choice of either an e-book copy or print copy of CARAMEL CRUSH plus a special thank you to Jenn McKinlay for providing a cool swivel measuring spoon from her Cupcake Bakery Mysteries for one lucky winner! Please use the Rafflecopter box located below the recipe to enter. Contest ends Thursday, April 6, 2017 at 11:59 pm PST. Print and swag limited to U.S. residents only. Winners will be announced on this page and on Cinnamon & Sugar's Facebook page, as well as notified by email (so check your spam folder!)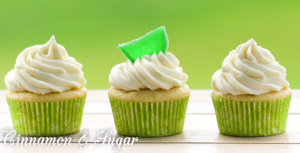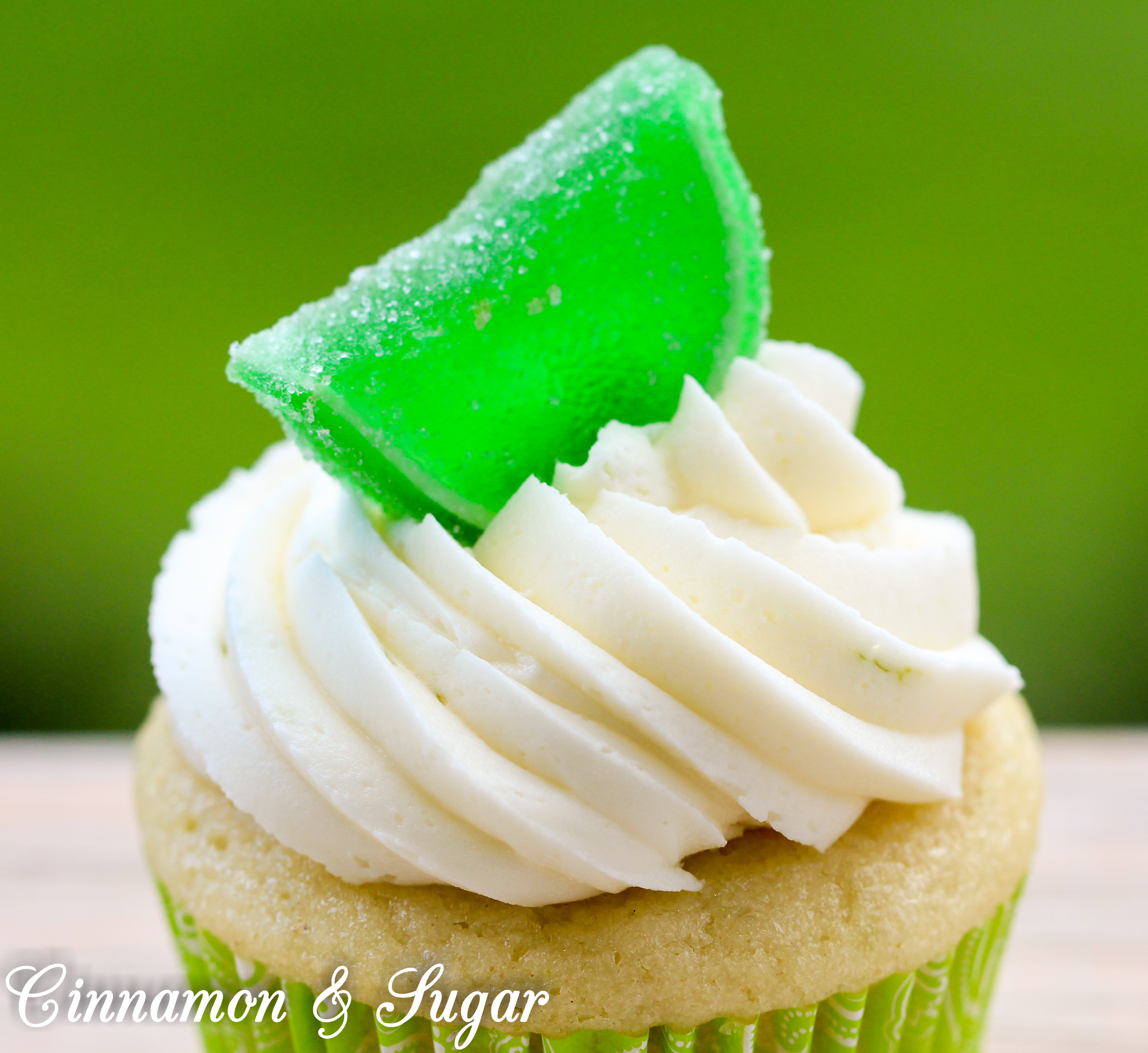 Ingredients
A golden cupcake flavored with lime zest and topped with a key lime buttercream.

Cupcakes

3/4 cup sugar
1-1/2 cups flour
1/4 teaspoon salt
2 teaspoons baking powder
1/4 cup melted butter
1 beaten egg
1 cup milk
1 tablespoon key lime zest
2 tablespoons key lime juice

Key Lime Buttercream

1/2 cup salted butter, softened
1/2 cup unsalted butter, softened
2 tablespoons key lime juice
1 tablespoon key lime zest
1/2 teaspoon vanilla extract
4 cups powdered sugar
Instructions
Cupcakes

Preheat the oven to 350 degrees (F).
Line a cupcake tin with 12 cupcake paper liners.
Sift the dry ingredients together in a big bowl.
Melt the butter and add the beaten egg to it.
Add the butter and egg mixture to the dry ingredients, then stir in the milk until smooth.
Zest half of a lime, and add it to the bowl.
Squeeze in the juice of half the lime (2 tablespoons), and mix well.
Scoop into the cupcake liners and bake for 15 to 18 minutes or until golden brown.

Key Lime Buttercream

In a medium-sized mixing bowl, beat butter on high speed until light and fluffy.
Mix in key lime juice, zest, and vanilla extract.
Add in powdered sugar, mixing until it reaches desired consistency.
Spread or pipe on cooled cupcakes.
Garnish with a candied lime peel, if desired.

Tip

You can substitute regular limes if you can't find Key Limes. Just remember, fresh is always best so don't use the bottled juice.
https://cinnamonsugarandalittlebitofmurder.com/2017/04/key-lime-cupcakes/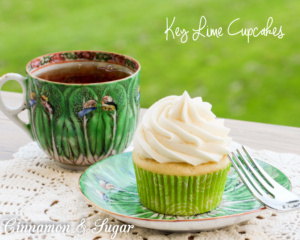 Pin to Pinterest: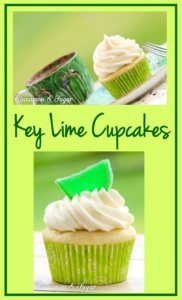 If you receive my blog post via email you will need to visit my website to view the video.
I received a copy in exchange for my honest review. All thoughts and opinions are my own.