The newest release in the Dinner Club Mystery series by Linda Wiken, ROUX THE DAY, brings the reader back to the table for a delicious second installment! The protagonist, J.J. Tanner, has gained confidence both in her job working as an event planner at Make It Happen, and cooking for the dinner club, Culinary Capers, that she belongs to. I liked the premise of the story with J.J. working at a casino fund-raising event for a non-profit charity aboard a cruise boat on Champlain Lake. The setting provides a glamorous backdrop for the murder along with a limited pool of suspects…of which J.J. finds herself in. The beginning felt a bit slow to me with the author cautiously doling out clues. However, it wasn't long before twists and turns in the plot had me turning pages to read "just one more chapter" late into the night.
The book also captures the spirit of friendship J.J. has with her friends, especially with Connor Mac. Though she had dated him a few times, J.J. believes in him and wants to clear his name when he becomes a murder suspect. Even after finding out that he has been hiding several things from her, she remains loyal. J.J. also is quick to help out her friends when they need assistance and the author creates a nice subplot within the story involving thievery at her good friend's cafe, Cups 'N' Roses.
Linda Wiken also creates a close bond between the members of the Culinary Capers group along with some amazing dishes that they share! A specific cookbook is chosen each month by the host of that particular month's get-together. The cookbook highlighted in ROUX THE DAY is The Mystery Writers of America Cookbook… I'll admit, I'm feeling the need to purchase it now! Linda has included several recipes at the back of her book; some of them are her own and others are shared by the authors who contributed to The Mystery Writers of America Cookbook. Linda Wiken and Sara Paretsky (whose newest VI Warshawski novel is Fallout) have graciously allowed me to share Sara's recipe for Chicken Gabriella. The chicken is flambéed with Armagnac, then braised in a flavorful wine-based broth and finished with a handful of Calimyrna figs. The resulting dish is tender, moist chicken. I served it over wide egg noodles to soak up the super flavorful sauce.
Amazon Synopsis
In the latest mystery from the author of Toasting Up Trouble, the Culinary Capers dinner club is back in business when a charity casino event makes a real killing…

Event planner Jennifer "J.J." Tanner is planning a cruise ship casino night—and she's really going overboard. She even arranged for radio DJ Connor Mac and TV personality Miranda Myers to help the good times roll. But the party comes to a screeching halt when Miranda is found dead on the main deck…

With a boatload of suspects, the police focus in on J.J., who, though recently linked with Connor, never knew he was once engaged—to Miranda. With Half Moon Bay's gossip mill running full tilt, J.J. turns to her fellow dinner club members to help fish for clues and keep herself out of hot water…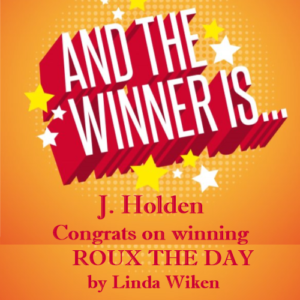 A special thanks to Linda Wiken, for providing a copy of ROUX THE DAY for one lucky winner! Contest ends Thursday, March 30, 2017 at 11:59 pm PST, and is limited to U.S. and Canadian residents only. Please use the Rafflecopter box located below the recipe to enter. The winner will be announced on this page and on Cinnamon & Sugar's Facebook page, as well as notified by email (so check your spam folder!)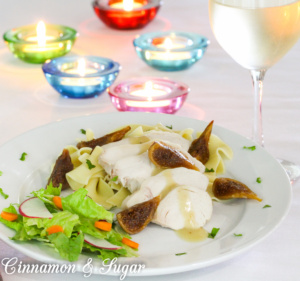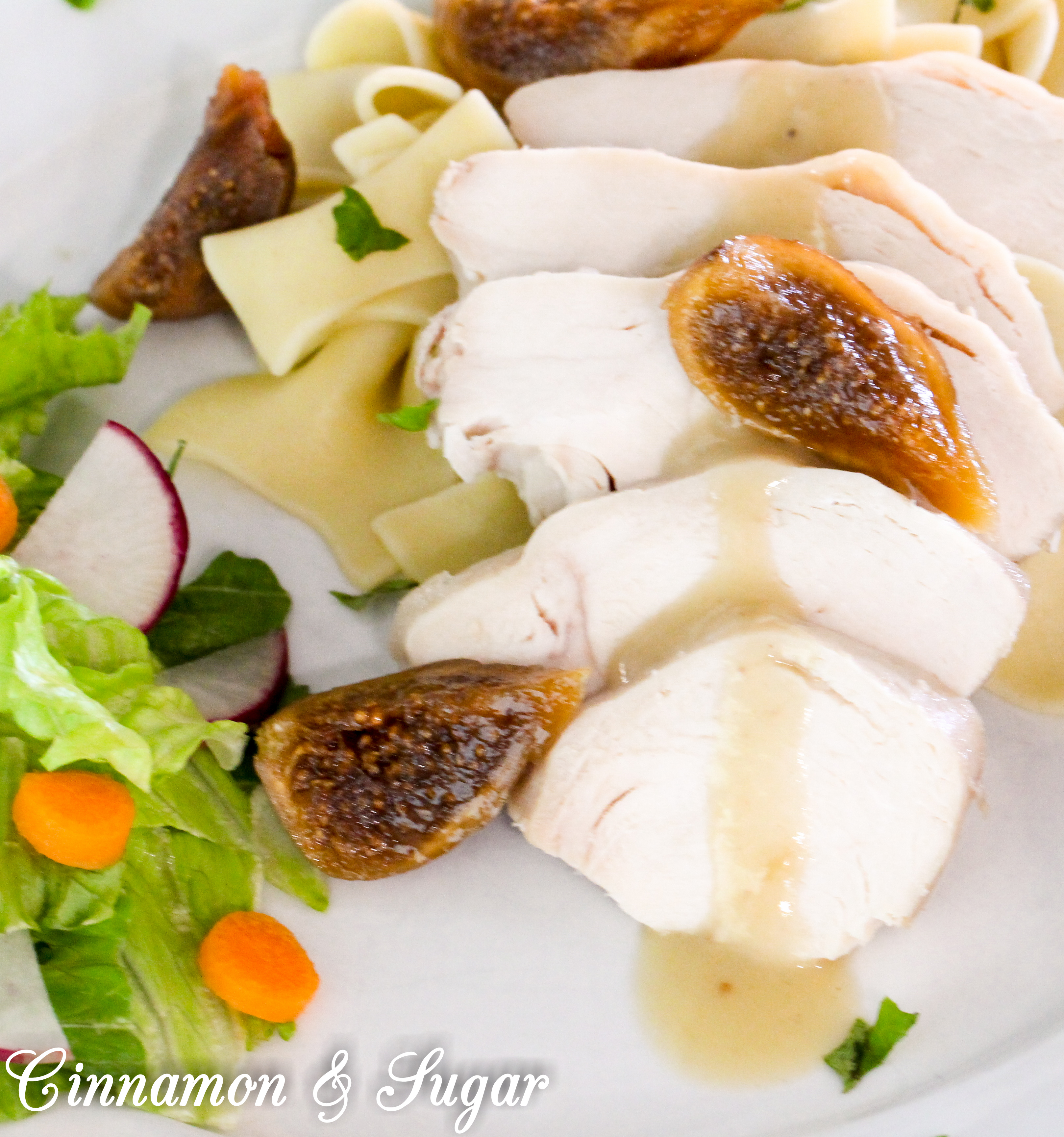 Ingredients
Enough olive oil to cover the bottom of a skillet, plus 1 tablespoon
2 garlic cloves, finely chopped
1 fryer chicken, cut into pieces
1/4 cup Armagnac
1 cup pinot grigio (or other dry white wine)
6 Calimyrna figs, cut into quarters
Instructions
Coat the bottom of a skillet with olive oil and heat for about 30 seconds.
Add garlic and sauté until golden brown, stirring constantly.
Remove garlic and reserve.
Add the additional 1 tablespoon olive oil to the skillet.
Turn heat to high, quickly add chicken, and sear each piece on both sides.
Remove the skillet from the heat.
Pour the Armagnac into the skillet and flame it with a match. (Light the Armagnac the instant you put it in the pan or it will not flame.)
Return the pan to the heat.
Once the Armagnac has cooked off, add the pinot grigio and simmer the chicken, covered on low heat until tender, approximately 30 to 45 minutes.
Add the figs and sautéed garlic for the last 10 minutes of cooking.
Season to taste with salt and pepper.
Serve with a green salad and a crisp, cold white wine.
Yield: 4 servings

Recipe shared with permission granted by Sara Paretsky, whose newest VI Warshawski novel is Fallout.

My Tips

If you can't find Armagnac, you can substitute Cognac.
After cooking chicken, remove from skillet and keep warm. If the sauce seems too thin, mix 1 teaspoon cornstarch with 2 teaspoons cold water in a small cup. Whisk the mixture into the sauce and bring to a simmer. Cook for 1 minute, stirring constantly, then remove from heat. Serve with the chicken.
https://cinnamonsugarandalittlebitofmurder.com/2017/03/chicken-gabriella/
Pin to Pinterest:
If you receive my blog post via email you will need to visit my website to view the video.
I received a copy of this book and willingly provided a review. All thoughts and opinions are my own.