Even though I have somehow neglected to read the Oxford Tearoom Mystery series in order, I have enjoyed every single one of these books written by H.Y. Hanna! I recently had the pleasure of catching up with the second book in this series, TEA WITH MILK AND MURDER!
Synopsis
Gemma Rose, owner of The Little Stables Tearoom in Meadowford-on-Smythe near Oxford, is happy that her new business seems to be taking off. Her mother has stepped in as the baker, introducing some new treats that has their clients clamoring for more. Her best friend, Cassie, helps run the tearoom and their friendship is better than ever…until Cassie meets and falls in love with Jon Kelsey. Jon is an art dealer and the owner of a gallery and he's taken Cassie on as a protégé. Cassie is having her first art exhibition and even though Gemma does not like Jon, she attends to support her best friend.
During the exhibition, beautiful Sarah Waltham shows up drunk and causes a scene with Jon. Jon insists that the woman is stalking him but tells the bartender to give her some tea before sending her on her way. Sarah barely takes a few sips before she collapses and dies. Gemma's former boyfriend from college, CID Detective Devlin O'Connor, is in charge of the investigation and she's happy to not be involved this time. But when the four old biddies, who attended the exhibition, tell Gemma they think the bartender poisoned Sarah, she can't help but start asking questions. The more questions she asks the more people she finds had reasons for wanting Sarah dead, including Jon. Can Gemma find the real killer or will her snooping be the final wedge that destroys her friendship with Cassie? Can she keep the old biddies out of trouble? Can she find justice for the rude woman or will the killer get away with murder?
My Review
TEA WITH MILK AND MURDER has so many things that I love about a great cozy mystery. First off is the clever title and the adorable cover! And while I'm more of a dog person than a cat person, Gemma's tabby, Muesli, steals the show and a few hearts. Even though I have read the other books in this series there's still enough tension between Gemma and Devlin to keep it interesting while Gemma's interfering mother keeps it entertaining. H.Y. Hanna provides so many wonderful characters and I know I've said this in previous reviews, but I just love the four old biddies! They bring a lightheartedness and zest for living to the story but I also liked how they taught Gemma to accept help and accept friendship no matter what form it may come in. The plot was tightly written and kept me turning pages while the conclusion came as a surprise!
H.Y. Hanna also includes her mother-in-law's traditional English / Jewish recipe for Velvet Cheesecake at the back of the book and has graciously allowed me to share it. Simple but oh so rich and velvety with the only garnish needed is a bit of fresh, jewel-toned fruit! I was transported back to my childhood when I tasted this delightful dessert…it is very similar to what my mother used to make and I haven't had it for a couple of decades at least. My family called it cream cheese pie way back then but I think I like the name Velvet Cheesecake much better. I'm very happy to have this recipe and pass it on to my grandchildren! Thank you, H.Y. Hanna, for sharing your family recipe!
A special thank you to H.Y. Hanna for offering the winner a choice of either print or an e-book copy of TEA WITH MILK AND MURDER. Please use the Rafflecopter box located below the recipe to enter. Contest ends Monday, September 5, 2016 at 11:59 pm PST. Winners will be announced on this page and on Cinnamon & Sugar's Facebook page, as well as notified by email (so check your spam folder!)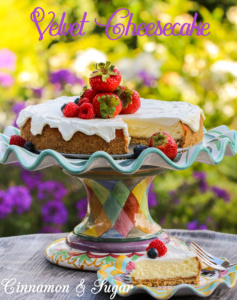 Velvet Cheesecake
Author's Note: This recipe came from my mother-in-law and is a traditional English / Jewish cheesecake. I don't know if it's as popular – I have a feeling the style is different to a lot of the popular cheesecakes – but my husband loves it. It's one of the few things I've managed to "bake" and hasn't come out a disaster!
Ingredients
Base Crust
A small packet of digestive biscuits (U.S.: 2 cups graham cracker crumbs)
2 ounces melted butter (U.S.: half a stick)
1/4 cup sugar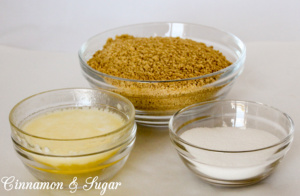 Filling
1/2 pound (8 ounces) double cream cheese, room temperature (e.g. Philadelphia)
1/2 pound (8 ounces) of curd cheese, room temperature (if you cannot find this, you can substitute with Philadelphia Light or Philadelphia 1/3 Less Fat, which works perfectly. Be careful about the "curd cheese substitute" suggestions you find on the internet, such as ricotta cheese – these are too runny and cause the cake to fall apart!)
2 eggs, room temperature
1 cup caster sugar (granulated sugar ran through a food processor for 2 minutes is a good substitute)
1 tablespoon flour
Juice from 1 lemon, plus some finely-grated lemon peel (about 3 tablespoons juice)
A few drops of vanilla essence
Pinch of salt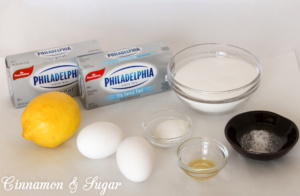 Topping
Sour cream
Fresh fruit to decorate, e.g. strawberries, raspberries, blackberries, or you can cover with a fruit glaze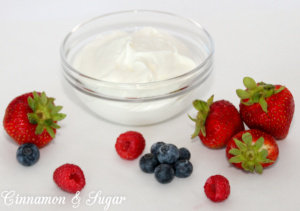 Instructions
Preheat the oven to 205C / 400F.
Base Crust
Crush the biscuits (e.g. in a food processor) and mix with the melted butter and sugar.
Press this mixture into the bottom of a collapsible cake tin (where the sides can be removed, e.g. springform pan) and put in the freezer for 10 minutes.
Filling
Place all the ingredients for the filling into a blender or mixer and combine until smooth.
Take the cake tin out of the freezer and pour filling over biscuit base.
Bake in preheated oven for 30 – 45 minutes (until cake filling is firm).
Take out of oven, remove the sides of the tin, and allow to cool slightly. Finish cooling in the refrigerator.
Topping
When cake is chilled, at least two hours, take out of refrigerator and pour the sour cream on top and over the sides. Return to the refrigerator and let it "set" for at least two hours.
Once the sour cream has set, you can decorate the top with fruit, icing, etc.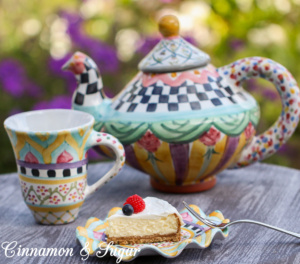 FREE DOWNLOAD FROM H.Y. HANNA!
Be sure to check out H.Y. Hanna's just released prequel to the Oxford Tearoom Mysteries, ALL-BUTTER SHORTDEAD! Free for a limited time on Amazon! You can download at:
Amazon: http://www.hyhanna.com/butter-amazon
Amazon UK: http://www.hyhanna.com/butter-amazonuk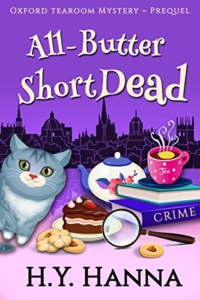 Gemma ditches her high-flying job and returns to Oxford to follow her dream: opening a traditional English tearoom serving warm buttery scones with jam and clotted cream… Only problem is–murder is the first thing on the menu and Gemma is the key suspect! And the only people Gemma can turn to for help are four nosy old ladies from her local Cotswolds village – not to mention a cheeky little tabby cat named Muesli. Who was the mysterious woman Gemma met on the flight back from Australia and why was she murdered? Now Gemma must find the killer, solve the mystery and clear her name if she's to have her cake–and serve it too.
This PREQUEL to the OXFORD TEAROOM MYSTERIES includes BONUS CHAPTERS FROM "A SCONE TO DIE FOR" (BOOK 1). It is slightly shorter than the rest of the series – which are all full length novels – and can be read as a standalone, before or after any other book in the series.
Pin to Pinterest: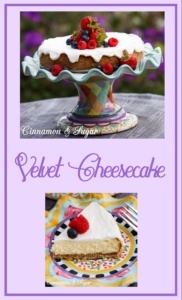 If you receive my blog post via email you will need to visit my website to view the video.