Several months ago I had the opportunity to meet Cindy Sample, author of DYING FOR A DONUT. I have read a couple of her books in her Laurel McKay Mystery series prior to this release and love her humor. Let me tell you, Cindy is just as entertaining in person as she is on the page and I had a delightful dinner chatting with her!
Synopsis
Laurel McKay is visiting Apple Tree Farm with her grandmother while waiting to pick up her her daughter, Jenna. A fight erupts between the owner's son, Eric, and Tony, one of the young men employed by the Farm. Eric has accused Tony of stealing from their business so the owner, Abel, has no choice but to fire him. Laurel is caught in the middle and decides she must talk to Abel about his son's behavior. When she goes to his office early the next morning after taking Jenna to work, she finds Abel the Donut King dead, covered head to toe in powdered sugar.
Tony is arrested for the murder and Jenna, who appears to be crushing on Tony, begs her mother to prove his innocence. Laurel doesn't want to get involved but when Jenna and Gran start investigating on their own, she knows she'd better do something before either of them get into real trouble. The arrogant new female detective in town is also getting on Laurel's nerves and Laurel would like to show Detective Reynolds a thing or two. As she starts asking questions she finds that the Donut King had lots of secrets that several people might have wanted to keep hidden. Can she find the real killer or will an innocent young man take the fall?
My Review
DYING FOR A DONUT is the perfect autumn treat! Cindy's descriptions of Apple Tree Farm and the delectable goodies produced there will have your mouth watering and make you want to go for a visit. The mystery pulled me in while the zinger of a plot twist had me reluctant to put the book down! Her dialogue is full of snappy quips that had me laughing out loud several times. I loved Gran….she is a hoot and the perfect compliment to Laurel. I felt like the characters were very likeable and easy to relate to. Laurel, as a single mother, has the usual issues with her teenage daughter which makes her seem personable and vulnerable.
Being a native California girl, I could completely relate to the drought issues woven into the story and enjoyed the factoids Cindy shares. Did you know that it takes 32 gallons of water to make 1 glass of wine? Or 1 gallon of water to grow just ONE almond? I doubt this knowledge will make me rethink what I consume but I will be more grateful when I imbibe.
Along with a terrific book Cindy includes numerous autumn dessert recipes! So many incredibly delicious treats…I wanted to make them all…and probably will… However, I had to choose one so settled on Pumpkin Roll Cake as shared by Sharon Bitz. When I was in my twenties I had a recipe similar to this but with all the moving around I did I somehow lost it. Once I started making this Pumpkin Roll Cake I was so happy Sharon submitted this recipe for Cindy's book. I will definitely not be losing this recipe again! The yummy autumn spices warms the kitchen and your mouth while the pumpkin provides gorgeous fall color. The rich and creamy cream cheese filling provides a cool contrast making this moist cake a picture perfect accompaniment to any gathering!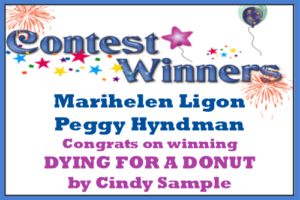 A very special thank you to Cindy Sample for offering two winners an autographed copy of DYING FOR A DONUT! Please use the Rafflecopter box located below the recipe to enter. Contest ends Monday, September 12, 2016 at 11:59 pm PST and is open to U.S. residents only. Winners will be announced on this page and on Cinnamon & Sugar's Facebook page, as well as notified by email (so check your spam folder!)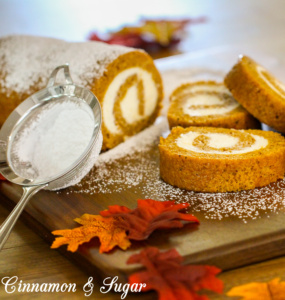 Pumpkin Roll Cake
Ingredients
Cake
3/4 cup all-purpose flour
1/2 teaspoon baking powder
1/2 teaspoon baking soda
1/2 teaspoon cinnamon
1/2 teaspoon ground cloves
1/4 teaspoon salt
3 large eggs
1 cup granulated sugar
2/3 cup pure pumpkin, canned is fine (do NOT use pumpkin pie filling)
1 cup chopped walnuts (optional)
1/4 cup confectioners' sugar (to sprinkle on a towel)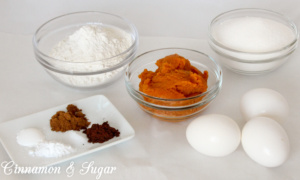 Filling
1 8-ounce package cream cheese (room temperature)
1 cup sifted confectioners' sugar
6 tablespoons softened butter
1 teaspoon vanilla extract
Confectioners' sugar for garnish (optional)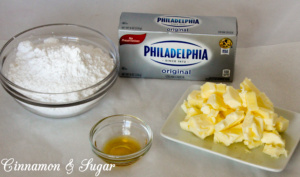 Instructions
Cake
Preheat oven to 375 degrees (F).
Grease a 15 x 10-inch jellyroll pan and line it with waxed or parchment paper. Grease and flour the paper.
Sprinkle a thin, cotton kitchen towel with confectioners' sugar. Set aside.
Combine the flour, baking powder, baking soda, cinnamon, cloves, and salt in a small bowl.
Beat the eggs and granulated sugar together in a large mixing bowl until thick.
Beat in pumpkin.
Stir in flour mixture.
Spread evenly into prepared pan.
Sprinkle with walnuts if using.
Bake for 13 to 15 minutes or until top of the cake springs back when touched. If using a dark colored pan, begin checking for doneness at 11 minutes.
Immediately loosen and turn cake on to prepared towel.
Carefully peel off paper.
Lightly sprinkle the cake with additional confectioners' sugar.
Roll up cake and towel together, starting at the narrow end, then cool on wire rack.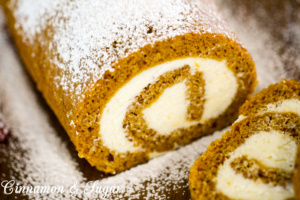 Filling
Beat the cream cheese, 1 cup confectioners' sugar, butter, and vanilla extract together in a small mixing bowl until smooth.
Carefully unroll cake.
Spread the cream cheese mixture over cake and then reroll the cake.
Wrap in plastic wrap and refrigerate for at least one hour.
Sprinkle with additional confectioners' sugar before serving, if desired.
Tip
Be sure to put enough confectioners' sugar on the kitchen towel before rolling up the cake so it will not stick.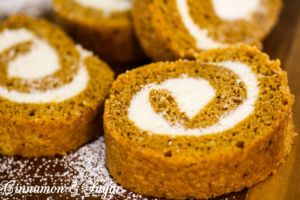 Pin to Pinterest: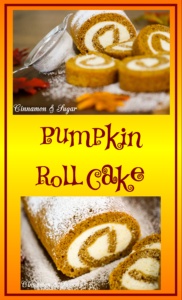 If you receive my blog post via email you will need to visit my website to view the video.
Releasing January 2017, DYING FOR A DIAMOND by Cindy Sample! Keep watching Cindy's Facebook page for her cover reveal coming soon!