Henery Press is releasing ALL 6 books in this series on September 6, 2016!
I am very excited to be a part of Kathi Daley's Countdown to Paradise to celebrate the release of all SIX books in her TJ JENSEN MYSTERY SERIES! Kathi is offering one winner a choice of either print or an e-book copy of any TJ JENSEN title so be sure to enter via Rafflecopter below!
I had the pleasure of reading PUMPKINS IN PARADISE, the first book in this series and am wowed! Tj Jensen is a young woman with a big heart. Her generous humanity comes across the pages making for a touching, sentimental story. From Tj's longterm friendship with elderly recluse Zachary Collins, she learns to solve puzzles and games of logic using her intelligence and imagination. The author is very clever with creating a puzzle for Tj to solve within the story, setting up the clues that kept me guessing until the very end. The setting of the lakefront community in Serenity, Nevada is spectacular and pulls the reader in, making you want to actually visit the place. I am very happy that all six books are available at once so I don't have to wait to read the next one!
While there are no recipes in PUMPKINS IN PARADISE, Kathi was gracious and shared her recipe for Pumpkin Cheesecake. Perfect for the autumn season, this easy recipe calls for making this luscious dessert in a casserole dish. It is much less fussy than using a springform pan and easier to transport for holiday parties and gatherings. Once you try this highly rated recipe, Pumpkin Cheesecake will be sure to become a go-to recipe! Thank you Kathi, for sharing your yummy dessert!
Read below for a brief description of each of the books in this series:

Pumpkins in Paradise (a Tj Jensen Mystery Book 1) Between volunteering for the annual pumpkin festival and coaching her girls to the state soccer finals, high school teacher Tj Jensen finds her good friend Zachary Collins dead in his favorite chair. When the handsome new deputy closes the case without so much as a "why" or "how," Tj turns her attention from chili cook-offs and pumpkin carving to complex puzzles, prophetic riddles, and a decades-old secret she seems destined to unravel.
Snowmen in Paradise (A Tj Jensen Mystery Book 2) Winter Carnival comes to Serenity, and with it Tj finds her schedule busier than ever. Not only is her ski and snowboard team heavily involved in demonstrations and local competitions, but her ragtag choir is about to debut in their first live performance. To make matters even more complicated, someone has killed Travis Davidson, a town favorite son, world-class snowboarder, and Olympic hopeful. Tj is determined not to get involved in the subsequent investigation until she learns the prime suspect is Chelsea Hanson, high-school boyfriend Hunter Hanson's sister. Although there's no shortage of Sereninites with a grudge against the hometown hero, even Tj has to admit there's good cause to suspect Chelsea of the murder. Balancing bridesmaid duties, Winter Carnival obligations, show choir duty, and after-hours investigation, Tj sets out to prove Chelsea innocent.
Bikinis in Paradise (A Tj Jensen Mystery Book 3) When the Tropical Tan Corporation descends on Maggie's Hideaway, the lakeside resort where Tj Jensen lives, she must juggle a bikini contest, a BBQ cook-off, a missing model, and a dead chaperone while her father is out of town. Lead Deputy Dylan Caine is on vacation while his sister is visiting, leaving Assistant Deputy Roy Fisher in charge. When Roy asks Tj for her help they find there may be more going on than anyone realized. With Kyle and Jenna's help, they dig into the lives of those involved, only to find a mystery more complex than anything they could ever have imagined.
Christmas in Paradise (A Tj Jensen Mystery Book 4) Christmas in Serenity is a magical time of year Tj has always looked forward to with happy anticipation. This year her holiday spirit is marred by the impending arrival of two new men in her life. When one of them ends up dead, Tj must juggle community plays, Christmas tree cuttings, sleigh rides, and holiday shopping with a complex murder investigation. As the facts begin to unravel, she realizes she may have to risk everything to save someone she loves.
Puppies in Paradise (A Tj Jensen Mystery Book 5) When a friend of Tj's is injured in a car accident during a blizzard, Tj takes responsibility for the litter of puppies left behind. Meanwhile, she works with Kyle, Jenna, and the gang to catch the person responsible for the death of a close family friend. When it turns out that the main suspects are also close to the Jensens, Tj must deal with one of the most difficult decisions she's ever had to make.
Halloween in Paradise (A Tj Jensen Mystery Book 6) In the midst of the annual Halloween frenzy, Tj finds herself pulled into a series of events at the high school where she works. Not only must she help one of the girls on her team deal with a case of cyberbullying, but she must help a student who has recently suffered a personal tragedy. And as if Tj wasn't busy enough, in walks Samantha Colton, a reporter for Second Look, a television series that takes a look back at unsolved murders. This time the case is the death of a popular student after the homecoming dance ten years before. To make matters even worse—or maybe more convenient—the graduating class of the victim is in town for their ten-year reunion and all the suspects just happen to have converged on Serenity for the weekend. When Samantha turns up dead, Tj must track down someone who seems willing to kill again to keep their secret.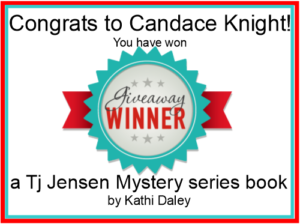 A very special thank you to Kathi Daley for offering the winner a choice of either print or an e-book copy of any TJ JENSEN title! Non US residents are limited to Kindle copy only. Please use the Rafflecopter box located below the recipe to enter. Contest ends Sunday, September 4, 2016 at 11:59 pm PST. Winners will be announced on this page and on Cinnamon & Sugar's Facebook page, as well as notified by email (so check your spam folder!)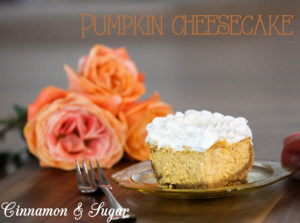 Pumpkin Cheesecake
Kim's Note: This makes a very large, rich dessert so if you don't have enough people to help you eat the Pumpkin Cheesecake you can make a half recipe and bake in an 8″ x 8″ square dish.
Ingredients
Cheesecake
1 box of graham cracker crumbs – follow directions on box to make crust for a 9 x 13-inch pan
4 packages cream cheese – softened
1-1/2 cups granulated sugar
16 ounces pumpkin
3/4 cup whipping cream
3 tablespoons flour
1/2 teaspoon nutmeg
1/2 teaspoon ginger
1/2 teaspoon cinnamon
1/2 teaspoon ground cloves
1/4 teaspoon salt
1/4 teaspoon vanilla
6 eggs
Topping
1/2 cup granulated sugar
2 cups whipping cream
1/2 cup powdered sugar
1/4 teaspoon vanilla
Instructions
Cheesecake
Preheat oven to 325 degrees (F).
Beat the cream cheese and sugar together until creamy.
Add pumpkin, whipping cream, flour, spices, and vanilla and mix until thoroughly combined.
Add 4 whole eggs plus 2 egg yolks.
Pour over prepared graham cracker crust.
Bake about one hour until toothpick comes out clean.
Refrigerate until completely chilled.
Topping
Whip heavy cream until soft peaks form. Slowly add the granulated sugar, powdered sugar, and vanilla extract and whip until firm peaks form.
Spread over chilled cheesecake.
Tip
Thoroughly chill your bowl and beaters before whipping the heavy cream for the topping.
I was impressed with the whipped cream topping. It stayed fluffy for 3 days in the refrigerator!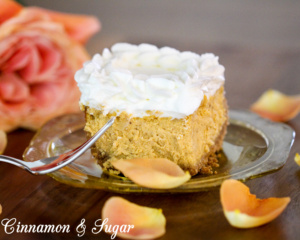 Pin to Pinterest: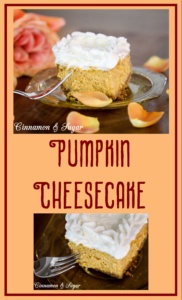 If you receive my blog post via email you will need to visit my website to view the video.
Visit Kathi Daley:
I received a copy of PUMPKINS IN PARADISE in exchange for my honest review. All thoughts and opinions are my own.