Cleo Coyle's latest release, DEAD TO THE LAST DROP, is terrific to the very last drop! I had high expectations for this book since Cleo's previous books have all been winners, and this one didn't disappoint…in fact, it blew right past all her others. Clare Cosi has moved to Washington, D.C., to open and manage the Village Blend's newest coffeehouse and to be with her love, Mike Quinn, who works for the Department of Justice. In addition to the shop with it's unique blends of coffee and mouth-watering pastries, the D.C. branch has started a jazz/supper club which is co-managed by Gardner. Clare expects the new coffeehouse to run efficiently with a profit like their New York location. Only it doesn't and she is determined to figure what the problem is, starting with their arrogant chef who just may be stealing from her.
Gardner is actively showcasing new jazz musicians and Abby, one of the young women who performs, turns out to be the President of the United State's daughter. It's imperative that her identity remains secret but when a very drunk man bursts into the shop in the middle of the night during a jam session, it's clear that he knows who she is. It doesn't take long for Clare's life to begin unraveling: from being "invited" to the White House to meet the First Lady who doesn't appreciate her daughter playing in a jazz club to possible trouble in her relationship with Mike when his beautiful boss and a young, gorgeous detective have him in their sights. The drunk dies and the authorities determine he's been murdered. When the President's daughter disappears, the spotlight is turned on Clare for both the crimes and she ends up on the run trying to prove her innocence and find Abby before it's too late.
In addition to an intricately woven plot that kept me on the edge of my seat and up way past my bedtime reading "just one more chapter", Cleo provides numerous delicious Americana recipes along with background information on the dishes. She has allowed me to share her sinfully decadent recipe for Double-Chocolate Espresso Cupcakes! Oh my…these are yummy enough to make you swoon but don't worry, the caffeine will revive you. The dark chocolate cupcake is moist with little bits of rich chocolate that melts in your mouth. The light, fluffy espresso frosting is like a creamy cloud sitting on top of these delicious little cakes. As Clare Cosi says, "Music, food, and coffee are universal languages," and the author brings all three together in this thrilling mystery!
Be sure to take a look at a sneak peak (located at the bottom of this page) for COLD DEAD BREW, the next book in Cleo's Coffeehouse Mystery series releasing January 10, 2017!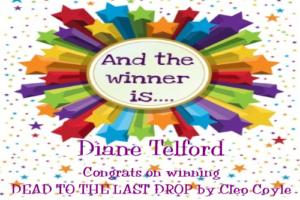 A special thank you to Cleo Coyle for offering one winner an autographed copy of DEAD TO THE LAST DROP! Please use the Rafflecopter box located below the recipe to enter. Contest ends Saturday, September 17, 2016 at 11:59 pm PST and is open to U.S. residents only. Winners will be announced on this page and on Cinnamon & Sugar's Facebook page, as well as notified by email (so check your spam folder!)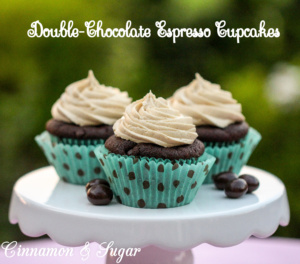 Double-Chocolate Espresso Cupcakes
These dark, dense, and delightfully delicious little cakes topped by a light, creamy cloud of frosting were the most popular dessert at the Smithsonian party catered by Clare Cosi and her Village Blend crew. While Clare shared a sweet and heartfelt moment with Agent Sharon Cage, the party-goers took Clare's cosmopolitan cupcakes off the tray and into their hearts. Always a favorite at the Village Blend in New York City, the sinfully sophisticated cakes have been added to the Jazz Space dessert menu and Clare's DC pastry case.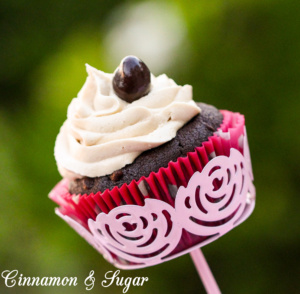 Ingredients
Cupcakes
1 cup plus 2 tablespoons all-purpose flour
1/2 cup unsweetened cocoa powder
1 teaspoon baking powder
1/2 teaspoon baking soda
1/4 teaspoon finely ground sea salt (or table salt)
1/2 cup (1 stick) unsalted butter, softened
3/4 cup granulated sugar
1/4 cup light brown sugar
1 large egg, room temperature
1/2 cup whole milk
1 teaspoon pure vanilla extract
1/2 cup espresso or strong brewed coffee (cooled)
1 teaspoon instant espresso powder
3/4 cup mini semisweet chocolate chips (must be mini!)
Espresso Buttercream
1/2 cup (1 stick) unsalted butter, room temperature
1-1/2 cups powdered sugar
1-1/4 teaspoons instant espresso powder
1 teaspoon vanilla extract
2 tablespoons brewed coffee or espresso
Instructions
Cupcakes
Preheat oven to 350 degrees (F).
Line a cupcake pan with paper liners. To prevent sticking of the baked muffins, spray lightly with non-stick cooking spray.
Whisk together the flour, cocoa powder, baking powder, baking soda, and salt. Set aside.
Cream the butter and sugars together until fluffy.
Beat in the egg.
Stop the mixer and add the milk, vanilla, and the cooled espresso or brewed coffee (with the instant espresso powder dissolved into it). Mix until incorporated.
Beat in the flour mixture. Do not over mix at this stage, but be sure all the raw flour is incorporated into the batter.
Fold in the mini chocolate chips. (They really should be mini chips for the best results. In a pinch, you can chop standard-sized chocolate chips or discs, but do not use standard chips for this recipe.)
Divide batter among the 12 lined cupcake cups of your pan.
Bake 18 to 22 minutes until a toothpick inserted in the center of a cupcake comes out with no batter clinging to it. (Be careful not to mistake melted chocolate chips with unbaked batter!)
Be sure to cool your cupcakes completely before frosting them.
Espresso Buttercream
Using an electric mixer, whip the softened butter until light and fluffy.
Reduce the mixer speed and add your powdered sugar a little at a time. After the powdered sugar has been added, scrape down the sides of the bowl.
Whisk your instant espresso powder into your vanilla extract and brewed coffee and then beat it into the frosting until it is beautifully fluffy and ready for the tops of your delicious double-chocolate espresso cupcakes. Top with chocolate shavings or chocolate-covered espresso bean!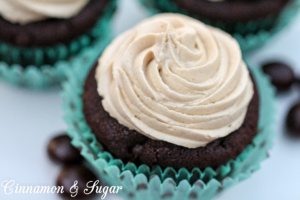 Tip
You can add additional powdered sugar to the frosting until desired consistency is reached. When I made these cupcakes I knew they were going to be outdoors for a few hours on a very warm summer day, so I added quite a bit more sugar to make a stiff frosting. I wanted to make sure it didn't melt before they were consumed!
Pin to Pinterest: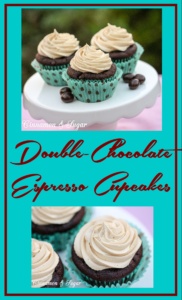 If you receive my blog post via email you will need to visit my website to view the video.
I received a copy of this book in exchange for my honest review. All thoughts and opinions are my own.
Here's a sneak peak of COLD DEAD BREW, the next thrilling installment in Cleo Coyle's Coffeehouse Mystery series, releasing January 10, 2017!
THE PERFECT PROPOSAL LEADS TO A CHILLING COLD CASE…

Coffeehouse manager Clare Cosi sheds tears of joy when her NYPD detective boyfriend surprises her with an engagement ring. But her bridal bliss is put on hold when a chilling mystery brings a wave of deadly danger to those she holds dear…

After everything Clare and Mike have been through, they deserve a little bit of happily ever after. So when Mike decides to put a ring on Clare's finger, Clare's eccentric octogenarian employer is there to help. She donates the perfect coffee-colored diamonds to include in the setting and the name of a world-famous jeweler who happens to be an old family friend. But while the engagement is steeped in perfection, the celebration is not long lived.

First, a grim-faced attorney interrupts their party with a mysterious letter bequeathing a strange, hidden treasure to Clare's daughter. Next, the renowned jeweler who designed Clare's ring is found poisoned in his shop. Both events appear to be connected to a cold case murder involving a sunken ship, an Italian curse, a suspiciously charming jewel thief, and a shocking family secret. With deadly trouble brewing, Clare must track down clues in some of New York's most secret places before an old vendetta starts producing fresh corpses.

With recipes to die for, including how to make cold-brew coffee at home!