I was beyond excited when I found out Lynn Cahoon was coming out with a new series. I've always loved her Tourist Trap Mystery series and knew whatever she wrote, I'd enjoy. A STORY TO KILL, the first book in the Cat Latimer Mystery series, did not disappoint and I can't wait to read the next one!
Synopsis
Former English Professor turned author, Cat Latimer, has moved back to Aspen Hills, Colorado after inheriting her ex-husband's Victorian house. He broke her heart with his chronic cheating and she's unsure why he would have left the house to her after his untimely death. Hoping to supplement her writing income, Cat turns the house into a writer's retreat one week each month. One of the attendees is Tom Cook, a best-selling thriller author. Cat isn't sure why he's attending but the elderly romance writing sisters, Daisy and Rose, are smitten with him. Unfortunately one of the other guests, Billy, seems to want to pick a fight with Tom, while grad student Sara seems to have other things on her mind besides writing.
When Cat finds Tom murdered in her guestroom, she's terrified that the news will scare away other attendees and she'll lose the house. Even though her uncle, Chief of Police Pete Edmond, is doing all he can to find the killer, Cat is afraid it won't be enough. She starts looking into Tom's background and finds he could be connected to the mysterious disappearance of a girl he knew, fifty years ago. She also finds that Tom had made many enemies and even his wife remarks that she's surprised he hadn't been murdered before then. As Cat continues asking questions and digging around, strange things start happening. First an anonymous person leaves her ex-husband's journal for her, but there's no fingerprints on the journal at all. A flower her ex used to give her is left just outside her bedroom door and she's hearing odd noises. Can Cat piece together the puzzle that Tom's life and find the murderer or will an innocent person take the blame?
My Review
Oh my, what a ride A STORY TO KILL takes you on! There are such interesting characters and I loved the two elderly romance writing sisters, who made me laugh from their dialog and antics. The author creates vivid beautiful settings that make me want to visit the area. Her mysteries had me turning pages long into the night, wishing the second book was here already! Lynn knows how to pull you into her characters' lives and I enjoyed the peek into the life of a writer as portrayed through Cat. In addition to a great mystery, there is a theme of letting go of past betrayals and giving love a second chance.
Cat couldn't run the retreat all on her own and still write so her best friend, Shauna, is concierge and cook. And cook she does! So many delectable treats are mentioned in the book that it made me want to run to the kitchen and start baking. While Lynn does not include any recipes with the book she was very happy for me to create a recipe that Shauna served to the guests….and was so yummy Cat used as a bribe. Chocolate Chip Muffins have a delicate, moist crumb while the added mini chocolate chips add a rich decadence. Coarse sparkling sugar on the tops give them additional texture and visual appeal. Perfect for breakfast, a mid-morning snack, an afternoon snack or a bedtime snack while reading this terrific book!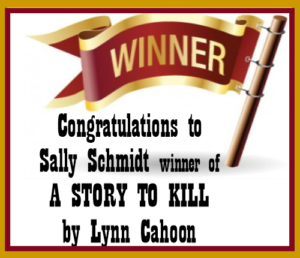 I am pleased to offer the winner a choice of either print or an e-book copy of A STORY TO KILL. Print limited to U.S. residents only. Please use the Rafflecopter box located below the recipe to enter. Contest ends Thursday, September 1, 2016 at 11:59 pm PST. Winners will be announced on this page and on Cinnamon & Sugar's Facebook page, as well as notified by email (so check your spam folder!)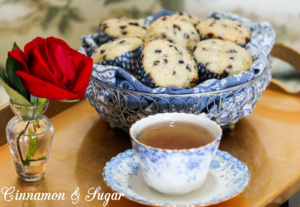 Chocolate Chip Muffins
Ingredients
2-1/2 cups (12.5 ounces) all-purpose flour
1-1/2 teaspoons baking powder
1/2 teaspoon baking soda
1/2 teaspoon salt
2 eggs, room temperature
1 cup (7.2 ounces) granulated sugar
2 teaspoons vanilla extract
1/2 cup (4 ounces) Greek yogurt (2% or whole)
1/3 cup (2.6 ounces) unsalted butter, melted
3/4 cup milk (2% or whole)
1 teaspoon apple cider vinegar
1 cup mini chocolate chips
Coarse sparkling sugar (optional)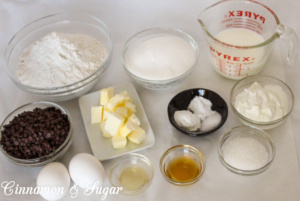 Instructions
Preheat the oven to 375 degrees (F).
Line muffin tins with paper liners or generously spray with non-stick cooking spray. Set aside.
Stir the apple cider vinegar into the milk and set aside while you collect the remaining ingredients.
In a large mixing bowl, whisk together the all-purpose flour, baking powder, baking soda, salt, and mini chocolate chips. Set aside.
In a medium-sized mixing bowl, whisk together the granulated sugar, eggs, vanilla extract, Greek yogurt, melted butter, and the milk/cider mixture.
Make a well in the center of the flour mixture and add the sugar and egg mixture. Stir just until batter is combined.
Fill muffin cups 3/4 full.
Sprinkle tops of batter with coarse sparkling sugar if desired.
Bake for 15 to 18 minutes. A wooden skewer inserted into the center should have a few moist crumbs attached. Be careful to not overbake.
Remove muffins from tin and allow to cool on a wire rack for a few minutes before serving.
Store any leftovers in an airtight container in the refrigerator and gently reheat before serving.
Makes 18 – 20 muffins.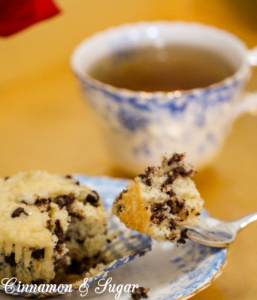 Tip
Cooled leftover muffins can be individually wrapped in plastic wrap and placed in a freezer-safe ziplock bag. Freeze and then defrost as needed, gently reheating to serve.
Pin to Pinterest: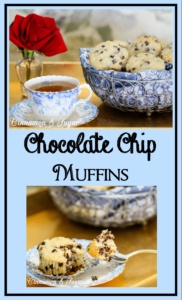 If you receive my blog post via email you will need to visit my website to view the video.
I received a copy in exchange for my honest review. All thoughts and opinions are my own.