I have long been a fan of Kate Carlisle's Bibliophile Mystery series and was very happy when BOOKS OF A FEATHER was recently released. And even though the book does not contain recipes, Kate was gracious enough to let me share her Peaches Poached in White Wine recipe, which she developed for RIPPED FROM THE PAGES. When "chatting" about the recipes, she mentioned that she "didn't develop any for this particular book since it seemed wrong, somehow, to celebrate birds and eat them at the same time. LOL!" Kate does have a good point!
The Peaches Poached in White Wine is a light, refreshing summer dessert. I loved that it wasn't overly sweet and the whipped sour cream topping added a boost of tangy richness. I'll be honest, I didn't bother sharing ANY of this with any of my taste testers…I ate the entire recipe all by myself…it was absolutely delicious even with chilled peaches! Next time I'll double the amount of peaches I use, but the sour cream topping is plenty for two batches. Thank you, Kate, for letting me share your delectable summery dessert!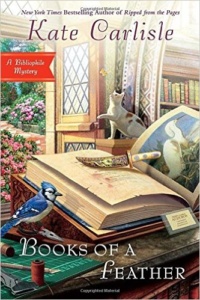 Synopsis
BOOKS OF A FEATHER finds rare book restorer, Brooklyn Wainwright, back home in San Francisco. She is helping catalog books with Genevieve, owner of Taylor's Fine Books after the shop had experienced multiple thefts. Brooklyn is also setting aside the rarer books that need repaired and she has a stack to take home. Both are excited about the unveiling party of Audubon's Birds of America exhibit at the Covington Library. At the party Genevieve slips a damaged rare book to Brooklyn, telling her she thinks her cousin was trying to steal it and could be responsible for the other thefts. Shortly after that the president of the Bay Area Bird-watchers Society, Jared Mulrooney, slips her a small Audubon book and begs her to repair it without anyone finding out.
Not long afterwards, Brooklyn finds Jared murdered in a deserted wing of one of the galleries. Finding the dead man is only the beginning of the trouble that heads Brooklyn's way. Her home is broken into; a homeless man is found murdered in front of her book safe; and she's caught in the middle of a nasty divorce when she agrees to be an expert witness. She knows the two murders have to be related to one of the books she recently obtained, but which one is it? Brooklyn's research into the tomes leads her to a centuries old mystery crossing continents. Can she figure out the secret to the books before she becomes the next victim?
My Review
First off, this book made me want to desperately visit The Huntington Library, Art Collection, and Botanical Gardens in San Marino, California. It's a bit of a trek from my house, considering traffic, but I can lose myself for hours in the vast, wonderful galleries. And it's exactly what I picture the Covington Library to be like in BOOKS OF A FEATHER! I loved the author's description of the old books and the loving care Brooklyn takes in restoring them. She provides quite a bit of detail in the restoration process, but you can tell it's because of the deep respect she has for books. She also gives some good tips for caring for your own books at home which makes me want to empty my bookcase and examine my books one by one. I found it interesting that each of the many books mentioned in BOOKS OF A FEATHER, had some sort of reference to birds.
Kate also has allowed Brooklyn to mature, especially in her relationship with Derek Stone, and I enjoyed seeing his interaction with her family. Brooklyn's parents show up in San Francisco and are a hoot with their free-spirit. I did miss the other characters back in their hometown of Dharma, so I hope the next book takes us back for a visit. The plot provided a satisfying mystery, with enough subplots to keep me guessing and turning pages. I look forward to the next installment in this terrific series!
As a bonus for my readers, one winner will have the choice of either a hardcover copy or an e-book copy of BIRDS OF A FEATHER! (Print copy U.S. residents only.) Please use the Rafflecopter box located below the recipe to enter. Contest ends Thursday, June 16, 2016 at 11:59 pm PST. Winners will be announced on this page and on Cinnamon & Sugar's Facebook page, as well as notified by email (so check your spam folder!)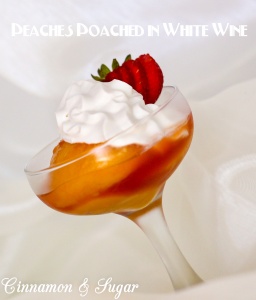 Peaches Poached in White Wine
with Whipped Sour Cream
Ingredients
Poached Peaches
2 peaches, peeled, pitted, and halved
1 cup white wine
1 tablespoon honey
1 teaspoon lemon juice
1/2 teaspoon vanilla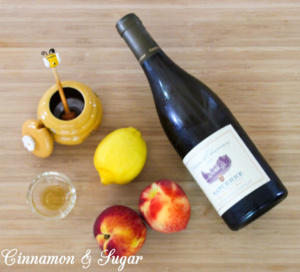 Whipped Sour Cream
1/2 cup whipping cream
1/4 cup sour cream
1 tablespoon brown sugar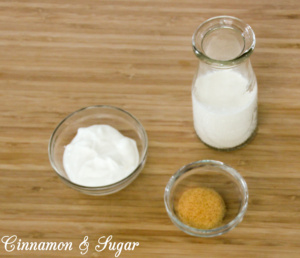 Instructions
Poached Peaches
In a small saucepan, heat the wine, honey, lemon juice, and vanilla to a simmer.
Add peaches and continue to simmer for 30 minutes.
Occasionally, spoon syrup over the peaches and flip the peach halves over.
Remove the peaches from the poaching liquid and set aside. Allow the liquid to continue simmering to thicken while you prepare the whipped sour cream topping.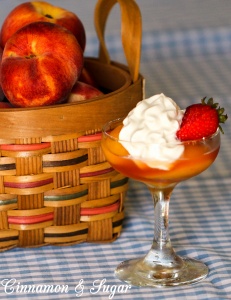 Whipped Sour Cream
Combine ingredients in a bowl that has been chilled in the freezer.
Whip until it thickens enough to mound up on a spoon.
Serve the peaches warm with a drizzle of the poaching liquid and a dollop of whipped sour cream on top.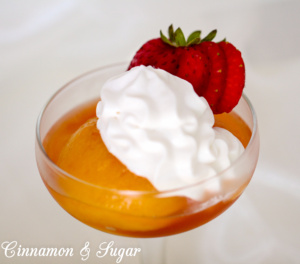 Tips
Use freestone peaches if you can find so the halves will be easier to slice and remove the pit, resulting in a prettier dessert.
Dip the peaches into boiling water for 30 seconds and then rinse in cold water to easily peel them.
Don't use an oaky Chardonnay for this recipe. It's better to use a light, crisp wine such as Sauvignon Blanc, or a good Riesling for a bit more sweetness.
If you receive my blog post via email you will need to visit my website to view the video.
I received a copy from Netgalley in exchange for my honest review. All thoughts and opinions are my own.