GRILLED FOR MURDER by Maddie Day (aka Edith Maxwell) is the second book in her Country Store Mystery series but the first that I've read. As luck would have it, I received an ARC the week before my aunt and cousins from Oregon were planning to visit me. I knew I needed to come up with a nice dish to serve for breakfast but I didn't want anything that would keep me stuck in the kitchen instead of visiting with my family. As I flipped through the many recipes in GRILLED FOR MURDER the author's recipe for Overnight French Toast jumped out at me. It was very easy to assemble the night before my guests arrived and then pop it into the oven for 40 minutes the next morning. What made this dish so special was the addition of Grand Marnier, an orange flavored liqueur. I thought a half cup would overpower the dish but it turned out spectacular! I also loved the presentation of using slices of bread instead of the typical cubed bread found in many breakfast casserole dishes. I even made a small dish using gluten-free bread….it was so yummy I ate the leftovers for lunch a few hours after our breakfast!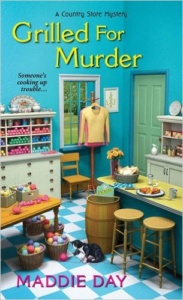 Synopsis
Robbie (Roberta) Jordan owns Pans 'N Pancakes in South Lick, Indiana. She's only been open for 1-1/2 months for breakfast and lunch but business is good and she's agreed to cater a party. Sue Berry is throwing a welcome home party for her recently widowed daughter, Erica. Her deceased husband was the twin to Robbie's boyfriend, Jim, so there's still lingering grief for the family. Erica manages to show up an hour late to her own party and is acting like anything but a widow. She proceeds to shamelessly flirt with Jim and then her own pregnant sister's husband. After a cat fight with another guest and then insulting Robbie's friend, Phil, by calling him a racial slur, an intoxicated Erica finally leaves the party.
Early the next morning Robbie prepares to open Pans 'N Pancakes and finds the murdered body of Erica inside her store. A broken window explains how she got in but who left her there? The police take Phil in for questioning but Robbie is certain of his innocence. Yes, Erica greatly insulted him but there were numerous people in town that she was abusive to. Robbie decides to start asking questions to find out who the killer is, especially after she's accused of killing Erica herself. When the brakes on her bike are tampered with and she escapes serious injury, Robbie knows the killer needs to be stopped before she becomes the next victim.
My Review
Just as Maddie Day's Overnight French Toast was a delicious hit, her book, GRILLED FOR MURDER, was a delicious read! The setting held special meaning for me because my in-laws lived in Illinois, ten miles from the Indiana border, and I've spent a lot of time there. Being born and raised in Southern California (and living fairly close to Santa Barbara where Robbie grew up!) the colloquialisms of those two Midwest states caught me off-guard early on. Maddie captures the sayings and mannerisms of the townspeople perfectly! The plot had several twists and turns that I didn't see coming while the mystery surrounding the father Robbie never knew she had, intrigues me. I am anxious to learn more!!! There are so many appealing characters woven into the story along with some romantic angst, which adds to the overall enjoyment of the book. Thank you, Maddie, for introducing me to such a wonderful series and for allowing me to share your very delicious recipe for Overnight French Toast!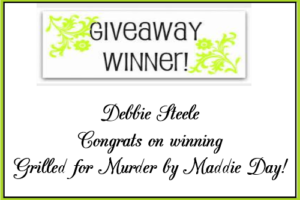 A special thank you to Maddie Day (aka Edith Maxwell) for providing an autographed copy of GRILLED FOR MURDER to one winner! Please use the Rafflecopter box located below the recipe to enter. Contest ends Thursday, June 9, 2016 at 11:59 pm PST and is limited to U.S. residents only. Winners will be announced on this page and on Cinnamon & Sugar's Facebook page, as well as notified by email (so check your spam folder!)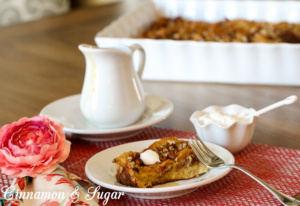 Overnight French Toast
Ingredients
1 loaf French Bread (13 to 16 ounces)
1/2 cup Grand Marnier
8 large eggs
2 cups half-and-half
1 cup milk
1 teaspoon vanilla extract
1 teaspoon ground cinnamon
1/4 teaspoon ground nutmeg
1/2 teaspoon salt
1 cup chopped pecans
Sour cream
Maple syrup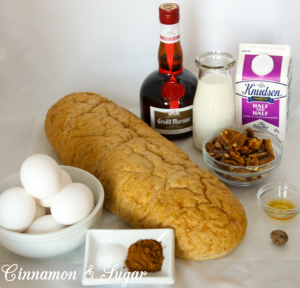 Instructions
Slice the French bread into 20 slices, 1-inch thick each. (Use any extra bread for garlic toast or bread crumbs.)
Arrange slices in a generously buttered 9-inch by 13-inch flat baking dish in 2 rows, overlapping the slices.
Drizzle the bread with the liqueur.
In a large bowl, combine the eggs, half-and-half, milk, vanilla, cinnamon, nutmeg, and salt and beat with a rotary beater or whisk until blended but not too bubbly.
Pour mixture over bread slices, making sure all are covered evenly with the milk-egg mixture.
Spoon some of the mixture in between the slices.
Cover with foil and refrigerate overnight.
The next day, an hour before the time you want to serve, preheat oven to 350 degrees Fahrenheit.
Sprinkle pecans over the top and bake uncovered for 40 minutes, until puffed and lightly golden.
Serve with maple syrup and a dollop of sour cream on each serving.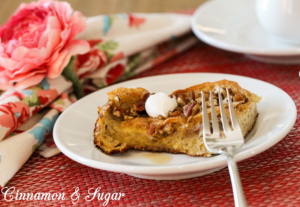 Tips
You can make this recipe using gluten-free bread! Grand Marnier is certified gluten-free, just be sure to use a gluten-free vanilla if required.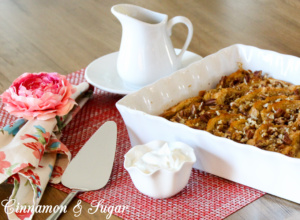 If you receive my blog post via email you will need to visit my website to view the video.
I was provided a copy of the book in exchange for a fair and honest opinion. All thoughts and views are my own.