One of the best things about attending mystery conferences, such as Left Coast Crime, is meeting new people and discovering new authors and their books! With the myriad of panels to choose from, it is a great way to hear authors talk about not only their books but their writing practices along with upcoming works. Which is how I found TRUFFLED TO DEATH by Kathy Aarons! I'll have to admit anything with chocolate is going to draw me!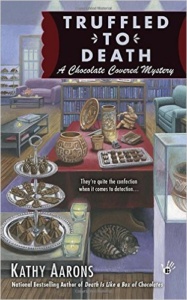 Synopsis
Michelle Serrano and her best friend, Erica Russell, own Chocolate and Chapters (I'd love to hang out there!). They are hosting a reception celebrating the donation of Maya artifacts being given to the museum by the River family. Dr. Addison Moody (aka Dr. Smug) is the curator facilitating the donation. The reception is a success despite the tension between Dr. Moody and Erica, and the uninvited mysterious stranger who wants to view the ancient treasures from his heritage.
After the reception the artifacts are stolen on their way to the museum and Dr. Moody points his finger at Erica. To make matters worse, Dr. Moody is later found murdered with one of the missing pieces, and his assistant tries to place the blame on Erica. Michelle knows she and Erica will have to find the truth or Erica may take the fall for the crimes. International art smuggling rings, an old explorer's diary, and a pregnant street cat combine to keep Michelle and Erica only a half a step ahead of the law and the killer!
My Review
I loved the Maya artifacts premise of TRUFFLED TO DEATH and it made me want to hunt down an historical fiction account of this ancient civilization! While the author doesn't delve into the history, she does provide interesting bits and pieces about the artifacts themselves, which added to the authenticity of the story. Even though this is the second book in Kathy Aarons' Chocolate Covered Mystery series, it is easily read as a stand-alone…which is good since I somehow missed the first book in the series. I've remedied that and now have it in my TBR pile! The characters are well developed and I enjoyed the close friendship between Michelle and Erica. Complete opposites, they compliment each other while adding a bit of humor to the story.
Of course a book called TRUFFLED TO DEATH would be incomplete it it didn't include recipes for truffles, and Kathy doesn't disappoint! It was difficult to choose which one to try out for this post (which means I'll be making the other recipes for my own consumption) but in the end chose her Mocha Truffles! Deep, dark chocolate infused with espresso powder, then topped with a chocolate covered espresso bean, combine to give you an incredible jolt of flavor (and caffeine hit). It's the perfect gift to make for the chocolate and coffee lover in your life…or for yourself! While the recipe appears to be time consuming, a lot of it is hands off chilling or coming to room temperature. The actual hands on time is manageable and once you bite into these creamy dark morsels, you'll want to make these frequently! Thank you, Kathy, for allowing me to share your Mocha Truffle recipe!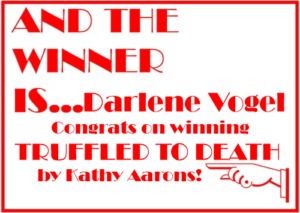 A huge thank you to Kathy Aarons for offering a choice of either a paper copy or e-book copy to one lucky winner! Please use the Rafflecopter box located below the recipe to enter. Contest is open to to all, but paper copy is limited to U.S. residents only. Contest ends Thursday, May 5, 2016 at 11:59 pm PST. Winners will be announced on this page and on Cinnamon & Sugar's Facebook page, as well as notified by email (so check your spam folder!)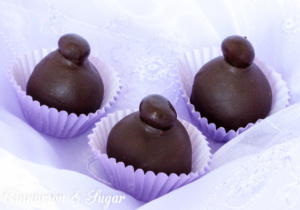 Mocha Truffles
Yields about 60 pieces, but recipe can be halved if desired.
Ingredients
2-1/4 pounds bittersweet chocolate, finely chopped and divided
4 ounces milk chocolate, finely chopped
1-1/4 cups heavy whipping cream
1-1/2 tablespoons instant espresso powder
2 tablespoons Kahlúa or other coffee-flavored liqueur
60 candy coffee beans or mocha beans for decoration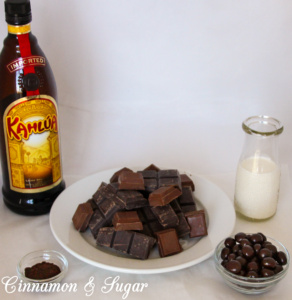 Instructions
Place 12 ounces of the bittersweet chocolate and the milk chocolate in a 2-quart mixing bowl.
In a 1-quart saucepan over medium heat, bring the cream to a boil.
Remove the pan from the heat, dissolve the espresso powder in 3 tablespoons of the cream, and then blend this mixture back into the rest of the cream.
Pour the espresso cream into the bowl with the chocolate and let the mixture stand for 1 minute.
Stir together with a rubber spatula until thoroughly blended.
Stir in the Kahlúa and blend well.
Cover the truffle cream, let cool to room temperature and chill in the refrigerator overnight.
Chill the covered truffle cream for another 2 hours in the freezer.
Remove the truffle cream from the freezer and bring to cool-room temperature so that the outer coating won't crack when they are dipped.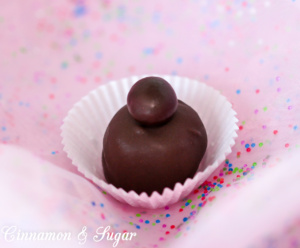 Melt and temper** the remaining 1-1/2 pounds of bittersweet chocolate.
With a melon baller, scoop ganache into individual balls.
Place a truffle center into the tempered chocolate, coating it completely. With a dipper or fork, remove the center from the chocolate, carefully shake off the excess chocolate, and place the truffle on the wax paper.
After dipping 4 truffles, center a candy coffee bean on top of each truffle before the chocolate sets.
Tips
**To temper chocolate click on this link and read how to do it: Chocoley.com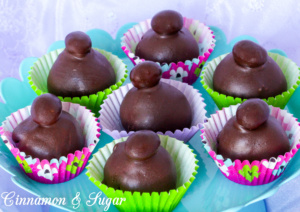 If you receive my blog post via email you will need to visit my website to view the video.