When I saw that H.Y. Hanna was getting ready to release TWO DOWN, BUN TO GO, her third book in the Oxford Tearoom Mystery series, I was very excited and contacted her to find out when it would be available for pre-order. If you recall, I shared my review and the recipe for her Traditional English Scones from her book, A SCONE TO DIE FOR, this past February and wanted to make sure I didn't miss out on her new release. Much to my delight, the author asked if I would be willing to try out her recipe for Chelsea Buns before the book went to print! I had never even heard of Chelsea Buns, but read up on them (thank you Google!) and hauled out the flour and sugar. According to H.Y. Hanna, Chelsea Buns were first created in the 18th century at Bun House in Chelsea, London, and the delicious buns were a favourite with the Hanoverian royal family. They have a distinctive square spiral shape and are made with a rich yeast dough, flavoured with mixed spices or cinnamon and lemon zest. Inside the swirls, the bun contains a mixture of brown sugar, butter and dried fruit such as currants, raisins, cranberries and sultanans. An iconic product in British baking, Chelsea buns are a bit similar to the more well-known cinnamon roll.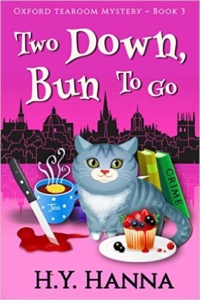 Synopsis
In TWO DOWN, BUN TO GO, Gemma Rose, owner of the Little Stables Tearoom near Oxford, receives a frantic phone call from her friend, Seth Browning, at 2:00 a.m. He begs her to sneak into Wadsworth College and retrieve a note he left for Professor Barrow, and oh, by the way, make sure the police don't find out. Gemma does as asked, narrowly escaping being questioned by the police who are gathered in force. She is then shocked to learn that Professor Barrow had been brutally murdered just a couple hours earlier. Seth is arrested for the murder after violently arguing with the man over providing support for a homeless charity which Professor Barrow was completely against helping. Since Seth's note could be construed as incriminating, Gemma destroys it, knowing Seth could not be the killer.
Gemma begs her almost-boyfriend, CID Devlin O'Connor, to do whatever it takes to prove Seth's innocence. Devlin blows up, upset that she would suggest he bend the rules for her, and tells her to stay out of the investigation. But that's not going to happen so she starts asking questions around the village, digging into the past, and finds that Professor Barrow was a very unpleasant man. There are numerous people who aren't sorry to see him dead, including his own brother and sister. When another victim is found, Gemma must step up her investigation and keep the Old Biddies out of trouble. Can she find the culprit before they strike again? Can she repair her relationship with Devlin or will Dr. Lincoln Green steal her heart?
My Review
Just as my taste testers oohed and aahed over the Chelsea Buns, I was equally charmed by TWO DOWN, BUN TO GO! The story starts out at a fast pace from page one and doesn't let up, keeping you wondering what is going to happen next and guessing who the culprit is. The core group of characters are well developed with cameo appearances by others providing humor. I love the addition of the four "Old Biddies" who lighten each scene they steal from Gemma. The various subplots lend themselves to getting to know Gemma better along with her relationships with the people surrounding her. And I can't forget to mention Muesli, her adorable tabby cat who creates her own chaos for Gemma!
The author inserts fascinating insight into what Oxford University actually is (it's not just one specific college, but a collection of nearly 40!) without detracting from the story and also provides a Glossary of terms used in Oxford at the back of the book. Her description of Gemma's traditional English village makes you feel like you're actually there, and oh my, the yummy treats coming out of Little Stables Tearoom makes my mouth water! Be sure to read through the Glossary of British Terms — it is quite entertaining reading all by itself! H.Y. Hanna also tackles the sticky issue of homelessness, weaving it effortlessly into the plot, with kindness and sensitivity, and hopefully giving the reader pause for consideration. I look forward to the next installment in the Oxford Tearoom Mystery series!
Thank you, H.Y. Hanna, for providing such charming entertainment through your book and for allowing me to share your Chelsea Buns! They are simply delectable!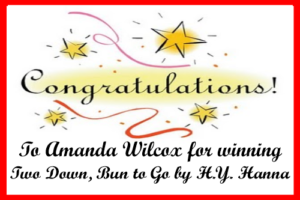 A huge thank you to H.Y. Hanna for providing one lucky winner a choice of a signed copy or an e-book copy of TWO DOWN, BUN TO GO! Please use the Rafflecopter box located below the recipe to enter. Contest ends Wednesday, May 4, 2016 at 11:59 pm PST. Winners will be announced on this page and on Cinnamon & Sugar's Facebook page, as well as notified by email (so check your spam folder!)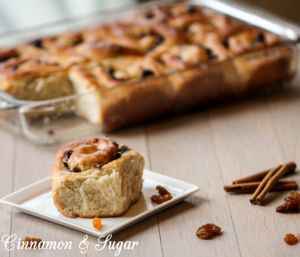 Chelsea Buns
Ingredients
Yeast Rolls
500 grams (4 cups & 2-1/2 level tablespoons) all-purpose white flour (plus extra for dusting / kneading)
250 ml (1 cup + 1 tablespoon) milk
5 grams (1-1/2 teaspoons) instant yeast
50 grams (3-1/2 tablespoons) unsalted butter
60 grams (1/4 cup) caster sugar (or finely pulverize granulated sugar in the food processor for 1 minute)
1 egg, lightly beaten
Zest of 1 lemon
1 teaspoon mixed spice or cinnamon (depending on personal preference)
1 teaspoon salt
Vegetable oil for greasing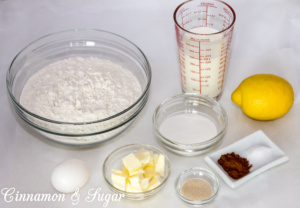 Filling
30 grams (2 tablespoons) butter (very softened and slightly melted)
75 grams (1/4 cup) Demerara sugar (or substitute regular brown sugar)
Dried fruit (as much or as little as you fancy):
100 grams (1/2 cup) dried sultanas (golden raisins)
100 grams (1/2 cup) dried cranberries
100 grams (1/2 cup) seedless Raisins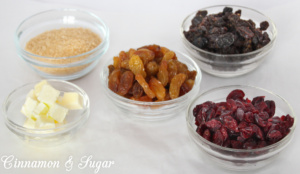 Glaze
(These glazes are very different from America's version of frosting for cinnamon rolls. The Chelsea Bun glazes are light and add just a touch of sweetness and flavor to the buns. If you wish, you may double the amount of the sugar and milk version to suit your tastes, or add additional confectioners' sugar for a thicker citrus glaze.)
2 tablespoons caster sugar
1 tablespoon milk
OR
2 tablespoons citrus juice
90 grams (2/3 cup + 1 tablespoon) sifted confectioners' sugar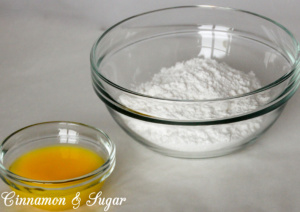 Instructions
Yeast Rolls

Sift the flour into a large mixing bowl and combine with the sugar, salt, yeast and mixed spice or cinnamon, plus the lemon zest – mix well so that the spices and zest are evenly distributed in the flour.
Melt the butter and add the milk, warming the mixture until it is lukewarm (about 40 degrees C / 105 degrees F)
Make a well in the center of the flour mixture and pour in the warm milk & butter mixture, as well as the beaten egg.
Stir and mix to combine the contents of the bowl, until it forms a wet dough and comes away from the sides of the bowl (you may need to add a little more flour).
Tip the dough out onto a well-floured clean surface and knead lightly for 5 minutes, until the dough is smooth and elastic. Add more flour if necessary so that the dough no longer feels sticky. (You may prefer to use the dough hook on your standing mixer for 5 minutes, which is easier than kneading by hand.)
Lightly grease the mixing bowl with some vegetable oil, then return the dough to the bowl and cover with a damp tea towel. Leave it in a warm, draught-free place and allow the dough to rise, until it has doubled in size (about 60 minutes). **If the milk is not warm enough, the dough may need longer to rise – leave it until it has doubled in size.
Tip the dough back out onto the work surface and knead briefly, then roll it out into a large rectangle that's about 20-cm x 30-cm (8-inches x 12-inches). You will have to use your fingers to stretch the dough, to coax it into a rectangular shape. Make sure the longer side is facing you.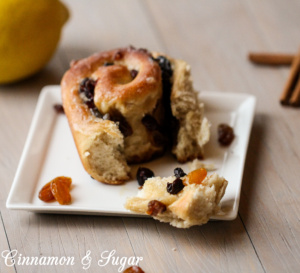 Filling
Brush the surface of the dough with the melted butter and then scatter the Demerara sugar and dried fruit evenly across the surface.
Using your thumb, press down the edge of the long surface nearest to you, so that it "sticks" to the table – then take hold of the other end and roll the dough up towards you, into a tight cylinder. It's important that the dough is rolled as tight as possible.
Using a sharp knife, cut the roll up into slices, each one about 4cm (1-1/2 inches) thick.
Lay the slices (cut side up) on a lightly greased baking tray, making sure that they're about 1cm apart. This is important so that they stick together as they bake and when pulled apart, produces that characteristic "square" shape of a Chelsea bun.
Cover with a tea towel and let them rest again for about 30mins.
Meanwhile, preheat the oven to 200C/400F/gas mark six.
Bake for about 20 – 25 minutes, until the buns have risen and are golden-brown. Check at around the 15 minute mark to make sure the fruit isn't burning – if so, cover the buns with a piece of foil.
Glaze
While the buns are baking, make the glaze by whisking the citrus juice and confectioners' sugar together, until smooth
OR
Heat the milk and caster sugar in a saucepan until boiling, then reduce the heat and simmer for 2 – 3 minutes.
When the buns are removed from the oven, brush immediately with the glaze, then set aside to cool on a wire rack. Once cool, tear them gently apart.
Enjoy!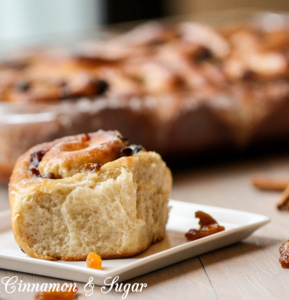 If you receive my blog post via email you will need to visit my website to view the video.