I've read several books in the "A Novel Idea Mystery" series even though, believe it or not, they don't contain recipes. Lucy Arlington (aka Susan Furlong) crafts a well plotted story with characters that spring to life on the page, drawing you in and making you anxiously await the next release in the series.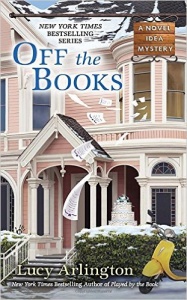 One of Lucy's memorable characters is Amazing Althea, Lila's tarot card reading mother. Althea is famous in Inspiration Valley, North Carolina for her banana bread and with each book that I've read I've thought, "I want to try it!" So I asked the author and was very pleased when she told me that YES, there is a recipe and I could share it! Credit for developing Amazing Althea's Dark Chocolate Banana Bread goes to the series two original authors, Ellery Adams and Sylvia May. I have to say that this banana bread IS amazing! And so is the newest book in this series by Lucy Arlington!
OFF THE BOOKS finds Lila Wilkins and her co-workers organizing and hosting a bridal expo. In addition to the typical bridal vendors, Novel Idea Literary Agency has invited some of their bridal-themed authors to participate in book signings and readings at the expo. It doesn't take long for the "Murder Magnet", as Lila is called around town, to find the town's inept handyman, face down in the buttercream covered wedding cake being stored in the walk-in refrigerator. Chef Belmonte accuses her of being the murderer when he finds her standing over the body. Lila begins to worry that maybe the chef is guilty since he was so quick to point a finger at her.
Then there's the problem with two of the agency's authors, Lynn Werner and Jodi Lee. The murder victim was killed using unique techniques from their mystery books and incriminating evidence is found in one of their rooms. When the police arrest Jodi, the agency's owner tells her team to investigate and find the real culprit. Sean, Lila's fiancé and police detective, asks her to not get involved in the investigation, but she can't help herself. She soon finds out that several people are hiding secrets, including her own mother and son, and there are numerous people who had motivation to murder the victim. With her boss putting pressure on her to clear their authors' names and after her best friend's coffee shop is vandalized, Lila knows she has to step up her sleuthing and find the killer before it's too late.
Thank you to the trio of authors who created such a wonderful series for allowing me to share their yummy banana bread recipe with you! I have included a brief video tutorial at the end of the page on how to make Amazing Althea's Dark Chocolate Banana Bread.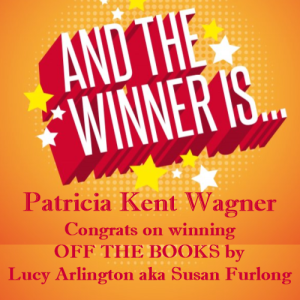 A huge thank you to Lucy Arlington (aka Susan Furlong) for providing an autographed copy of OFF THE BOOKS to one lucky winner! Please use the Rafflecopter box located below the recipe for a chance to win. Contest ends Thursday, February 4, 2016 at 11:59 pm PST. Winner will be announced on this page and on Cinnamon & Sugar's Facebook page, as well as notified by email (so check your spam folder!) Open to U.S. residents only.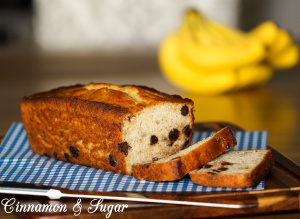 Amazing Althea's Dark Chocolate Banana Bread
Ingredients
2 cups all-purpose flour
2 teaspoons baking powder
4-1/2 ounces butter (1 stick plus 1 tablespoon), soft enough for mixing
1 cup superfine sugar*
4 ripe bananas, good and smashed (Althea likes to use her fists!)
2 eggs, beaten
1 teaspoon pure vanilla extract
1 cup dark chocolate chips**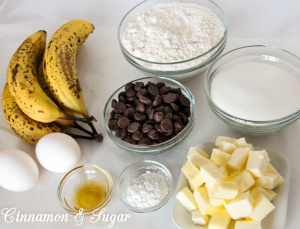 Instructions
Preheat oven to 350 degrees (F).
Sift flour and baking powder into a large bowl.
Cream the butter and sugar together in a medium bowl.
Add the eggs, one at a time, mixing well after each addition.
Mix in the bananas and vanilla extract.
Add chocolate chips.
Add the banana mixture to the flour mixture and stir to combine. Do not over mix. Althea likes to fold the dough carefully, until just mixed. This makes the bread light and airy.
Pour the batter into a lightly greased and floured 8 x 4-inch loaf pan and bake for 1 hour and 15 minutes or until toothpick inserted into center comes out clean.
Cool in pan before turning out onto a wire rack.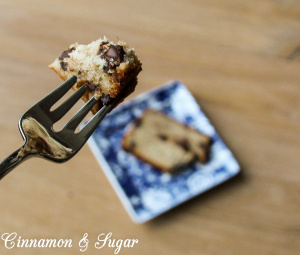 Tips
*If you don't want to purchase superfine sugar, you can make your own by adding regular granulated sugar to a food processor and processing one full minute.
**The dark chocolate chips that I purchased (NESTLÉ TOLL HOUSE Dark Chocolate Morsels) were considerably larger than regular chocolate chips. The next time I make this I will look for smaller dark chocolate chips or even use mini-chocolate chips so that I get a bit of chocolate in every bite.