January means New Year's resolutions and I would venture to guess that a lot of people resolve to eat better and exercise more after the holiday indulgences. While I personally don't make "official" resolutions I do realize that I should eat healthy meals so I can enjoy decadent desserts on occasion…after all, my blog's name pretty much says it all and someone has to sample those dishes 🙂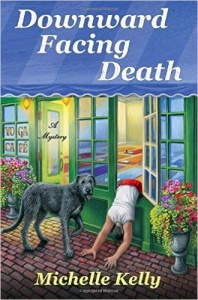 I was fortunate to receive an advanced copy of DOWNWARD FACING DEATH by Michelle Kelly which fit right in with my goals. DOWNWARD FACING DEATH is the first book in Ms. Kelly's brand new series. Set in the quaint English village of Belfrey, Keeley Carpenter returns after leaving ten years ago, right after her father's unexpected death. Her father had been the village butcher and other people took over his shop when Keeley and her mother moved. However, the butcher shop has been vacant for awhile and Keeley's mother wants to sell it. Keeley, however, decides she wants to take over the building, not willing to let go of the physical link to her father.
The problem, though, Keeley is a vegetarian. She decides to open up a vegetarian cafe along with a small yoga studio instead of following in her father's footsteps. When she arrives into town she finds she's not exactly welcomed home with outstretched arms. Many of the town's traditional folk aren't happy with the change she's bringing and to make matters worse, a murdered man was found when someone tried to burn down her building.
When the investigator shows up to question her, she finds that it's none other than her unrequited crush from school, Detective Constable Ben Taylor. He seems cold and aloof at the beginning but when Keeley receives threatening letters he starts showing concern for her well being. With the police no closer to finding the murderer and with additional threatening letters arriving, Keeley decides she must find the killer herself or leave town and give up her dream of opening the cafe.
DOWNWARD FACING DEATH is a wonderful start to this new series. The author has done an admirable job of setting the stage, providing a believable setting in the village of Belfrey with plenty of characters to interact with Keeley. There is a subplot of romance, which adds interest to the murder mystery and I was caught completely by surprise by the ending. I also enjoyed the British colloquialisms used in the book, such as jacket potatoes instead of baked potatoes with skin left on or Aubergine instead of eggplant, which added to the charm of the book.
I truly enjoyed Ms. Kelly's irony in turning a butcher shop into a vegetarian cafe! She provides numerous vegetarian recipes at the back of the book, including her Spicy Root Vegetable Curry which the publisher has graciously allowed me to share. I loved this hearty dish with the warming spices melding the vegetables into a comforting bowl of yumminess! Now to be honest, my husband's response was "where's the meat?" I'm still working on getting him used to meatless meals once in awhile 🙂 In addition to the recipes, several yoga tips are sprinkled throughout the book, with some humor.
I have included a short video tutorial on how to make Spicy Root Vegetable Curry at the bottom of this page.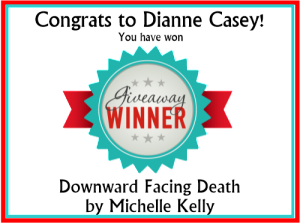 Minotaur Books has very generously provided a hardback copy of DOWNWARD FACING DEATH to one lucky winner!!! Please leave a comment below to be entered. Contest ends Thursday, January 21, 2016 at 11:59 pm PST and is open to U.S. residents only. Winner will be announced on this page and on Cinnamon & Sugar's Facebook page, as well as notified by email (so check your spam folder!) and will have 5 days to respond or another winner will be chosen.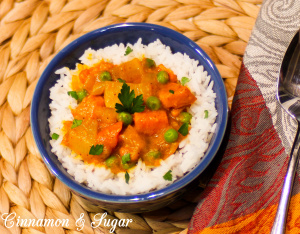 Spicy Root Vegetable Curry
A great alternative to meat curries, with the root vegetables giving it a homey, wholesome twist. Can be served with rice, couscous, or the bread of your choice, and also works with jacket potatoes as an alternative to chili.
Ingredients
1 onion, finely diced
1 garlic clove, crushed
1 tablespoon olive oil
3 cups vegetable stock
4 carrots, diced
1 cup frozen peas* or chickpeas
1/2 pound sweet potatoes peeled and diced
1 pound turnips, peeled and diced
2 tablespoons all-purpose flour (or if gluten-free eating is necessary, substitute 1 tablespoon cornstarch)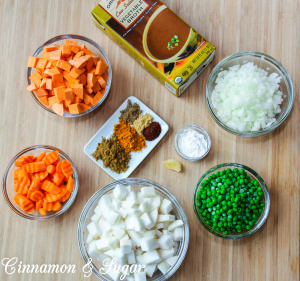 For the curry spice:
1 tablespoon cumin
1/2 tablespoon (= 1-1/2 teaspoons) turmeric
1/4 tablespoon (= 3/4 teaspoon) ground coriander
1/4 tablespoon (= 3/4 teaspoon) ginger powder
1/4 tablespoon (= 3/4 teaspoon) chili powder, or double for extra heat
Alternately you can buy a packet of premixed curry powder and add 2 tablespoons. The author prefers garam masala blend.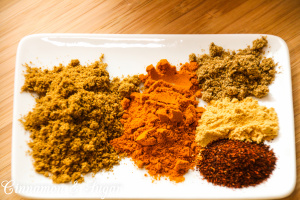 Salt and pepper to taste
Instructions
In a medium-sized pan, soften the onion and garlic in the olive oil for around 5 minutes on medium heat.
Add the curry powder or spices and stir for 2 minutes.
Add the stock and vegetables* and bring to a boil.
Cover the pan and reduce heat. Simmer on low heat for 45 to 50 minutes, until the vegetables are soft when pierced with a fork.
While the curry is simmering, mix the flour with 1/4 cup of cold water and stir until very smooth. (If using cornstarch, mix with 2 tablespoons cold water.)
Add the flour mixture to the curry when the vegetables are completely cooked. Bring back to a simmer and continue to cook and stir for about 3 minutes until thickened.
If using cornstarch, stir into the cooked dish and bring back to a simmer. Stirring often, cook for 1-1/2 minutes before removing from heat.
Season with salt and pepper to taste and serve.
*If using frozen peas, defrost then add to the cooked dish just after the flour or cornstarch has finished cooking and gently heat for a minute more. This will help retain their bright color and prevent them from turning too mushy.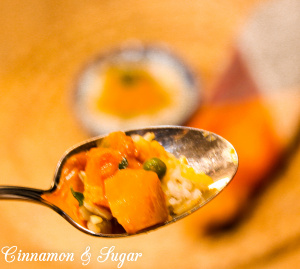 Tip
My step-daughter and I both like a spicy hot curry. Next time I make this dish I will add a bit of cayenne pepper.
I think the addition of using both the peas and chickpeas together would be very tasty.
I love chopping some of my veggies using this crinkle cutting tool.
If you receive my blog post via email you will need to visit my website to view video
Disclaimer: I received a copy of this book from the publisher in exchange for a fair and honest review. All views and opinions are my own.