I love having a warming bowl of stew for cold winter weather meals and one of our new favorites is Hearty Irish Lamb Stew. Besides being nourishing with lots of veggies and protein, stew easily reheats well so I can make a pot ahead of time and have a quick dinner on hand as needed. Another thing I love about stews is that they are flexible….you can adapt to what you like and what you have on hand. For example, if you prefer beef versus lamb, by all means substitute a chuck roast. Or add turnips instead of potatoes, parsnips instead of carrots, skip the peas and add chopped spinach. You get the picture…
I also love anything you can cook in the slow-cooker. Some prep work and then it's hands off cooking for hours. However, so many meat stew recipes I've tried in the past all call for flouring and browning the meat in copious amounts of oil. Added calories, lots of added time browning in batches and then the added mess of cleaning up the grease that pops all over. I was a bit skeptical when I saw a tip for browning the aromatics with tomato paste instead of the meat, but it actually works! And adding a bit of umami rich soy sauce also pumps up the meaty flavor without the hassle of browning. My family gifted me with a slow-cooker for Christmas one year that includes a browning feature….love, love, love it! If you don't having a browning feature, use a skillet. Yes, it is one more dish to do, but you won't have flour strung out all over the counter from tossing the meat, nor will you have grease popping all over your cook top that takes an hour to clean up.
This recipe makes quite a lot of stew so I like to freeze extras in 2-cup increments, sealed tightly in freezer safe Ziplock bags. Great to have on hand for quick lunches or when I don't have time to cook dinner. My tip: Freeze them flat on a cookie sheet first and then they'll stack easily without taking up so much space in the freezer for storing. An added bonus is that they will defrost a bit quicker too.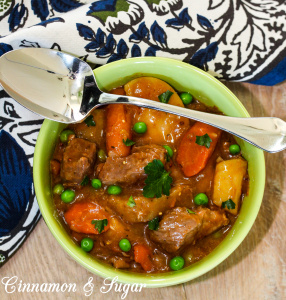 Slow-Cooker Hearty Irish Lamb Stew
Ingredients
3 tablespoons olive oil, divided
2 onions, diced
1/4 cup tomato paste
6 garlic cloves, crushed
1 teaspoon dried thyme
1 teaspoon dried rosemary
1-1/2 teaspoons salt, divided
Pepper to taste
1/3 cup all-purpose flour
1 12-ounce bottle beer (or substitute extra beef broth)
1 14.5-ounce can low-sodium beef broth
1/4 cup low-sodium soy sauce
3-1/2 to 4 pounds boneless leg of lamb
1-1/2 pounds Yukon Gold potatoes
1-1/4 pounds carrots, divided*
2 cups frozen peas
1 tablespoon whole grain Dijon mustard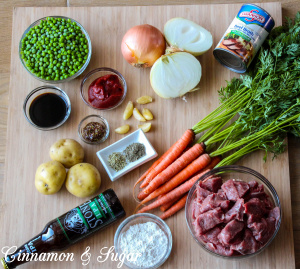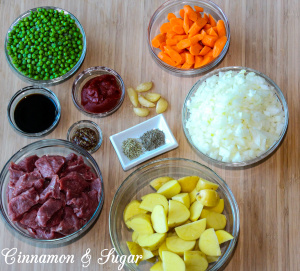 Instructions
Trim excess fat and silver skin from the leg of lamb then chop into 1-1/2 inch pieces. Sprinkle 1/2 teaspoon salt over the meat along with a few grinds of pepper and set aside.
Chop the Yukon Gold potatoes into small pieces.
Peel the carrots and chop into 1-inch sized chunks.
Set aside half of the carrots (approximately), then combine the potatoes with the remaining carrots.
Drizzle the potato and carrot mixture with 1 tablespoon olive oil and sprinkle with 1/2 teaspoon salt, then wrap tightly in foil. Set aside.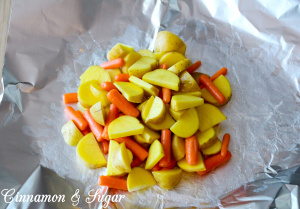 Potatoes and half the carrots are wrapped in foil and cooked on top
of the stew to help maintain their shape and keep them from
disintegrating. The remaining carrots are cooked into the stew to
add body and a sweetness to the broth as they break down.
If you have a browning feature on your slow-cooker, heat the remaining 2 tablespoons of olive oil in the base. Otherwise heat the oil in a large skillet. Add the diced onions, reserved carrots, tomato paste, thyme, rosemary, 1/2 teaspoon salt and a few grinds of fresh pepper. Cook until onions are lightly browned, 8 to 10 minutes.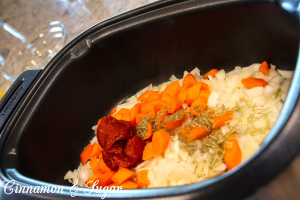 Stir the flour into the onion mixture and cook for 1 minute, stirring constantly.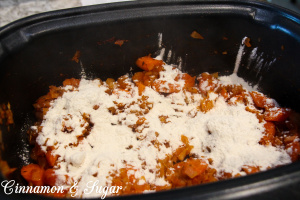 Slowly add the beef broth into the onion mixture, vigorously stirring to keep the flour from getting lumpy.
If using a skillet, transfer to the slow-cooker. If browning in the slow-cooker, change the setting to slow-cooker, low heat.
Add the beer, soy sauce and garlic to the onion mixture and stir to combine.
Nestle the lamb pieces into the stew broth mixture, then lay the foil packet on top.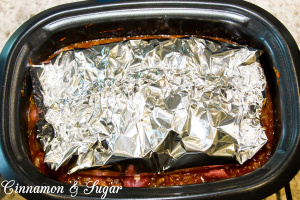 Cover and cook until the lamb is tender, 9 to 11 hours on low or 5 to 7 hours on high.
When the lamb is tender, remove the foil packet and carefully open. Be cautious with the steam that will escape! Transfer the potatoes and carrots back to the slow-cooker, along with any juices remaining in the foil packet.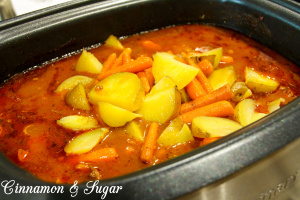 Stir in the peas and Dijon mustard and allow to sit about five minutes to heat the peas thoroughly.
Add additional salt and pepper to taste, if needed.
Serve with Beth's Irish Soda Bread!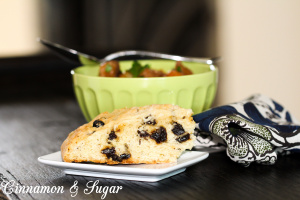 *Another blooper alert…I thought I had 2 pounds of carrots in my produce drawer but when it came time to make the stew I found I had 1 pound only…thus my photos reflect the use of baby carrots mixed with the potatoes in the foil packet instead of chopped carrots.