With Mardi Gras season underway, it's always fun to read a book set in New Orleans, giving the reader a peek at this wonderful city! THE CAKES OF MONTE CRISTO, by Jacklyn Brady, is the sixth book in her Piece of Cake Mystery Series. While it is not quite yet Mardi Gras during the time period of the story, Jacklyn still makes the reader feel like they are walking the streets of New Orleans, tasting, hearing and smelling all that it has to offer.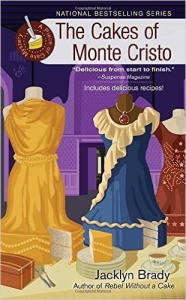 Rita Lucero shares ownership of Zydeco Cakes with her mother-in-law, Miss Frankie. (After Rita's almost ex-husband was found murdered…but that's another story…) Rita has been contracted to provide five showstopping cakes designed to look like vintage dresses for the Belle Lune Ball, along with catering the event. Stressed out and with her office manager on maternity leave, Rita agrees to hire a temp to fill in at the front desk. Within hours of Zoey starting work, she's managed to do considerable damage to the staircase which unearths a stunning antique ruby necklace.
When Miss Frankie sees the necklace she immediately tells Rita to throw it in the river and never mention it again. There has been a deadly curse on the piece since the Civil War times and anyone who tries to own it dies. Instead Rita takes it to a jewelry appraiser and leaves it. That night the appraiser is murdered while clutching the ruby necklace in her hands. While Rita still doesn't believe in the curse she does believe that someone is after the necklace and may be willing to go to desperate measures to obtain it. The police, however, think it was just a robbery gone bad with nothing to do with the necklace. When Rita becomes a target, it's apparent she must find the culprit before the curse becomes a reality.
Jacklyn writes a fast-paced story with lots of unique characters. I loved how she wove the necklace into the story, entwining its history with Rita's current day contemporaries that kept me guessing to the very end who the culprit was.
In addition to a wonderful story, Jacklyn provides numerous recipes that Rita served at the Belle Lune Ball. She has graciously allowed me to share her Creamy Curried Cauliflower Soup with you. This beautiful hued soup is rich tasting without the guilt! Jacklyn uses coconut milk instead of the typical heavy cream which provides a delicious backdrop to the warm spices. With her suggested garnishes, this bowl of soup is elegant enough for guests but comforting enough to savor on a cold winter day. I have also provided a video tutorial at the bottom so you can see just how quick and easy it is to make this wonderful soup!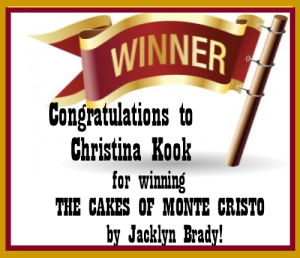 As a bonus to my readers, I'm offering a copy of THE CAKES OF MONTE CRISTO to one lucky winner! Please use the Rafflecopter box located below the recipe for a chance to win. Contest ends Thursday, January 28, 2016 at 11:59 pm PST. Winner will be announced on this page and on Cinnamon & Sugar's Facebook page, as well as notified by email (so check your spam folder!) Open to U.S. residents only.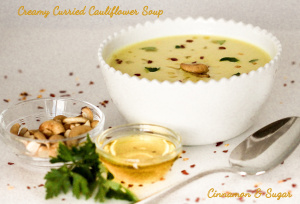 Creamy Curried Cauliflower Soup
Makes 6 to 8 servings
Ingredients
2 tablespoons extra-virgin olive oil (plus a bit more to serve)
2 medium white onions, thinly sliced
1/2 teaspoon kosher salt (you may want more to season)
4 cloves garlic, minced
1 large head cauliflower (about 2 pounds), trimmed and cut into florets
4-1/2 cups low-sodium vegetable broth (use regular-sodium broth or water if desired)
1/2 teaspoon coriander
1/2 teaspoon turmeric
1-1/4 teaspoons cumin
1 cup coconut milk
Freshly ground black pepper, to season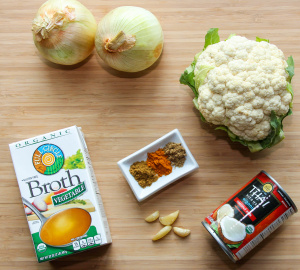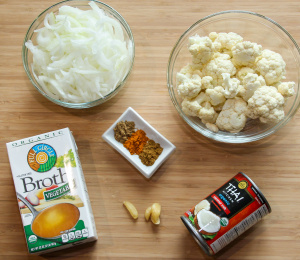 Optional Garnishes
1/4 cup roasted cashew halves (see note below)
1/4 cup finely chopped Italian parsley
Red chili pepper flakes, for garnish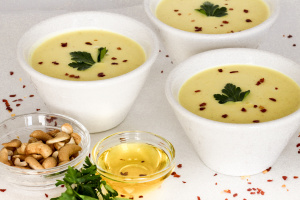 Instructions
Heat the oil in a large pot over medium heat until the oil shimmers. Cook the onions together with 1/4 teaspoon salt until the onions are soft and translucent (approximately 8 minutes).
Turn heat to low and add the garlic. Cook for 2 additional minutes.
Add the cauliflower florets, vegetable broth, coriander, turmeric, cumin, and remaining 1/4 teaspoon salt.
Bring pot to a boil over medium-high heat, then reduce the heat to low.
Simmer until the cauliflower is fork-tender (about 15 – 17 minutes).
Working in batches, purée the soup in a blender until smooth, and then return the soup to the soup pot. If you prefer, use an immersion blender to purée the soup right in the pot.
Stir in the coconut milk and warm the soup. Before serving, add more seasoning and/or spices to taste.
To serve, ladle the soup into bowls and garnish with a handful of toasted cashews, a few sprigs of parsley, a sprinkle of red chili flakes, and a dash of olive oil to top.
Note
To toast the cashews: Preheat the oven to 350 degrees F. and spread the cashews out on a baking dish in a nice flat layer. Toast for 5 to 6 minutes, or until fragrant.
If you subscribe to receive my post via email, you will need to visit my website to view video